A mother and son were among thousands of volunteers and walkers at Memory Walk
From the October/November 2015 issue of our magazine, A mother and son in Sussex were among the thousands of volunteers and walkers who took part in Memory Walk 2015.
Jemma Davenport joined Sussex Memory Walk with her seven-year old son George in honour of her grandmother, who had vascular dementia.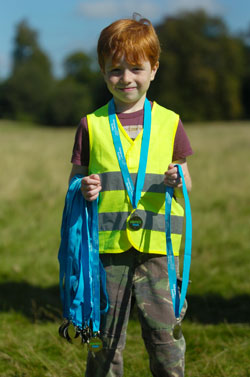 She says,

'It was so moving to be part of it, not only because of our family's journey, but the fact that every person present, young and old, had a different journey and story to be told.

'George was enthralled by the challenge of volunteering, even telling me he was so excited he couldn't sleep the night before. He donned his hi-vis jacket and was off!'
Deeply felt
In addition to witnessing the impact of dementia on her grandmother, Jemma says,
'I watched as my grandad, her main carer, struggled on so valiantly until his heart gave way.'
As a nurse, she says,
'My ideals for joined-up working and basic nursing care were often shattered.'
Despite the deeply felt effects on the whole family, Jemma was pleased to have been able to take her two children on visits to laugh and sing with their great-grandma.
She adds,
'I feel so privileged to have held my Nan's hand at the end of her long journey.'
Biggest ever
Over 47,000 people took part in Memory Walk 2015 at more than 50 events across England, Northern Ireland and Wales – an incredible 50 per cent increase in participants compared to the previous year.
It included the biggest Memory Walk event ever, with 5,000 people walking at Heaton Park in Manchester.
In addition to bringing people together to raise awareness, the events raised over £3.5 million to fund vital dementia research and services, none of which would have been possible without the support of 2,000 volunteers like Jemma and George.
George says,
'Volunteering at Memory Walk was so exciting. I enjoyed leading the short walk, meeting people and also seeing my games teacher taking part was a nice surprise!

'I felt good afterwards as I had helped people to raise money. I'm looking forward to volunteering again.'