Lucy Whitman's collection of personal accounts from people living with dementia
From the February/March 2016 issue of our magazine, Lucy Whitman's collection of personal accounts gets our readers talking, and we invite you to read Hearing the person with dementia for our next issue.
Janet Baylis, our Dementia Knowledge Centre Manager, urges anyone affected by dementia to read this issue's book – People with dementia speak out, by Lucy Whitman.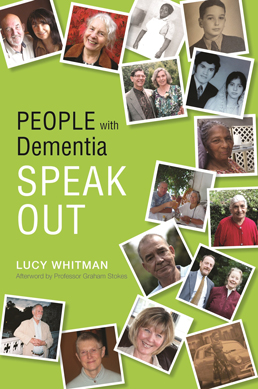 The result of three years' work, it features the experiences of 23 people with a range of backgrounds, personalities and beliefs who have a dementia diagnosis.
Janet says,
'What is striking is their individuality and how this extends to their lived experience of dementia.
'While it is important not to underestimate the frustration and fears of living with dementia, what is apparent is how each contributor has found their own approach to living well and coping with dementia.
'These are often very difficult stories and it's clear that all too frequently, diagnosis of dementia is not well handled by doctors.
'Likewise, follow-up support is often not available at the point at which people need it.'
Facing challenges
There were different views on how representative the stories are of the more negative aspects of dementia.
Janet says,
'There are some shocking, personal accounts of lack of understanding from professionals who we expect to know better.'
Although Mary Ramsay, a reader in Portsmouth, enjoyed most of the stories, she says,
'I feel they do not reflect the severity of the illness, having just lived through and faced the challenges it presents.'
However she adds,
'I will be taking it to the dementia carer group I still belong to, to pass on to someone else.'
Elsie Shiel in Bolton says,
'I wish I had been given the opportunity to read something like this eight years ago when my husband was diagnosed. We had to find out everything for ourselves.
'My husband is now in a care home, so now I need more information as to what is the next stage.'
Deeply moved
Mary Stephanou, an art therapist in Derby, says,
'I was deeply moved by the wide spectrum of experiences and saw many similarities in the stories and people I have worked with.
'As a professional, I have fought with establishments after challenging the way staff "deal with" people living with dementia – I have had to teach people that even if a person can't talk, or there doesn't appear to be a logical reason for them to feel angry or upset, that person does feel and it is for a reason.
'If every person who comes into contact with a person living with dementia reads this book, I truly believe that both that person's experience of dementia would change, and especially that the person living with dementia would feel acknowledged as a person.'
An inspiration
Carers using our services in west Kent also shared their views about the book.
Noting that the contributors were mostly younger people, Jill says,
'The one I found an inspiration was "Love me for who I am" by Ann Johnson. She spoke about how it is and her fight to be normal – so true. Please do not be afraid of us, just love us, be with us and be our friends.'
Sue also liked reading about unexpected benefits in the section by Mary Tall, who says her spirituality and sexuality have grown stronger after her diagnosis.
'The detail and depth of the stories of these people with dementia is amazing.'
For Lynne, the book offers a good insight into how dementia affects people's lives.
'It can strike anyone, but we all experience the dementia differently because symptoms vary tremendously from person to person.'
A fourth carer found the book fascinating and says,
'My husband has Alzheimer's but there is no way he could ever, since its onset, have described his life and feelings in such a way. All he says is that sometimes it makes him angry, or sad.'
People with dementia speak out by Lucy Whitman, Jessica Kingsley (2105), 304 pages, £14.99, ISBN: 9781849052702.
Your turn
For the next issue, we invite you to read Hearing the person with dementia by Bernie McCarthy, Jessica Kingsley (2011), 112 pages, £12.99, ISBN: 9781849051866.
Widely available in libraries and also in our online shop.
We have five copies to give away – email [email protected] by 23 February 2016 quoting 'Hearing' for a chance to win one.
Let us know what you think of this book by 8 March 2016 so we can share it in our next issue – email [email protected]