Lorraine Brown found new ways to help other people after her dementia diagnosis
From the February/March 2016 issue of our magazine, read Lorraine's story of being diagnosed with Alzheimer's disease.
Lorraine Brown had a rewarding job supporting others until she was diagnosed with Alzheimer's disease. Luke Bishop hears how she now raises awareness and fights for better hospitals for people with dementi
For Lorraine Brown, now 62, her job as a mental health support time recovery worker was a major part of her life. Based at Medway Hospital in Gillingham, Kent, she provided companionship as well as emotional and practical support for people with mental health problems in their own homes.
Helping vulnerable people was something she found very satisfying and fulfilling. Many of her friendships and much of her social life was based around the hospital, where she worked for over two decades.
When she could no longer continue in that role after being diagnosed with Alzheimer's disease in August 2014, it left her feeling devastated.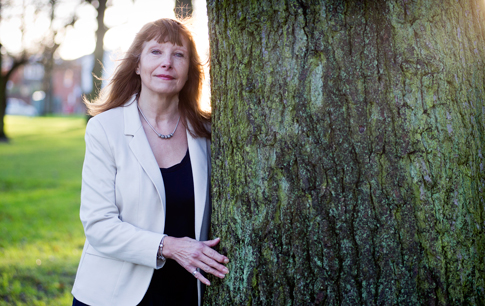 Stress
The signs of dementia were there three years earlier, when colleagues noticed that Lorraine was not performing to her usual standard at work. She put this down to stress as a result of problems at home, and hoped the tests that were offered to her would confirm this.
She says,
'It was a strange situation because I felt that I was the last to know that I had dementia. I was in denial for a long time, which I think was one of the reasons it took so long to diagnose.
'One doctor even told me that I was underplaying my symptoms. However, if I am true to myself, it was clearly there.
'I remember one occasion on which I went to see one of my patients who actually lived quite close to the hospital. I had been going to see this lady for some time.
'When I came out of her house I looked around and it was as if somebody had placed me in a different town. I wasn't able to recognise where I was and I got back into my car. Although I was close to the hospital, it took me a very long time to get back to base.'
Gradual acceptance
Lorraine, who prides herself on being very organised, became unable to retain information for even short periods of time and had to start writing everything down.
She says,
'I was devastated beyond belief and, in fact, I wasn't happy with the diagnosis and sought a second opinion. When I had the second opinion I came to realise that I had dementia.
'I accepted it but, for a while, I was still hoping for that second letter that would say, "I am sorry but we made a terrible mistake and your symptoms were because of stress," or something to that effect.
'As far as work was concerned, I got my diagnosis at the hospital and walked along the corridor to where I worked. I spoke to my manager and someone from human resources, and they said come and sit down and talk to us.
'It was like they already knew what was happening and I was the last to know.'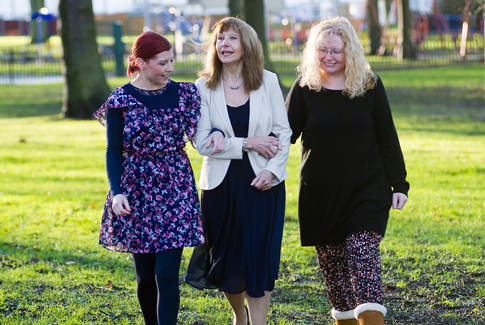 Lorraine with her daughters Kerry and Nicola
Like-minded people
Lorraine felt very depressed for around six months after these life-changing events, before being persuaded to attend a local group for people affected by dementia.
However, as a younger person in the earlier stages of dementia and living on her own without a carer, she didn't feel this particular group was for her.
Not being able to work anymore, Lorraine wanted something into which she could channel her energy and passion for helping other people. Her local Alzheimer's Society office recommended that she try Memorybilia, a group of people with dementia in west Kent and Medway.
Lorraine explains,
'They are a group of like-minded people who are there to make a difference to the world we live in for people with dementia, and I was really interested in what they were doing.
'Most of the members were a bit older than me but they had "young minds", and had a lot of ideas and a lot to offer. I knew I was in the right group because they had a purpose and a mission.
'They make a difference by talking to people in the local community about living with dementia – places such as libraries, restaurants, fast food outlets, supermarkets, GP surgeries and so on – so it is all about awareness raising.'
Opening doors
Taking part in the Memorybilia group soon led to Lorraine getting involved with Medway Dementia Action Alliance, founded in May 2015, which she now chairs.
This opened further doors, enabling her to help make Medway Hospital – her old place of work – a more dementia-friendly environment.
Along with raising awareness, this has now become her passion. Her hospital improvement work has already seen tangible benefits, with many of her suggestions being adopted.
She is also involved in a project that offers advice and guidance to a number of London hospitals about where improvements can be made to their facilities.
She says,
'Medway Hospital has taken up many of my suggestions to improve the layout of the hospital and the wording they use.
'For example, my suggestion was to make the walls much clearer for people with dementia, using colours such as beige or white, and putting the information on boards in a larger font because, for me personally, I am not able to read small print and trying to do so gives me motion sickness.
'I also suggested they should have signage that more clearly identifies where the toilets are, for example. I recently went on a visit to the hospital to see how it is taking my suggestions on board and it is going really well.
'I think the fact that I previously worked at the hospital has helped enormously. I was there for over 24 years and my first job was in a dementia unit before working with mental health patients.
'My professional experience along with my experience of living with dementia means that I am aware of the needs of people in the hospital.'
Influential and inspiring
Lorraine's awareness raising and work with hospitals led to her being named most influential and inspiring person living with dementia at Kent's Dementia Friendly Awards last November.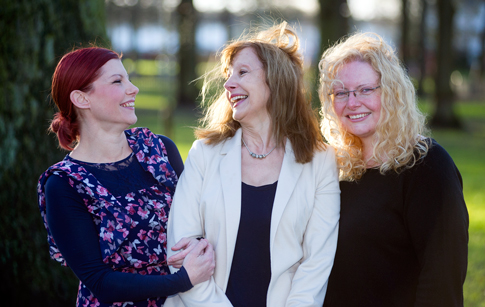 She is currently focused on lobbying hospitals to introduce dementia-specific wards so that people with the condition – whatever their reason for being in hospital – are cared for by specially-trained staff.
She is also keen to make people more aware of the benefits of assistive technology, including personal monitors, in allowing people with dementia to live in their own homes and retain their independence for longer.
Lorraine adds,
'I've always been a fighter in everything that I have done, and so if I feel very strongly about something it is best that I get off my backside and do something about it!'