An innovative team providing support for people with dementia and their families to avoid crises
From the March 2015 issue of our magazine, too often an avoidable crisis leads to a person with dementia being admitted to hospital. Andrew Bence meets a team providing support before things come to a head.
Ben Thorne has seen some changes down the years. He used to work on the long-stay wards of Warley Hospital in Brentwood, Essex, one of those Victorian piles built to house mentally ill people, all arched windows and gothic towers.
Warley's patients and staff were discharged to care in the community long ago, probably with mixed results. Years later Ben was beginning to feel jaded, but driving to visit a client he tells me he feels rejuvenated now working with people with dementia.
'It's different this time. I think we may be finally getting somewhere.'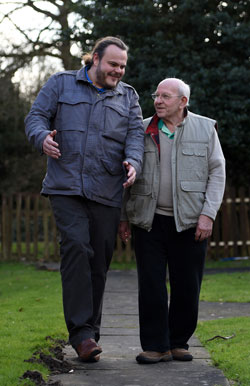 Ben is a support worker for a dementia crisis support team set up last year by Dr Afifa Qazi, a consultant psychiatrist based at Brentwood Community Hospital, part of North East London Foundation Trust.
The project has been attracting plaudits for how it responds rapidly to provide intense support in order to avert crises.
Avoiding hospital
It was while working for the same trust in Havering, east London, that Dr Qazi noted the high number of hospital inpatients with dementia.
'Hospital admissions can be traumatic and confusing for these people, the outcomes not good. Carers too can find it harrowing. It seemed to me that, where possible, these admissions should be avoided.'
Dr Qazi and her colleagues set about developing community-based support. Hospital admissions fell away dramatically, paving the way for the funding needed to set up this crisis support team in neighbouring south-west Essex.
'It should be called the pre-crisis team, really,' says Dr Qazi. 'That's when we get to work.'
The team consists of two doctors, two administrators, five nurses, five support workers and a manager. Provision of this kind does not come cheap, but nor would all those hospital admissions they help to prevent.
Drawing on their diverse talents, the team uses a biopsychosocial model of care. This means that it encompasses a holistic, person-centred approach to the health and wellbeing of the person with dementia as well as those around them.
They will take referrals from anyone, from concerned professionals to worried relatives, and aim to triage and assess within 24–48 hours, with a clear plan of treatment and intervention for each referral.
Short-term intensive input in the home or care home for up to six weeks is the norm – though this team is nothing if not flexible – and the forms of support given range from medicines management to nursing care, counselling, creative solutions and coping strategies, a chat over tea and an empathetic arm around the shoulder.
When the time is right, onward referrals and links to care pathways are provided, while the team focus on another of their 90-plus referrals per month.
Being there
At Heron Court, a care home in Brentwood, we visit 83-year old Bill Williams, a sturdy ex-docker, driving instructor and judo black belt.
Complimenting Dr Qazi on her hairdo, and with a twinkle in his eye, he takes her hand and lightly kisses it. Ben has to make do with a cheery 'Alright mate?'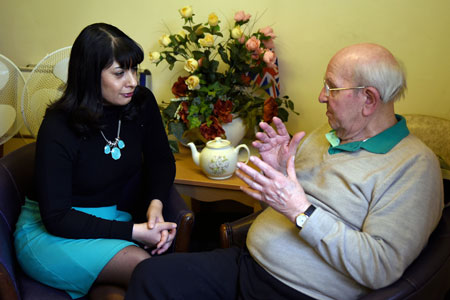 Bill was diagnosed with dementia 10 years ago. His partner died several years back and, until recently, he was living alone. His brother Brian and sister-in-law Gloria had been hugely supportive, but with their own health problems mounting as well as Bill's increasing vulnerability, the situation was becoming impossible.
Gloria says,
'I was frantic. We had carers coming in, but they weren't reliable. We were going up the wall with worry. Everything changed once Ben and his team got involved. They've been wonderful. Like angels from heaven.'
After an assessment, Ben was assigned to work with Bill and his family. He visited Bill regularly and at random, making sure he could keep on top of his chores and keeping an eye on his progress and safety.
He talked at length with Gloria while, back at the office, the team drew on its extensive network of contacts to maximise additional support, advice and information.
When it was clear Bill could no longer live alone, they identified and secured a place for him at Heron Court.
'They're such nice people,' says Bill of his visitors. 'Like friends, really. The thing is,' he says, leaning in to confide in me. 'They're just there. And you know they're there.' The twinkle returns. 'Which is what you need when you're 27 like me.'
See our factsheet How health and social care professionals can help, or call 0300 303 5933 to order.
Find out about Alzheimer's Society local services.