A family letting nothing stand in the way of helping other people affected by dementia
From the February/March 2016 issue of our magazine, three sisters who are letting nothing – mountain or marathon – stand in the way of them making a difference for other people affected by dementia.
Emily Allen's mother was diagnosed with early-onset Alzheimer's disease five years ago, and her father retired to care for her at home.
Emily, 29, says,
'It's had a massive impact on the family and she's really benefitted from Alzheimer's Society support.'
Although her Alzheimer's has progressed quite a lot, Emily's mum still goes to Singing for the Brain.
Determined
The family is determined to make a difference by raising money for dementia services and research.
Emily, in Manchester, says,
'We want to raise awareness and make sure that support is there for other families going through this.'
Her sister Jane Cox (pictured), now 34, ran the London Marathon with a friend in 2013, smashing their £7,000 target.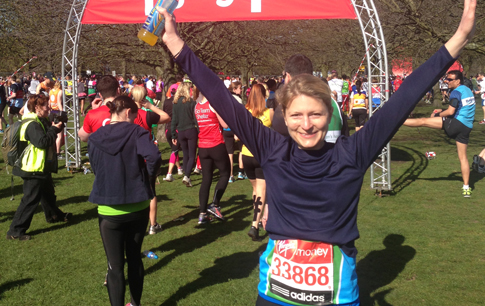 Really hard
The following year, Emily and her other sister Liz, 36, rallied friends to raise another £4,000 on the Ben Nevis Midnight Challenge – trekking up the UK's highest mountain at night.
Emily says,
'It was really hard, the hardest physical thing I've done in my life.
'I'd recommend doing it in a group as we did – you need to get that support from each other.'
So proud
Emily was touched by the number of friends who took part.
'They all went to their workplaces for sponsorship, and one arranged a bake sale.
'The best thing is having done it – I'm so proud to have done it.'
The sisters are planning their next fundraising challenge this year, and there are many to choose from, from trail and adventure runs such as Tough Mudder to swimming events and abseiling.