Dementia-friendly screenings of films help people to reconnect with memories and others
From the August/September 2015 issue of our magazine, cinemas can provide a powerful way to reconnect with memories and others, yet aren't always accessible to people with dementia. Andrew Bence attends a specially organised screening in Oxford.
As we wait for the opening credits to roll, the mood is buoyant. The free ice creams help, but an outbreak of communal singing? I didn't expect that.
We were off to see the wizard, apparently, the wonderful wizard of Oz. Because? Well, because of the wonderful things he does.
Ultimate Picture Palace is a charming little cinema in a Grade II listed building. It was screening the Judy Garland classic as part of a monthly dementia-friendly Meet Me at the Movies programme, arranged with Creative Dementia Arts Network and supported by Film Hub South East.
Close to home
Cinema owner Becky Hallsmith told me why she had got involved.
'My mother's Alzheimer's disease was one of the reasons I bought this place. I was at a crossroads in my life, wondering what to do next. I wanted to stay in Oxford, to be near Mum, but I also needed a project.

'I'd previously done all sorts of media-related stuff, loved this place, and had been coming here for years. It was put up for sale, and I had my project!'
Like Becky, Maria Parsons from Creative Dementia Arts Network has personal and professional reasons for caring about the year-long programme.
'My mother has Parkinson's disease dementia, and I've worked in this field for the best part of 30 years. People with dementia have problems with short-term memory but their memory for the past is usually well preserved.

'The arts can enrich their lives, reducing stress and enhancing self-confidence and self-esteem.

'Besides engaging the brain and stimulating emotions, being part of an audience enjoying a film helps people with dementia and their carers to feel less isolated and challenges the stigma associated with the condition.'
Reconnecting
The Wizard of Oz, released in 1939, has captivated generations with its innocent farm girl's journey down the yellow brick road. It's hard to think of a film better equipped to send us down memory lane.
For many in this audience, the cinema would have played a huge part in their young lives, providing a means of escape, a place to dream. To walk into one today - especially a traditional auditorium like this - must be an evocative experience.
After the show, I asked some of them what they thought.
Lois, a former teacher, said,
'Oh, yes, it was wonderful. The Wizard of Oz just stays with one, doesn't it? It must have been 70 years ago I first saw it, and yet, back it came! It was like reconnecting with an old friend.'
Audrey, who had come with a party from nearby Marston Court care home, thought she had seen it before but couldn't be sure. By the way she was singing earlier, my guess is she probably had.
She and her friend Daphne told me how much they enjoyed it.
'We're coming back for the next one,' said Audrey. 'Try stopping us!' said Daphne.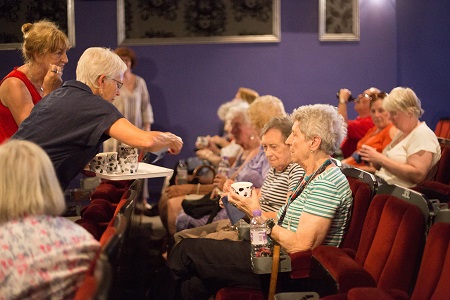 Dementia friendly
Meet Me at the Movies launched the previous month with another classic, the 1952 musical Singin' in the Rain. Was it difficult for Becky and her team to make these screenings dementia friendly?
'Not really. We cap the numbers coming in, make space for a few extra wheelchairs and leave the house lights on dimly during the show.

'We also turned the sound down a bit, but then realised many of these customers were a bit hard of hearing, so quickly abandoned that!'
Perhaps an aspect of cinema is, by its nature, dementia friendly? A social and sensory experience, designed to capture your attention and hold you spellbound, as this audience clearly was. These screenings certainly appear to be enriching people's lives.
We are all creative beings, and we continue to respond if properly stimulated. The films and songs we have loved are powerful repositories of memory.
Events like this can create the opportunity for people with dementia and carers to continue enjoying these precious things.