A dementia adviser can help people come to terms with a diagnosis and find support
From the February/March 2016 issue of our magazine, read about what dementia advisers can do for you.
A dementia adviser can help people to come to terms with a diagnosis, and to navigate the care and support that is available.
Our northernmost service is run from Berwick-upon-Tweed by Dementia Adviser Una Armstrong, over an area stretching down Northumberland's coast to Seahouses.
John, 71, has vascular dementia and says,
'I don't know what I would have done without her.'
John, who has lived on his own since his wife died three years ago, adds,
'If I've got any questions, I always know I can ask Una.'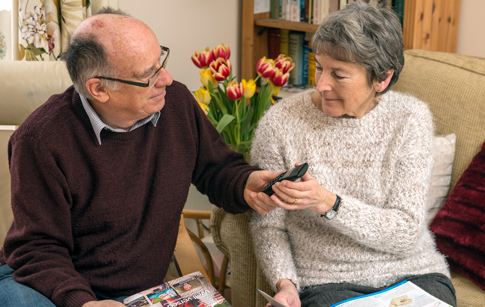 Ros and Derek have valued Una's support
Tailored service
Una helped John with appointing someone to make decisions on his behalf if he's no longer able to, through a lasting power of attorney.
She also put him in touch with a telecare service that reminds him to take his pills and monitors safety alarms around the house.
Una says,
'I help people get plans in place so they can get on with their lives. If I don't know the answer, I'll go and find out.
'It's a specialist service that's tailored to individual needs – everyone deals with a diagnosis in a different way,'
Not judging
Jean Weatherhead, now 79, was particularly thankful for Una's support when a fall meant she was less able to care for her late husband at home.
This was when Jean had to accept that Sid, who had Alzheimer's, needed to move into residential care. Yet the value of a dementia adviser had been clear from the outset.
'Una made me feel as though someone knew exactly what was going on and was not judging.
'She told us about the benefits we might be entitled to, without asking a lot of personal questions.'
Lifting spirits
Ros Forshaw was diagnosed with Alzheimer's and vascular dementia four years ago aged 63, after moving from Merseyside with her husband Derek.
Now between Berwick and Seahouses, she says,
'Una lifts your spirits when she comes to see you. She's always got good ideas, it's very stimulating.'
Una encourages people not to wait for a crisis before getting in touch.
'It's really important to ask for help. That's when you're in a position to find out the options for you.'
Use our online directory Dementia Connect to find dementia services near you.
Subscribe to Dementia together magazine