No one was more surprised than Simon McDermott when he and his dad's carpool karaoke videos captured the public's imagination this summer. Gareth Bracken hears the story behind the headlines.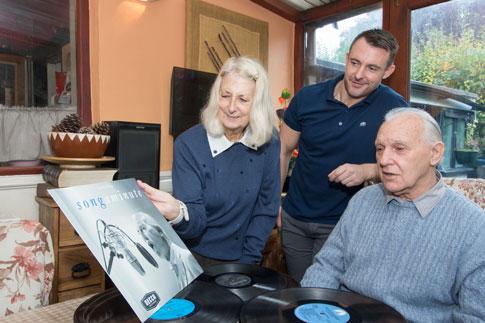 ​
'I expected to raise £500. I put a target of £1,000 to give people something to aim for.'
At the time of our conversation, Simon McDermott's fundraising total for Alzheimer's Society was approaching £130,000. The donations were in response to videos he posted online of his dad Ted, who has dementia, singing with him in the car.
Ted, or Teddy Mac, is a former Butlin's Redcoat and club singer known as the Songaminute Man because of the incredible number of songs he knows. It was a selection of these, including Quando, quando, quando and Volare, that caught the imagination of viewers the world over.
Reflecting on the massive amount of money raised, Simon laughs.
'I can't believe it actually.'
'When it kicked off, I was getting donations every few minutes. At one point my phone was going off every 30 seconds.'
Simon has since won a Special Recognition Award at this year's Daily Mirror Pride of Britain awards – watched by almost 5 million people on ITV – and Ted's life story is being turned into a book.
'It's been like a movie, it doesn't feel real. It happened so fast, out of nowhere.'
So why does he think their online 'carpool karaoke' videos struck such a chord?
'I'm not really sure. But a lot of people have dementia in their family and can relate to it. Also the videos are a family thing.
'Someone said it's because we both look happy – you can tell we're having a laugh!'
Serious side
Unsurprisingly for anyone who has cared for a person as their dementia progresses, this feel-good story has a more serious side.
Simon felt compelled to raise funds after receiving support from the Society's National Dementia Helpline at a time when his father's aggressive behaviour was becoming extremely difficult for the family to cope with.
He says,
'Dad isn't a violent person but he was ready to kill us. It was hell. I was terrified, exhausted and worried about Mum and the future.
'I felt alone. I didn't have anyone who fully understood what was going on. Life is normal and you're not prepared for that – there's no training for it. I was trying to find a solution but didn't know what to do. It was the lowest point.
'It was just being able to pick up the phone and tell someone this. I broke down as soon as I heard a voice. She just listened to me crying for about a minute.
'It made me realise I wasn't alone and that you can get through it.'
Having lived in London since 1998, Simon recently moved back to Blackburn in Lancashire to support his parents and give his mum, Linda, some respite.
Ted, 80, was diagnosed with dementia in 2013, though Linda says there had been signs for a couple of years before that.
She says,
'He would get confused and agitated when setting up his musical equipment to perform in a care home. And he didn't memorise as much when you were talking to him.'
​
Coping strategies
Linda says Ted now needs constant care and is very reliant on her and Simon.
She says,
'He gets upset or frightened if he can't see me in the house.'
Linda has developed strategies for diffusing the situation if Ted is getting agitated.
'I'll take him out in the morning. He's quite happy on a bus – he'll chat to people. He likes chatting to children, so I'll take him to McDonalds. You weigh up the situation as you go along.'
Singing is another coping mechanism for the family, with Simon taking Ted for a drive when his dad is getting angry. Ted has been singing more recently and Simon has noted a change in his dad's behaviour.
'He's a lot happier – it takes him back to his passion. There are still dark days, but it's better than it was.'
Linda adds,
'After singing his conversation is much better. He'll talk about his music.'
Difficult denial
An ongoing challenge is what Linda describes as Ted's 'complete denial' of his dementia, meaning the family avoid the subject entirely.
She says,
'Ted is aware something isn't right – but the word "dementia" is never mentioned. When Simon was on TV and Alzheimer's was mentioned, we coughed or talked over that bit.'
Ted's denial makes it difficult for the family to make use of many services.
Linda says,
'If he thought he was going to a dementia café, he wouldn't accept that.
'We went to a carer's group but it was in a care home and he went berserk. He thought I was putting him in there.'
Linda tries to ensure that she and her husband lead as normal a life as possible and go to the same places they used to.
'Some people get embarrassed taking people with dementia out, but it's silly – it's an illness. If people don't understand, that's their fault.'
'I'm coping pretty well and Ted's medication does seem to be working for him, although you do get days when you think, "I can't cope with this anymore".'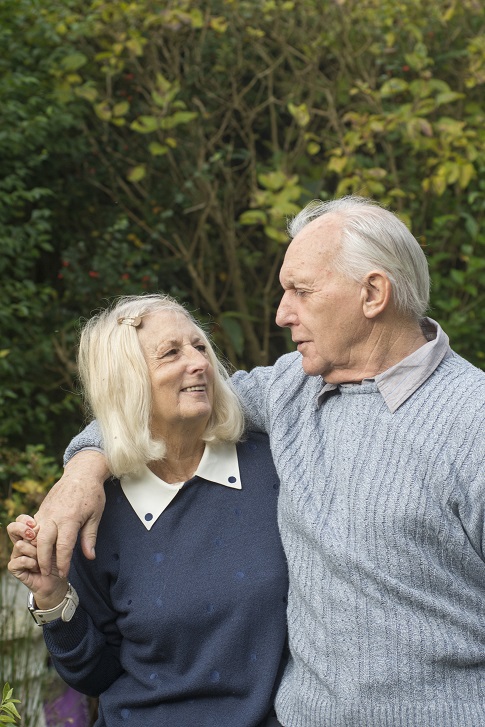 ​
Jumbled up
The success of Simon's online videos led to the release of a single, a cover version of Frank Sinatra's You make me feel so young, recorded at London's famous Abbey Road Studios.
This reached number three in the iTunes chart and number 43 on the overall singles chart, and proceeds were split between Alzheimer's Society and the family.
Simon says he'd love for his dad to record an album, and judging by the public's response so far he's not the only one.
Asked how aware Ted is of his newfound fame, Simon says,
'Dad heard his song on Radio 2 and realised it was himself. He knows people are talking about him and are recognising his voice, but it's all jumbled up.
'It's like a jigsaw puzzle in a box – the story is there but it's not in the right order.'
As he reflects on the success of Songaminute Man and his new chapter of life back up north, Simon is keen to ensure that his dad's main carer gets the recognition she deserves.
He says,
'A lot of the attention has been on me and Dad driving, but Mum does the majority of the work.
'I think a part of Dad does realise what she does for him – she is the rock that keeps us together.'
Dementia together magazine: Dec 16/Jan 17
Dementia together magazine is for everyone in the dementia movement and anyone affected by the condition.
Subscribe now
More from Dementia together magazine: Dec 16/Jan 17:
Dementia together magazine is for everyone in the dementia movement and anyone affected by the condition.
Subscribe now