10 point plan for integrated dementia care
Our 10 point plan is a tool for Sustainability and Transformation Partnerships (STPs), Integrated Care Systems (ICSs) and other collaborative working partnerships to help them realise their ambitions for an efficient integrated health and social care system.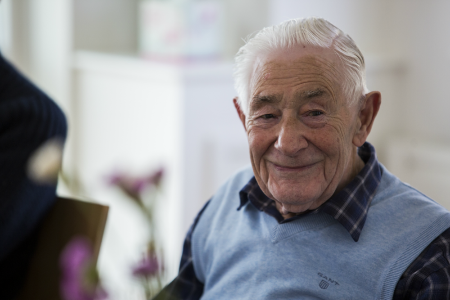 Follow the 10 point plan to help you get the system right for people affected by dementia, in turn getting the system right for everyone.
For more information, please email [email protected] or download our 10 point plan booklet.
Our 10 point plan
1. Appoint a Dementia Champion
Sustainability and Transformation Partnerships (STPs) should appoint a Dementia Champion who understands the complexity of the condition, and how an integrated system can work to help people affected by dementia to live well and in their own homes for longer.
2. Talk to people with dementia
People affected by dementia are the experts about what it's like to live with dementia, and so should be able to influence work with local health and social care teams.
From small facilitated focus groups to large scale consultations, our Dementia Voice and People and Participation team can help the support the planning and facilitation of involvement opportunities. Contact the team on [email protected] for guidance.
3. Talk to the specialists
Dementia is a complex condition and people affected by dementia often have co-morbidities adding to the complexity of their healthcare needs. Even the clinical staff that work with people affected by dementia still only have a very basic understanding of how the condition effects people day to day.
That's why specialist organisations like Alzheimer's Society are so important to engage with when planning health and social care strategies. We have lots of information about dementia on our website, as well as a whole host of resources available to organisations working towards become more dementia-friendly.
4. Train your staff
Alzheimer's Society Training and Consultancy provides specialist training to health and social care staff which will provide them with the right skills, knowledge, behaviours and values to support people living with dementia.
Want more information about training?
5. Build community resilience
Our Dementia Friends programme offers individuals, businesses and organisations the opportunity to learn more about what it is like to live with dementia and turn that understanding into action. Dementia Friends information sessions and tools are a simple and practical way of an STP raising dementia awareness and creating the right environment to foster communities geared towards supporting people affected by dementia to live well.
6. Provide care in the right setting
Delayed transfer of care is one of the greatest challenges faced by health and social care services and is one of the 17 indicators on the STP dashboard.
One of the opportunities that integrated care brings is the ability to plan for and facilitate care in the right setting for people affected by dementia. Read more about our Fix Dementia Care campaign.
7. Reduce risk
Dementia should be part of a Sustainability and Transformation Partnerships' established prevention agenda. You can ensure this by:
Promoting awareness of resources that provide people with information about the risk factors for dementia and the actions they can take to reduce their risk. Find information about using risk on our 'Reducing your risk' webpages.
Using simple and effective messaging about reducing risk e.g. 'what's good for your heart is good for your brain.'
Including dementia in the NHS health check; an ideal opportunity to highlight dementia risk reduction messaging, given the overlap with cardiovascular risk factors.
8. Sustain and improve diagnosis
Getting a diagnosis empowers people with dementia and their families to understand the symptoms they are experiencing and to access the care and support they need to help manage the condition. It also allows people with dementia to plan for their future and access the appropriate practical, legal and financial information and advice they need.
Sustainability and Transformation Partnerships should support Clinical Commissioning Groups to meet the national target of a two-thirds diagnosis rate. There are many ways to improve diagnosis rates, which include:
Raising awareness of dementia amongst the public by holding events or displaying our materials. Use our order form to requests publications about dementia.
Using the data available from NHS Digital to monitor monthly diagnosis rates and compare across your area and region.
Sharing best practice and innovation locally. Many areas are taking or have taken actions to improve diagnosis and the dementia pathway.
Arranging a training session for health and social care professionals to improve their knowledge and skills in supporting people with dementia.
See our publications and factsheets
We produce a wide range of publications designed to support and inform anyone affected by dementia.
Dementia publications
9. Ensure person-centred support
Effective integration can enable person-centred support for people affected by dementia from the point of diagnosis. Standard referral routes should be developed and embedded to ensure that every person who receives a diagnosis of dementia is offered a named support worker, such as our Dementia Advisor service.
Alzheimer's Society are leading experts in personalisation and dementia and have developed tools that have proven centred approaches to co-production in commissioning and service design. These include:
Check your progress in delivering personalised care and support planning with this free self-assessment tool.
10. Tailor environments
Creating a dementia friendly environment can improve staff moral and efficiency, as well as improve outcomes for residents and carers.
We offer a full audit to assess your environment, where we'll send you a full report and our recommendations for creating a positive and stimulating environment.
You may also find the following resources useful:
Contact our team for more information about integrated health and social care.
Email us