Dementia-friendly general practice toolkit development, Notts and Derbys
A co-produced toolkit has enabled practices to improve patient experience quickly, at low cost, to benefit patients with dementia, and others too.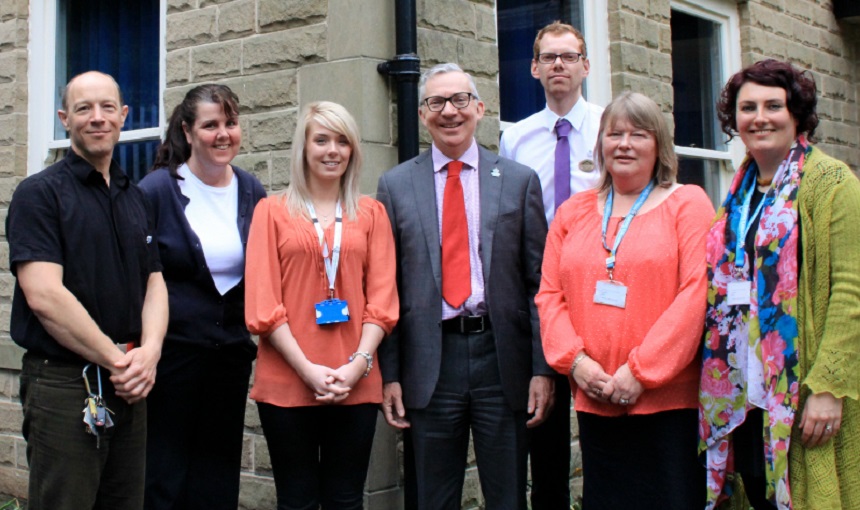 The Purpose
To develop a toolkit to address two issues:
people with dementia reporting poor experiences when they visit their GP
GP practices would like to do more to be dementia friendly but were unsure how to do this and felt overwhelmed.
Preparation
A series of meetings with a range of stakeholders at a range of venues:
Meetings with CCG commissioners
GPs at protected learning time sessions
Alzheimer's Society volunteer meetings
Support groups for carers of people living with dementia
Memory cafes and other dementia activity groups
These meetings helped define the scale of the issues and to find out from people affected by dementia what a dementia friendly General Practice would look like.
Funding from Alzheimer's Society Innovation Fund and the East Midlands Strategic Clinical Network was secured to fund an initial 12 month pilot.
What happened
Stage One: Pilot
A fulltime project officer and part time administrator worked with a Steering Group to co-design and co-produce the Dementia Friendly General Practice toolkit which was trialled with 8 GP practices in Derbyshire during 2015-2016. The Steering Group, which included two carers, one person living with dementia, a GP and a Strategic Clinical Network officer oversaw this project. The project was evaluated by Institute of Mental Health, Nottingham.
The process involved:
A dementia awareness session which was in two parts – an initial Dementia Friends session and then a further discussion applying that awareness to General Practice settings
An initial assessment of the practice against the indicators in the dementia friendly General Practice toolkit
An action plan was developed where practices could flexibly determine which actions to prioritise in the short and long term
After the action plan was carried out a second assessment was made to measure changes
There was also a separate walkthrough of the practice by person affected by dementia where they recorded their experience against several aspects of the GP practice
GP practices were given "Working to become dementia friendly" status as a result of their work
Stage Two: Implementation
Following the success of the pilot further funding was secured from the Innovation Fund to:
further develop the Dementia Friendly General Practice toolkit and the Dementia Friendly General Practice Information and Awareness session implement the work within Derbyshire and Nottinghamshire.
Nottingham City CCG developed a Local Enhanced Services payment for GP practices within their CCG to carry out the Dementia Friendly General Practice work.
During 2017-2018 46 out of 53 GP practices within Nottingham City CCG took up this offer. A further separate project involved 8 practices in Derbyshire and 4 practices in Nottinghamshire which were not part of the LES payment.
Practices followed the same process of the pilot. They needed the majority of staff to attend the awareness session in order to receive the first part of the payment and then complete the assessment and carry out an action plan to receive the second payment. Practices then were given "Working to become dementia friendly" status.
Details of involvement of people affected by dementia over both pilot and implementation
Pilot
1 person with dementia and 2 carers on steering group
4 people with dementia and their carers involved with walkthroughs of GP practices
2 Service User Review Panel groups (4-6 participants in each group) across East Midlands to review toolkit and GP Appointment / Commonly Asked Questions Book
1 carer presented at Alzheimer's Society Conference 2017 workshop about Dementia Friendly General Practice project
Implementation
2 people living with dementia and 2 carers presented at Nottingham city wide protected learning time session for administration staff. They spoke to over 200 staff over two sessions.
 'The best PLT [Protected Learning Time session] I have attended … it was very moving. Everyone should attend a session like todays PLT and open everyone's eyes to Dementia Awareness… Speakers were brilliant. The best training course I have been on in 24 years working in the NHS, all training should be like this'
Approximately 25 people affected by dementia carried out walkthrough assessments of GP practices across Nottingham City
3 people from local Focus on Dementia group (prev. SURP) assisted with walkthrough assessments for other practices
In Derbyshire 4 people affected by dementia were involved with walkthrough assessments of GP practices
The results
The Institute of Mental Health evaluation had the following key findings of the pilot:
Co-production factor was a key contributor to the authenticity of the toolkit
Staff engagement was significantly facilitated by dementia awareness session
There were obvious benefits in the toolkit for other patient groups
The process validates existing good practice
A supportive partnership approach between the Alzheimer's Society Dementia Friendly General Practice team and GP practices was essential
Awareness sessions
There were 43 awareness sessions across 52 practices which included 641 participants.
The findings from the post session survey showed the following:
Significant improvements in confidence in being able to support a person with dementia
Significant improvements in confidence in being able to develop a dementia friendly GP practice
Significant positive changes in attitudes about dementia
Almost all
Products
Development of checklist assessment
General Practice Information and Awareness Session
GP Appointment book / Commonly Asked Questions booklet (draft only)
Results beyond initial project
Nottingham City Three GP practices in Nottingham City which had not taken up the LES offer asked for support to take on the work. Two had heard about the positive impact of the Dementia Friendly General Practice work and one was approached by a patient to become dementia friendly after hearing about it from patients in other dementia friendly practices.  Alzheimer's Society volunteer reps delivered the awareness sessions. These volunteer reps are Dementia Champions who had also delivered these sessions in Nottingham City.
A neighbouring Nottinghamshire CCG had heard about the work in Nottingham City and used the DFGPIAS session as a basis for developing awareness amongst practices. Alzheimer's Society volunteer reps also delivered some of these sessions.
Contacts made at Alzheimer Scotland Conference in 2017 led to a discussion with Healthcare Improvement Scotland – Focus on Dementia. This has now resulted in Alzheimer Scotland adapting the Dementia Friendly General Practice toolkit to the Scottish setting and is being piloted amongst GP practices in 3 locations across Scotland.
Following the pilot in Derbyshire there was a lot of word of mouth interest in this work and over 20 GP practices across the county have had Dementia Friends sessions and shown an interest in working through the toolkit independently
A GP practice in Derbyshire has gone on to support their Patient Participation Group to play a leading role in the development of their village becoming a Dementia Friendly Community.
'We were very happy with the element of our CQC feedback that emphasised the responsiveness and patient centred nature of our services, undoubtedly by our dementia friendly practice work. In the older people and mental health domains these were especially credited.'
What changed for people with dementia
GP staff have increased awareness of dementia which has contributed to an improved patient experience
Further improved patient experience by changes in physical environment and systems eg. Appointments within General Practice
Improved relationships between GP practice and patients involved with walkthroughs
Carer's involved in steering group, presentations / conferences and walkthroughs have increased confidence and  sense of being valued for their insights and experience
People with dementia involved in SURPS, presentations, walkthroughs have increased sense of confidence and sense of being valued for the insights and experience
Learning points
Important to talk about General Practice rather than just GPs… as whole staff need to be involved.
Important to understand day to day realities of General Practice
Allowing General Practice to take flexible approach to how they determine and carry out action plans is important
Involving people with dementia in walkthroughs highlights aspects of the practice that those without dementia do not pick up
Making dementia awareness sessions personal has bigger impact and specifically involving people with dementia has the biggest impact
GP practices prefer some kind of recognition for the work they have done
Key contacts to find out more
Alzheimer's Society team for Notts and Derbys. Email: [email protected]
Useful Links
Dementia-Friendly General Practice Innovation Project Toolkit Guide (2016)