Read Charlotte's story about her grandma Jane and find out why she wants you to help fix dementia care with Alzheimer's Society.
Charlotte is supporting Alzheimer's Society's Fix Dementia Care campaign calling on the Government to fix a broken homecare system for people with dementia, their families and homecare workers.
This is the main thought I have as I drive to my Grandma Jane's house. Since being diagnosed with Alzheimer's disease in the summer of 2011, and in hindsight, for quite a while before that too, Grandma's behaviour can often be quite tongue-in-cheek, awkward, embarrassing and irrational.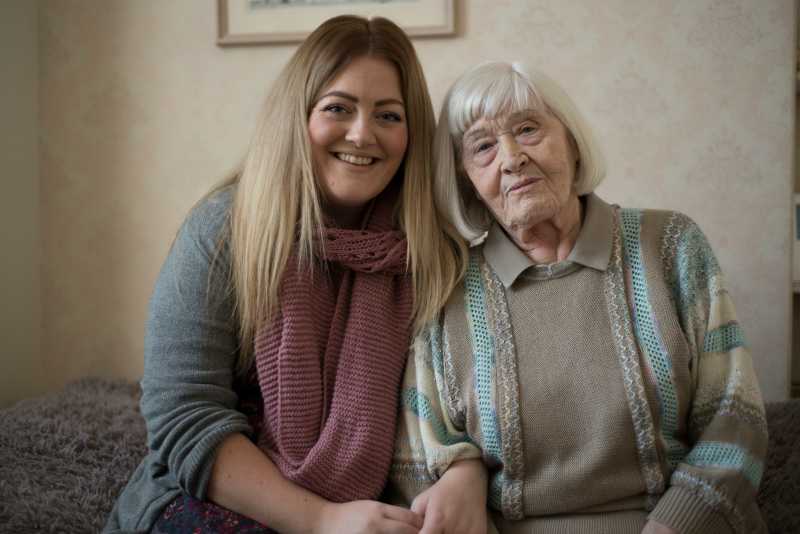 It's hard for me to comprehend that the woman who taught me how to curtsy, to eat with a knife and fork and the waltz is now no longer bothered with bathing, entertaining guests or protecting any form of her modesty in the presence of strangers. So bearing this in mind, and the mixed bag of possibilities in mood and behaviour that a diagnosis of Alzheimer's brings about on a daily basis, my slight reluctance and contemplation of the above question can perhaps be forgiven.
This worried feeling and rainbow of emotions I tend to get on the journey has worsened somewhat since our family realised there was a need for extra help, and subsequently brought in homecare workers twice a day to help Grandma with her daily routine. That probably sounds strange, that I'd be worrying more when there are people coming in regularly who are supposed to be trained in helping people like my Grandma.
The problem is that the things that had led to us making that decision - lack of washing herself, not taking her tablets, not feeding herself regularly or eating inappropriate foods - are all still happening. So while dealing with my anxiety over what behaviour my grandma will exhibit during this visit, my mind is also whirring with the possibilities of what could have gone wrong since my last visit.
Maybe that's normal. I think in part it must be. To me, Alzheimer's has transformed my Grandma into a childlike version of herself; in the people she recognises, the things she will willingly speak about and the places she remembers most clearly. I think what I can relate the worry about her care too, is how new mothers feel about leaving their infants with other people when they are young. It's so important that you have total faith in their abilities and that they will do things how, and to the level that you would do them. Although perhaps that's the impending motherhood that I am now facing as I carry the next generation of my family!
Some visits I've had showed me that some care workers don't understand how to care for someone with dementia. Especially when they leave their handover notes in plain sight on the dining table, which upsets Grandma after she reads them. Sometimes the stress alone this can cause my grandma makes me think I should leave university to care for her. Ultimately I know that isn't an option, but it's both upsetting and infuriating to me and to my family when small and simple tasks aren't being undertaken, like throwing out of date food away or letting us know my grandma has bolted the house and is refusing them entry that day.
Today, however, I arrive to my grandma walking around the house with no bra on. I'm uncertain as to whether this is deliberate or forgetfulness, until she quickly tells me she just didn't feel like putting anything on today and encourages me to also strip off. I politely decline and realise that this will be a 'crying induced by laughter' visit, and smile. They are my favourite visits with my grandma