Our Dementia Helpline team receives over 100 calls, emails and letters a day. Here, one of our advisers talks to a person concerned about her mother.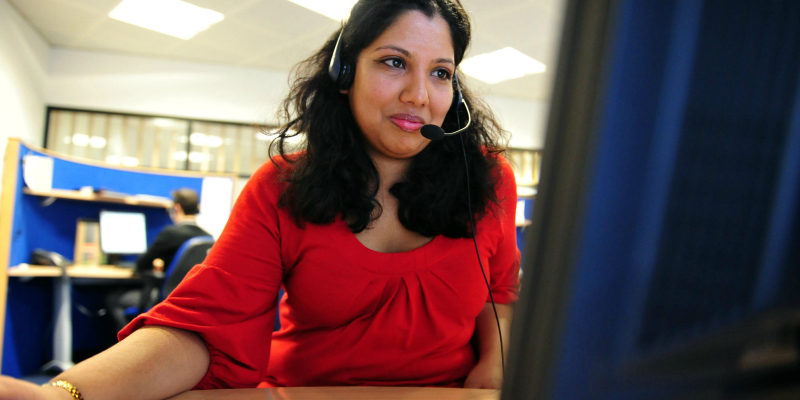 ​
Here, the Helpline picks up a call from a person who is worried about her mother's memory. Here is our advisor's side of the conversation:
Hello, National Dementia Helpline. How may I help?
There's no need to apologise. Please take your time.
I know it can be upsetting when it's the first time you have talked about it.
When did you first notice a change in your mother?
So, it isn't just her memory? You have noticed some personality changes too. It must have been shocking when she swore at you in front of your daughter.
You were the same age when your grandmother swore at your mother for the first time in your presence. That sounds so upsetting. There's an echo there of what happened to you, so it isn't surprising this has been especially painful.
May I ask how old your mother is and how old your grandmother was when you noticed changes in her memory and behaviour?
No, because your grandmother had Alzheimer's disease it isn't necessarily the case that your mother has it too. There isn't a proven, familial connection.
I couldn't say. It's not something I am qualified to comment on. There probably isn't much use in either of us guessing. Alzheimer's disease is difficult to diagnose. A GP cannot diagnose either, but the GP will be able to refer to a specialist such as a neurologist if appropriate.
​
Of course. Dementia describes the symptoms that occur when the brain is affected by specific diseases and conditions. There are many different conditions causing dementia and Alzheimer's disease is one of them. Alzheimer's disease is the most common cause of dementia.
I can understand why you might say that, but a diagnosis can be helpful for many reasons such as life planning and there are more medication options now that there were not available when your grandmother had Alzheimer's disease. It is possible to live well with Alzheimer's disease with the right support.
I'm not sure it will be helpful to you for us to explore that at this stage. We are open 7 days a week so if that turns out to be the case you can always come back to us to talk it through. The next step might be to see a GP with your mother instead. There are other possibilities that may explain your mother's behaviour and memory issue.
A thyroid imbalance –a urinary infection –depression for example…
It's great that she will agree to see her GP with you. It might help if you jot down some of the specific incidents that have caused you concern lately.
It's a difficult word, especially for the older generation and she may be reacting aggressively because of her fears. You probably don't need to use the word at all. You might want to talk in general terms about a medical check-up just to make sure she is okay.
No, at this stage that would be entirely truthful.
She is in fact having a medical check-up.
You can call back as and when it might be useful…
Perhaps after the GP appointment? You are very welcome.