Arwen Wilcock, Research Translation Manager at Alzheimer's Society, tells us what made her walk away from a programme launch inspired and optimistic about dementia care in the UK.
It's no secret that providing care for people in the later stages of dementia is an extremely complex task, particularly for staff in care homes.
The level of care in care homes is often not based on the best or most recent evidence. This is why we launched our 'Implementation' grant scheme, which aims to help the researchers create this evidence and makes sure their findings are actually put to good use in care settings.
Namaste (pronounced Na-mass-tay) Care is one of our very first Implementation research projects. It aims to enable staff to cater to the personal needs of residents with advanced dementia, focusing on the person rather than the process and protocol.
It was a privilege to attend the recent launch event for the Namaste Care research project, led by Professor Dawn Brooker at the University of Worcester.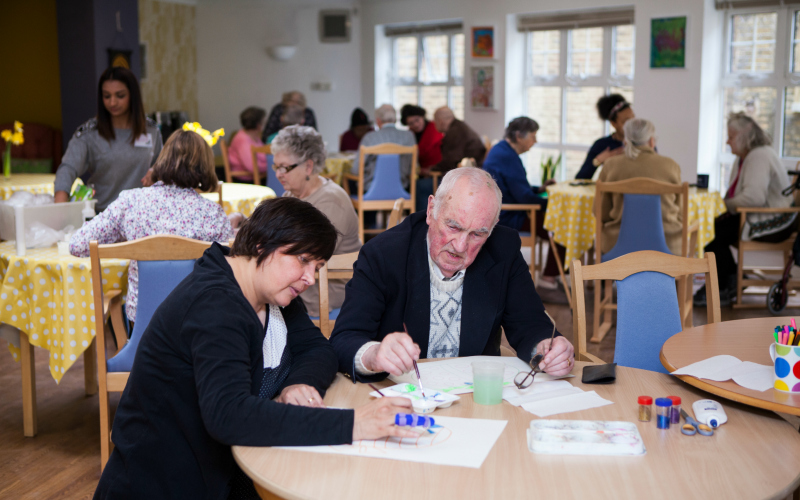 So what is Namaste Care all about?
Namaste Care changes the focus and structure of care given to residents at the later stages of their dementia.
At the launch event, Dawn gave the example of 'giving a bath for the pleasure and enjoyment of having a bath rather than focusing on a bath as a process to get someone clean'.
The manner of care is described as 'holistic' because it is incorporated into all aspects of daily life and involves a range of physical, sensory and emotional approaches.
These approaches support residents with advanced dementia in many activities, for example managing pain, making sure they are getting enough to eat and drink and use of music to manage anxiety and stress.
Reported benefits
Using the Namaste Care approach has produced reports of 'small miracles' in some of the care homes in the USA where it has been trialled.
These include residents who had become non-verbal beginning to speak, visible signs of anxiety disappearing and residents laughing at bubbles blown around them. This was a significant change from people being isolated in rooms or being left in front of the television.
There is evidence that Namaste Care improves quality of life not only for residents but families and care home staff; some care home staff in the USA have reported that using the programme has helped them to feel more empowered and satisfied with their job.
The research
As an implementation research project, the researchers will aim to understand how to introduce the Namaste programme into UK care homes. It will focus on how to adapt the programme to improve quality of life for people with the complex needs associated with advanced dementia.
The project team will work with care providers and people living with dementia to provide valuable insights to support delivery of the Namaste programme. They will also create a professional network that can share learning; the aim is for this network to continue beyond the research project.
Voices of people affected by dementia
All research projects supported by Alzheimer's Society involve people affected by dementia. This includes regularly monitoring the progress of the project.
One of the project's monitors, Peter, said:
This project offers promising improvements in person care in care homes. Research in care and services allows scientific evaluation of interventions by practical implementation and leads to convincing care home management of the advantages of adopting the practice.'
Opportunities for care home staff to be involved
The project team are looking for people with experience of, or interest in Namaste Care to take part in a survey to support the project.
If you have any questions, please contact the research team directly:
Jen Bray (Research Assistant)
E-mail: [email protected],
Telephone: 01905 542326