Julie's mum, Eileen, was living well with dementia in her assisted living property before the pandemic. But when Eileen contracted coronavirus, she needed to be admitted to hospital. Julie shares her story, and 'My Poem to Dementia'.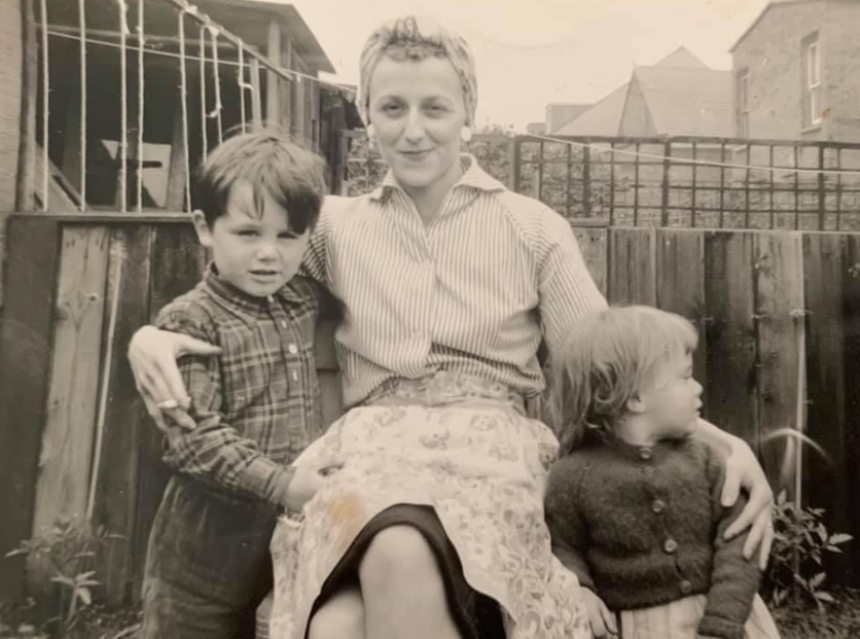 My mum, Eileen Walker, is a legend and the strongest woman I've ever met.
Mum loved my dad so very much. My dad was a rascal when they first got married. He would skip work to go fishing, which was the second love of his life! They had five children - two daughters and three sons.
My parents didn't have a lot of money but gave us everything we needed; an abundance of love, fun, laughter, morals, and how to be a nice human being.
Mum worked hard, at home looking after us, baking jam tarts, and making home-cooked meals.
When we were older, she worked in a factory at the end of our road and could see the garden wall from the window. At times she would have to come home when one of us burnt the frying pan and would leave it in the garden to cool down. She could see the smoke! Mum was protective but never overprotective.
My sister and I are both strong independent women – that was what both Mum and Dad wanted us to be, but Mum was the one that truly shaped us.
The boys were always taught to be respectful to women. Mum would say, 'Think about how you would like your sisters to be treated and treat girls the same as that'. All my brothers became wonderful boyfriends, husbands, and fathers too.
How lucky are we to have had our mum as our mum!
Mum loves nothing more than family get-togethers. She would dance along with the best of them, and always the last to go to bed!
Mum was a great dressmaker and her knitting was renowned. She knitted my brother-in-law, who's a motorbike fanatic, an amazing Harley Davidson logo jumper, which he still has to this day.
She always looked gorgeous, was very particular about the way she looked, hair always right, make-up on, and clothes spotless. The green outfit Mum is wearing was something she made to go on holiday! I think she looks like a model.
Mum shared Dad's love of fishing and together they would go fishing on a Friday evening and come home on a Sunday. We were all in our teens or married by that time, so it was fine. Mum was in the Angling Times for catching a 26lb 7oz carp and could fish along with some of the best of them.
Mum has a great sense of humour, which we are lucky enough to have inherited. Dad would love her one-liners and they used to make him chuckle.
Mum and Dad were married for 65 years until Dad sadly passed away in 2014.
Mum's dementia diagnosis
Mum was officially diagnosed with Alzheimer's disease / mixed dementia probably two or three years ago, although she showed signs of this when Dad was alive. She did tests but was always one or two points from diagnosis and being referred for a CT scan.
Mum lives in assisted living accommodation and was doing well up until the coronavirus (COVID-19) pandemic. Visits are very restricted at present. Currently, only one family member is allowed to visit her, and at times no visits unless in emergency circumstances. This is very hard for Mum and the family.
Mum was recently in hospital with COVID-19 and other health issues. Not being able to see her or talk to her was a daily struggle, as it is for everyone at this time.
I would worry and visualise Mum in her hospital bed worrying about me and wondering why I am not able to visit her.
I got her a mobile so that she can ring me but in my heart, I know she won't be able to use it. I have to talk her through turning the TV over these days. I just had to hope a nurse would find the time to help her. These are sad times.
Worries about changes in Mum
Mum's discharge from the hospital was delayed by a day due to transport issues. When I spoke to her about it, Mum asked me what my dad thought about the delay. This took me by surprise as Dad passed away over six years ago. She asked me twice and I just said, 'As long as you are well enough to go home, we are all happy with this'.
Since he passed away, Mum has never talked about Dad in the present tense. Another part of this sad journey!
I spoke to Mum's carers to make them aware of this. I was concerned she'd become upset, agitated and scared when being taken somewhere she no longer recognises and also that my dad is not there. It may have been a one-off comment, but I just don't know.
I have been adding lines to this poem for a number of months now. At times, the changes to Mum occur so rapidly, they can catch me by surprise. Other changes are taking place slowly.
My Poem to Dementia
by Julie Donworth
What have you done with my mum dementia
I look but I cannot see
The woman and the mother she once used to be
What have you done with my mum dementia
She sometimes tells me to 'sod off'
Instead of when I enter I would hear "hello my love"
What have you done with my mum dementia
Her eyes seem to have lost their light
And now she sits in her chair from morning to night
What have you done with my mum dementia
She doesn't always remember her grandchildren's names
She knew every single one of them, it's such a terrible shame
What have you done with my mum dementia
She doesn't always remember to drink or have a meal
I wish this ongoing nightmare wasn't real
What have you done with my mum dementia
It is such a terrible crime
That you are taking away the mum that once was mine
What have you done with my mum dementia
She thinks she's washed, hair done and looking smart
But the reality is she's unkempt, sometimes smelly and it breaks my heart
What have you done with my mum dementia
She doesn't look happy any more
She doesn't smile and say a cheery hello when I walk through the door
What have you done to me dementia
When she repeats things over and over again
I no longer have patience and it just drives me insane
What have you done to me dementia
I seem to be distancing myself for when the day comes
That she doesn't know me and that she's my mum
What have you done to me dementia
I no longer enjoy my frequent visits to mums
And get upset with myself when time to leave comes

What have you done to me dementia
The person who cared for her without a blink of my eye
To the one I am now, guilt ridden, resentful it makes me cry
One thing I know dementia you will never take my memories
Of the mum who would race us all around the block
Dad standing by the gate in charge of the stop-watch
One thing I know dementia you can never take away
Memories of playing games when we were all young
On a Sunday afternoon laughing having fun
One thing I know dementia you will never take from me
Memories of mum looking gorgeous when dad got home at night
Lippy on, pencil skirt, heels, hair done she looked a bit of alright!
One thing I know dementia you can never steal from me
The woman she once was, a caring loving mother and friend
These memories will stay with me until the bitter end
So I say this to you dementia – one day your day will come
That you won't be here to take away someone else's mum
The time will come dementia that you will no longer be around
The hard work the researchers do – a cure, I'm sure will be found
So for now dementia I will find that person within, that I once used to be
Who cared for mum with no regrets, no guilt but just the loving me
And make her day a brighter one and make more happy memories too
That's my pledge to my darling mum and dementia that's my promise to you