When Mark shared his story on the blog, he never anticipated the media interest it would attract. It even led to Mark discovering a new side to his family!
Earlier this year, Alzheimer's Society kindly published my first blog. It told the story of my mother's fight against Alzheimer's disease and how her symptoms have benefitted from changes in her diet.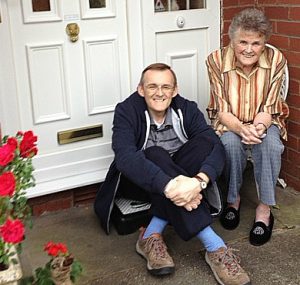 Our posting generated quite a lot of media interest and gave us the chance to cascade down to other people foods that worked for us. Well, I'm pleased to say my mum's symptoms are continuing to improve.
Whilst she has her good days and bad days, for an 82 year old, she is doing remarkably well. She continues to impress her treating team. In fact, we are both taking part in the Manchester Memory Walk at Heaton Park on 29 September.
New branches on the family tree
They say every cloud has a silver lining. Even though the last couple of years have been tough, one of the unexpected benefits of this terrible disease was the unforeseen set of circumstances leading to the discovery of a whole new side of the family we never even knew existed.
Shortly after our blog was published, I was contacted late one Friday night by a very nice gentleman called Ben. Unfortunately, Ben had lost his grandfather to Alzheimer's disease a couple of years back.
Ben's email read:
I'm sure this is a little odd, but I believe my grandmother (born 'Hatzer') and your father were first cousins, which makes us second cousins, once removed'
Ben had been working on his family tree when he spotted the article about my mother's battle with Alzheimer's. After further research, Ben matched us up with the names on his family tree by reference to a well-known online genealogy platform.
Ben kindly provided me with full details of all his research including Census documents dating back from 1911. It all confirmed a match.
The history behind my heritage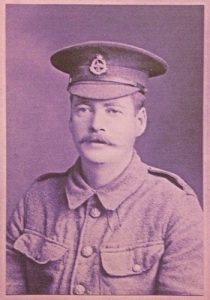 Mark's great-grandfather, James Hatzer I'd always wondered where the name 'Hatzer' originated from. It's not exactly a common name but I could never find anything conclusive. But Ben was able to confirm the name originates from the middle ages in what is now Luxemburg / Belgium.
There is also anecdotal evidence to suggest the family goes all the way back to a family from Hedsor near Marlowe (on the River Thames in Buckinghamshire). This family was part of the 1169 Anglo-Norman invasion of the East coast of Ireland between Newry and Dublin. But what is certain is the fact Ben and I share a common ancestor.
James Hatzer, my great-grandfather (pictured in military uniform) was born in 1885. He died aged 39 years in 1924 after fighting in the Great War.
Staying in touch
Ben now lives in London and I'm in Manchester. We met up for the first time this month and we are pictured below. So, the moral of the story is every cloud really does have a silver lining. If it wasn't for the Alzheimer's shared by both sides of our family, then I would never have known I have a long lost cousin.