Hear how an Alzheimer's Society dementia training course transformed the way Nigel engages with people affected by dementia.
Nigel Wears, a musician from Leeds, volunteers in local care homes. He runs music sessions for residents, many of whom have been diagnosed with dementia.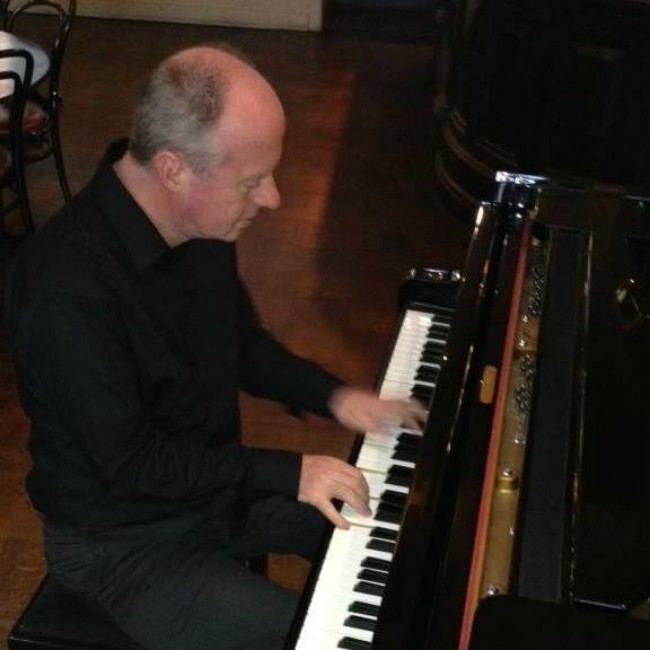 ​
Nigel Wears with his piano When I began volunteering in care homes, I noticed that some of the residents were displaying what I thought to be very different and challenging behaviours. I wanted to know more about dementia so decided to attend Alzheimer's Society's Step inside dementia course, which is open to the public.
Engaging, stimulating and thought-provoking, the training was delivered in a professional but entertaining and sympathetic way. Our tutor was very knowledgeable and definitely not afraid to be put on the spot!
Throughout the day, we were encouraged to share our experiences and ask questions. As the attendees were from all walks of life and lots of different occupations, this made for some very interesting and eye opening discussions.
Putting my training into practice
Since attending the training, I've been able to use the strategies and practical skills I learned to communicate with the residents more effectively, involving everyone in the music sessions and engaging with people with dementia. I now understand what is happening and can build and maintain positive relationships with the people I visit.
My music ability combined with the knowledge and skills I gained on Step inside dementia has become a very powerful tool in giving some respite to people through music-making.
The residents display all sorts of reactions and respond to the music in their own way, sometimes playing percussion instruments, waving scarves, singing and dancing, or it may be just a squeeze of my hand and a smile.
Could dementia training help you?
Our public access courses are open to the public and provide a great insight into the world as a person with dementia sees it. Our most popular course, Step inside dementia, is an introductory, skills-based workshop which teaches you how to build positive relationships using increased knowledge, empathy, and practical skills.
Contact our Training and Consultancy team on 01904 567 909 for more information or visit alzheimers.org.uk/training