Our CEO, Jeremy Hughes, recently went to Tokyo to attend the Japan:UK Dementia Conference, hosted by Nikkei. Here he shares his experience, as well as an update on how Alzheimer's Society is forming partnerships beyond borders.
As the UK faces the challenge of being seen as insular post-Brexit, it's good to see we're recognised as world leaders in one area – dementia and care.
Earlier this month I was in Tokyo for a series of events. And at each, reference was made to how the UK kick-started global action on dementia with the London G8 summit back in December 2013.
The Tokyo events marked the unique partnership on dementia forged between the UK and Japanese governments.
The commitment to this partnership was reinforced in a video statement from our Secretary of State Jeremy Hunt and in a speech by Minister Katsunobu Kato.
Jeremy Hunt reaffirmed this commitment in a recent blog:
'What we've also learnt is that we cannot achieve our ambitions for dementia alone. Our partnership with Japan, which shares so many similar challenges associated with an ageing population, has demonstrated that we are far stronger when we collaborate beyond our borders.'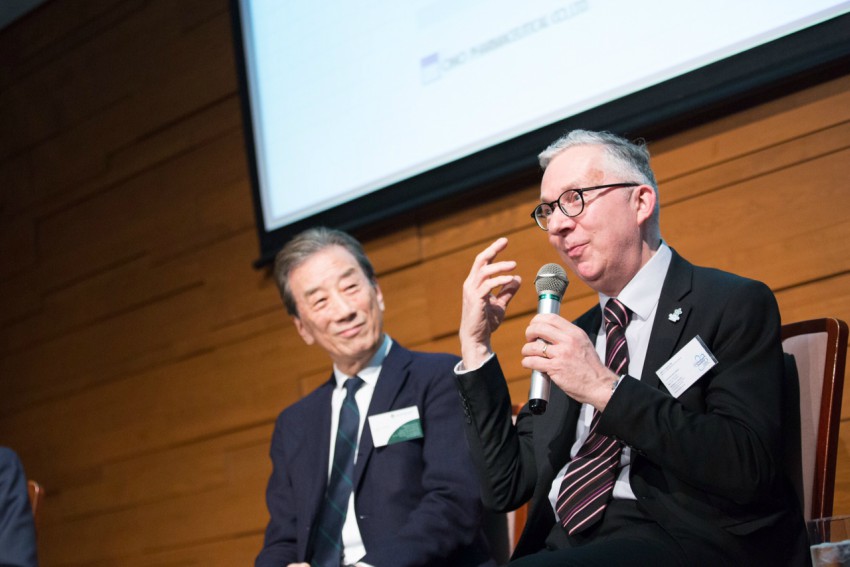 ​
What did we discuss at the Japan:UK dementia conference?
The World Dementia Council applauded progress made in all four areas of awareness, care, prevention and research. Set up by the UK Government to ensure that the G8 Summit's 2025 goals were progressed, the World Dementia Council is an independent body which tries to ensure global attention doesn't wane.
But alongside progress there was also recognition of how far we still have to go. We noted that every drug development failure actually embodies learnings that can contribute to a future success, but researchers need to share data to ensure this happens.
We highlighted that the WHO Global Action Plan on Dementia sets goals on tackling stigma and diagnosis rates. But Governments, not least in low and middle income countries, must commit to develop national dementia plans to realise on these goals.
The important part Dementia Friends programmes can play was referenced, with us supporting the development of Dementia Friends in more than 30 countries.
And whilst the Lancet Commission last year produced new evidence that around a third of dementia cases are preventable, more research is needed to corroborate this and then public health programmes developed to change behaviours.
As the newly elected Vice-Chair of the Council, I look forward to helping keep global attention on realising the 2025 goals with the UK Government, researchers, industry and civil society all playing their part.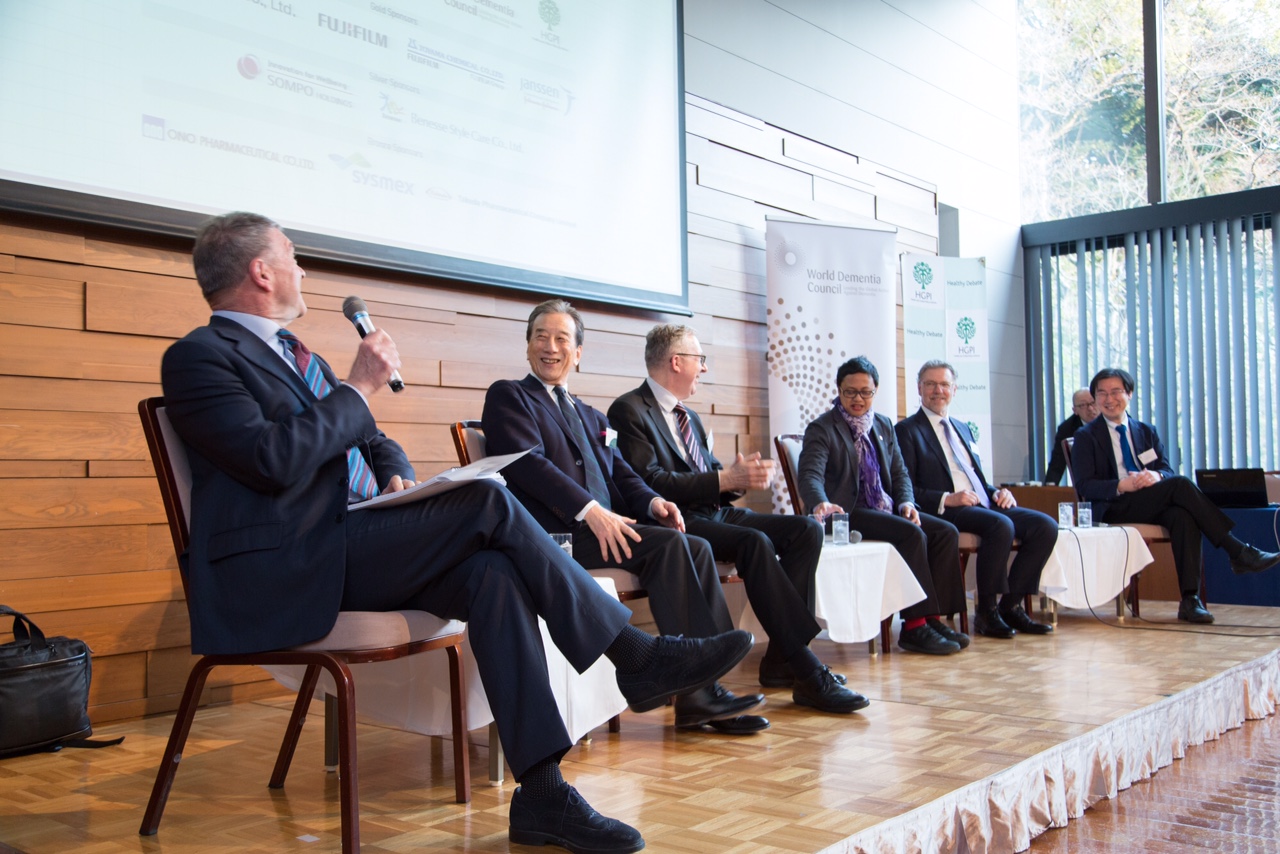 ​
Showcasing our work in dementia research
My week in Japan also showcased UK researchers from universities including UCL, Worcester, Newcastle and Stirling alongside Japanese counterparts and leading companies such as Eisai (developers of Aricept) and Sony.
All UK presenters referenced the importance of Alzheimer's Society funding and leadership. Particularly good to hear as we, and our partners, commit £20m and appoint an Associate Director for Care & Technology at the Dementia Research Institute.
And our leadership was very evident in listening to and empowering the voices of people affected by dementia. Hilary Doxford from the newly formed Three Nations Working Group of People with Dementia proved a powerful advocate in all the meetings she attended.
Back in London and the state of social care in the UK
Before we get too complacent, back to London for a wake-up call about how we have to do so much more for people with dementia in the UK (even if we are often ahead of other countries). But it proved a wake-up call with new hope.
Last week Secretary of State Jeremy Hunt made a major speech reflecting his new brief of health and social care. Setting out seven principles to guide the forthcoming Social Care Green Paper, he repeatedly referenced the poor deal people with dementia and carers get from our health and care system.
The hope comes from his genuine commitment to do something about it. His promises included an end to the inequity of support between people with dementia compared to people with cancer (including a cap on costs borne by the individual); better trained care staff; support for family carers; and more control through personalised, integrated health and care.
The challenge now is to deliver on those principles. A promised Green Paper in the summer is a long way from change actually happening. Critically there must be new money as well as a better use of existing NHS money.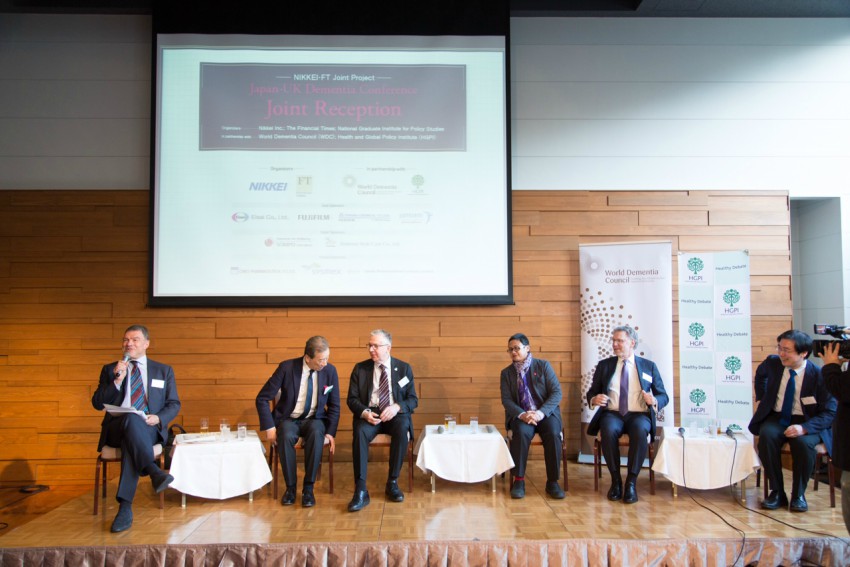 ​
Keeping people with dementia at the forefront
Whether in Japan, the UK or anywhere on the planet, the five expectations of rights articulated by people affected by dementia in the Dementia Statements must never be forgotten. I was pleased to read out the statements at the NIkkei/FT Conference.
For Mr Hunt, one is particularly pertinent to his social care reforms:
'We have the right to an early and accurate diagnosis and to receive evidence based, appropriate, compassionate and properly funded care and treatment, from trained people who understand us and how dementia affects us. This must meet our needs wherever we live.'
Such a fantastic and productive trip – and, united, we will make the progress that people affected by dementia want and deserve.
How can you help?
Join our campaigning network to become part of the wider movement that is pushing for positive change in the lives of people affected by dementia.
You can also read more about our international activity.