Our campaigners visited Parliament last week for a 90-minute debate on improving the lives of people living with dementia. Read what was said and what it means for our campaign to Fix Dementia Care.
Last week (25 June), Debbie Abrahams MP led a 90-minute Westminster Hall debate titled 'Improving the lives of people with dementia'. MPs from across most political parties attended the debate, which was great to see.
We briefed all MPs with the key arguments of our Fix Dementia Care campaign, and many of them spoke positively of our campaigns and programmes – particularly of Dementia Friends and the Dementia Fund.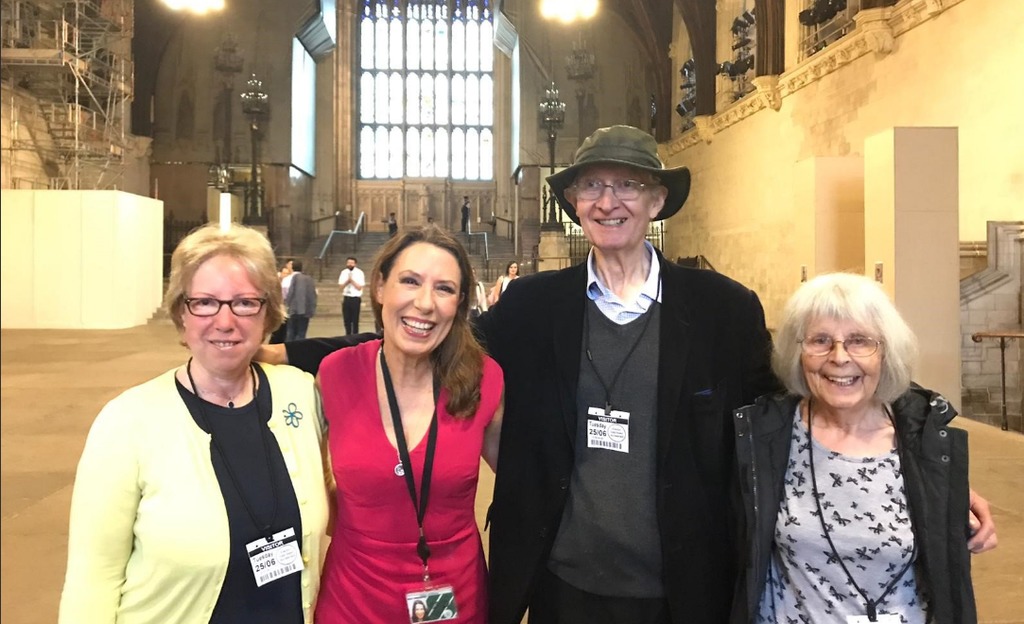 ​
Hilary, Debbie Abrahams MP, Tony and Pat at Westminister Hall.
Our campaigners visit Parliament
Three of our campaigners also came along to watch the debate: Hilary and Tony, who are both living with dementia and Pat, who is married to Tony. The group found it positive to hear MPs giving attention to dementia and considering the issues experienced by people living with the condition. They also met with Debbie Abrahams MP beforehand to talk to her about their experiences living with and caring for someone with dementia.
'The debate was an extremely valuable introduction to all the work which is being done by various people and projects, which give us hope that in the future [dementia] will be dealt with more speedily and accurately.' - Tony
You can see a video of Tony speaking about the day below.
Tony, who's living with dementia, gives his thoughts on today's Westminster debate on how society can improve the daily lives of people with the condition - thank you for joining us, Tony!

It's so vital to ensure that the voices of people with dementia are heard in Parliament ❤ pic.twitter.com/8N77WLjzrS

— Alzheimer's Society (@alzheimerssoc) June 25, 2019
What was said during the debate?
In the debate, we secured a new commitment from the Labour Party front bench in support of the Dementia Fund.
Julie Cooper, Shadow Minister for Health and Social Care, called for the Government to 'Introduce a dedicated £2.4bn Dementia Fund to cover the additional cost of delivering specialist dementia care and end the inequity that currently leaves families affected facing astronomical care costs'. It is fantastic to hear our call for a Dementia Fund championed in parliament.
In response to the points made by MPs, Minister for Care, Caroline Dinenage, confirmed that she will push for dementia to remain a priority. She reiterated the Government's commitment to publishing the adult social care Green Paper at the earliest opportunity. She also said that more short-term social care funding will be agreed alongside the rest of the local government settlement in the forthcoming spending review, which is now likely to happen next year.
Gaining momentum
It is encouraging to hear dementia being discussed in parliament, particularly in relation to our campaign work and calls for a Dementia Fund.
We were also pleased to be able to accompany some of our campaigners to watch the debate, and see some results from their campaigning work. The more MPs hear about dementia and the issues associated with it from their constituents, the more difference we can make.
Together, we will Fix Dementia Care.
Stand with us to Fix Dementia Care
If you would like to join Hilary, Tony and Pat and stand with us to Fix Dementia Care, you can help make the Dementia Fund a reality by signing a public letter to the future Prime Minister.
Sign now