Kathy has been separated from her mum, who has dementia, for eight weeks. Like many other families, Kathy is angry about Government's lack of planning for care homes and believes people with dementia are being ignored.
Kathy's mum, Mavis, is 90 years old and has Alzheimer's disease.
Mavis lives in a care home in North West England, which is currently closed from visitors because of coronavirus.
Being unable to see her mother in person for such a long time is a great cause for concern for Kathy.
Kathy is worried about Mavis' mobility deteriorating because of fewer opportunities to walk during lockdown.
But much more importantly, she is worried about Mavis' cognitive decline and lack of wellbeing.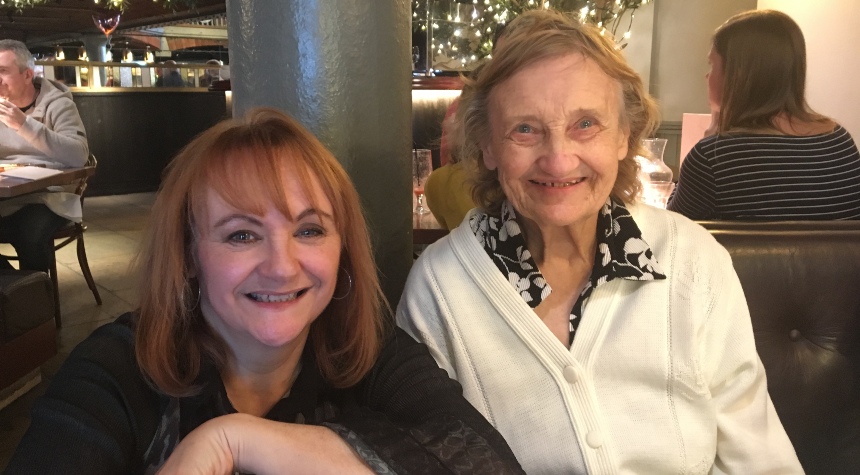 ​
Doing all I can to stay in touch
Kathy has tried to keep some face-to-face contact with her mother through video calls. But while this virtual method works for some, it doesn't work for others.
Mavis doesn't like video calls. The past few times they've used this method to talk, Mavis hasn't recognised her daughter.
'My absolute main concern is that bit by bit, Mum is forgetting who I am.
'It's heart-breaking.'
'When we were able to meet up, I could nudge the needle on the broken record and stop it getting stuck. For the hours we were together she knew (roughly) who I was. But using virtual means, that's impossible.
'It isn't just once or twice that Mum hasn't been able to recognise or understand who I am when using FaceTime... it's every time.'
Trying to stay positive
Focusing on the positives is hard when you're caring for someone with dementia from a distance.
For some time now, Mavis' strongest memories are from her childhood. She talks about her dad, her sister and other relatives who have long since passed as if they are still alive.
Kathy and the care home staff have always used reminiscence therapy in order to engage Mavis and keep her happy.
'I try to concentrate on the fact that she is happy, safe and cared for right now. But she must have wondered sometimes why no one is coming to visit.
'Alzheimer's disease means that even if she could understand about the dangers (which she can't) she won't remember.
'Even though we try to explain that 'this flu thing' means we have to stay safe, we can see that she can't understand in the slightest.'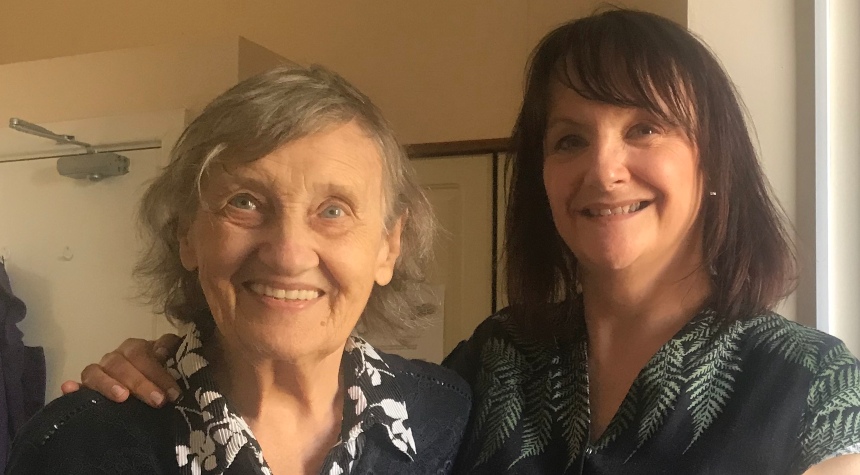 ​
An urgent need for Government action
Kathy understands why care homes need restrictions. But she passionately believes that the government needs to do more.
There needs to be a balance between the residents' physical health, and also their wellbeing and quality of life. For Kathy, care homes in places like the United States and Australia have made a compromise between these issues that makes much more sense.
In the hopes of getting an update on what plans are being made for care homes, Kathy is sending questions to the government every few days.
She has heard a rumour that care home restrictions may last until the end of the year.
If that is the case, she doesn't think she will ever see her mum again where her mum recognises her.
Kathy says, 'I feel frustrated that the Prime Minister's announcements are not properly dealing with this group of vulnerable people.
'People with dementia are simply being ignored.'
'I want the right to be able to see my mum in the grounds of the care home while keeping two metres away from her. This could be done in a way that would not compromise the staff or other residents.
'Or, I at least want reassurance that the government are thinking about how this could work.
'I believe a coordinated effort is needed from individuals and charities, like Alzheimer's Society, to push Government to get answers.'
Calling for changes
People affected by dementia have been worst hit by the coronavirus pandemic – facing devastation at home, in their community and in care homes. The effects of the outbreak cannot be undone, but action can be taken to better protect people now, and in the future. To make this happen, urgent solutions must be put in place to better protect, support and connect people affected by dementia during the pandemic.
Alzheimer's Society have secured a parliamentary debate on the shattering impact of Covid-19 on families affected by dementia. We have shared thousands of lived experiences with government, but you can also make sure your MP represents you.
Government must take urgent action
Help us maximise MP engagement in our upcoming parliamentary debate by writing to them to ensure they take part.
Write to my MP