Following her first blog, Dr Elizabeth Wood shares her experiences after her incredible climb of Antarctica's Vinson Massif in aid of Alzheimer's Society.
Following on from her first blog, Doctor Elizabeth Wood shares her experiences after her incredible climb of Antarctica's Vinson Massif in aid of Alzheimer's Society.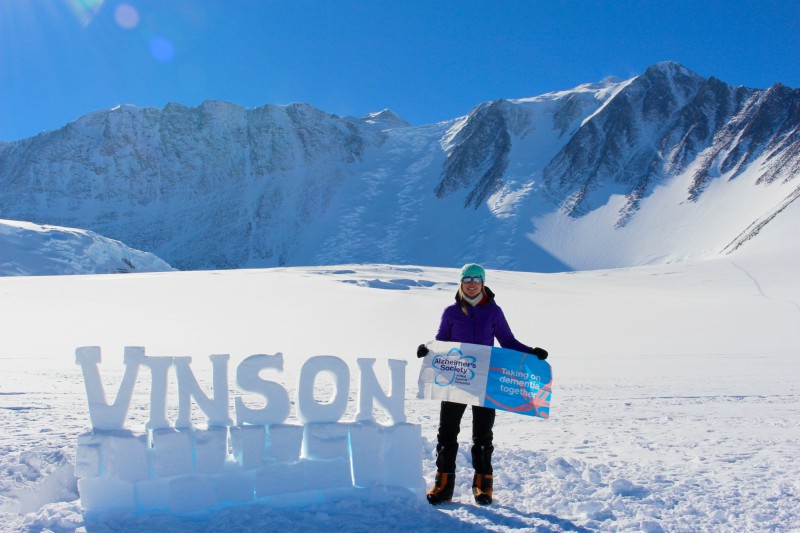 ​
Elizabeth at Vinson Base Camp, beside a snow sculpture she helped to build
As I stepped off the plane onto the blue ice runway at Union Glacier, the wind and cold air hit me, taking my breath away. After three years of planning our ascent of Mount Vinson (4892m), I had to keep pinching myself to check that this was really happening.
'Welcome to Antarctica', said one of the ground crew. We had finally arrived after a four-hour flight from Punta Arenas, Chile.
Union Glacier is a small hub of relative luxury in this vast continent. This serves as a gateway for adventurers and climbers alike, wishing to explore this magical place.
We had planned to push on to the mountains, taking the Twin Otter flight to Vinson Base Camp, but the weather had other ideas. We were to quickly learn that you are at the mercy of the elements in Antarctica, with patience being a key.
Weather matters
After spending six days adjusting to the alien environment and preparing our kit, the clouds lifted on day seven.
We were able to take the 50-minute breath-taking, scenic flight to Base Camp (2100m), with amazing views of pristine untouched peaks.
Following a smooth landing on the snowy runway, we met with our guide Tre-C Dumais, an experienced climber from Alaska. We decided to capitalise on the good weather.
After a quick bite to eat and re-organisation of kit, we set off on the six-hour climb (10km) to Low Camp (2700m), pulling packed sledges.
Although there is 24-hour daylight, Low Camp is in the shade from about midnight until 11am, so we had a much-needed lie-in the next morning. I woke at 9am to find ice crystals covering the tent walls and on my sleeping bag from my breath.
I quickly learnt that anything I didn't want to freeze overnight (water, wet wipes, sun block and camera batteries) needed to be stored with me in my sleeping bag!
It was amazing the difference the sun made –once it was shining directly on the tent, temperatures went from -15°C to a balmy +25°C inside!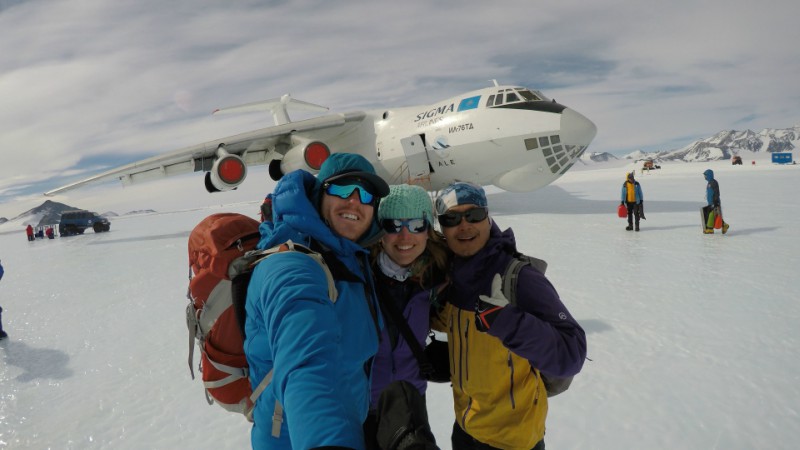 ​
Elizabeth with her team mates, Pete and Joel
Heading to High Camp
After a rest day to acclimatise, we set off for High Camp (3700m). This included a steep climb up 1.2km of fixed ropes; hard going with a heavy backpack weighing over 20kg!
I kept my focus upwards and tried to avoid thinking about the steep drop below. My mind wandered to thoughts of family and friends, and the sponsorship we had received helped motivate me to keep going. The stunning views were a good distraction from my aching legs and shoulders.
I felt pretty rough during our first night at High Camp with mild altitude sickness. I had a pounding headache, waves of nausea and racing heart, as if my brain hadn't caught up with my body. The weather was OK the following day and we could have made a summit attempt but I needed to rest and acclimatise.
The forecast over the radio from Base Camp sounded good for the next day and my team mates, Joel and Pete, were happy to wait.
When the wind blows
By the afternoon I felt much better and re-packed my kit in excited anticipation. However, that evening, the elements once again decided to show us who was boss and the wind started to pick up.
We awoke the next morning to the wind roaring, with gusts over 40 knots (46 mph). Hoping the storm would pass over quickly, we remained on 'aggressive stand-by', as our guide termed it. We were safe in the knowledge that due to the 24-hour daylight we could set off anytime.
However, the wind continued to pick up and the 40-50 knot winds caused temperatures to drop below -40°C. We couldn't be outside the tent for more than five minutes without risking serious cold injury. Tent fever ensued at times, saved by my Kindle!
After a scary sleepless night, during which I thought our tent was going to break, morale was boosted by a forecast for better weather in two days.
Fortunately, we had enough food and fuel in the emergency cache to wait it out. We hoped the forecast was correct this time – it's heavily reliant on modelling with limited data.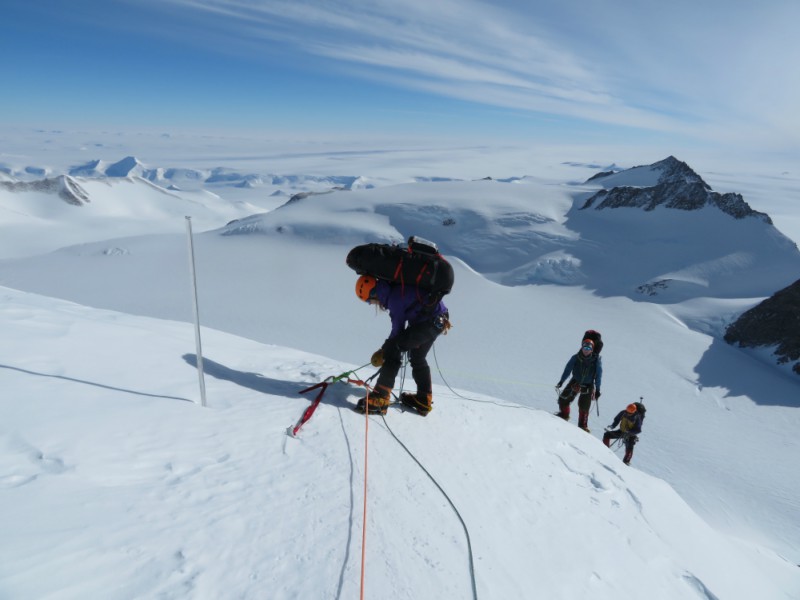 ​
Elizabeth amidst the stunning views of snowy peaks
Approaching the summit
We woke on Saturday 9 December to perfect conditions – the wind had finally died down and it was a lovely -25°C! After four days in a tent, it was a relief to get moving.
The delay had given us plenty of time to acclimatise, and we felt strong and could enjoy the incredible views on the tough climb.
After thinking at times that we might not get the opportunity, it was a huge relief to scramble along the final ridge to reach the summit. With crystal clear conditions and little wind, it was well worth the wait. We were able to spend half an hour up there trying to take in a view I'll never forget.
The vast never-ending ice landscape, pristine snowy peaks surrounding the distant polar ice cap and the curvature of the earth visible – words cannot do them justice. It was very emotional to stand there and think what this would have meant to my mum, Kirsty.
I was also so proud of my husband Pete for having completed the Seven Summits, the highest peak on each continent. It was very special to be gifted with the opportunity to stand on the top of the bottom of the world!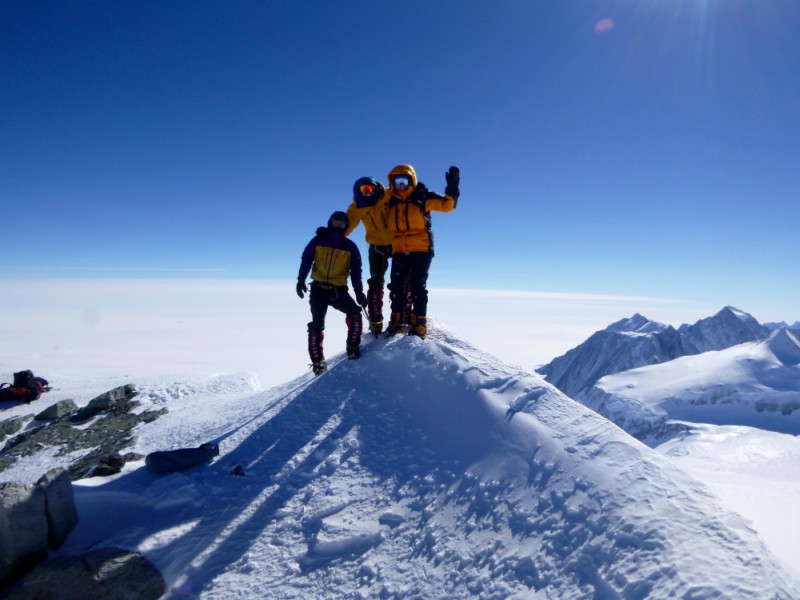 ​
Elizabeth reached the summit with her team mates, Joel and Pete
Heading back to Base Camp
As Ed Viesturs says, 'Getting to the top is optional. Getting down is mandatory' - the adventure wasn't over yet. After a 10-hour climb, we returned exhausted to High Camp and decided to spend another night there.
The next morning, we descended the fixed lines, elated, and had a smooth trip back to Base Camp. We thought the weather would hold to allow the Twin Otter to return and collect us. However, the clouds had other ideas.
We arrived at Base Camp to find a bank of fog covering the glacier valley, which lingered for the next three days. No plane could land in fog, due to the lack of visual contrast. Some of the time was spent constructing a huge snow sculpture, of letters spelling out Vinson!
Once the cloud lifted, we were greeted with incredible views of the ridge line and route.
It was hard to say goodbye to such an inspiring place. It's difficult to describe the sheer scale of this region and the effect this has. It certainly makes you feel very small and puts life into perspective.
Getting ready to return home
Once back in the relative comfort of Union Glacier, we could finally take a rudimentary shower after spending nearly three weeks on the ice.
However, watching the Russian Ilyushin jet land on the blue ice runway to take us back to Chile filled us with mixed emotions. We felt relief that we successfully achieved our ambitions without injury. There was excitement about seeing family and friends, but also sadness to leave such an incredible place.
Once home, I was thrown straight back into medical work, dealing with the NHS winter pressures. A month later, I'm still trying to process the trip. I feel very lucky to have had the chance to experience such a unique and precious environment.
A big thank you for all your support and generous donations – it has made the purpose of this challenge all the more rewarding.
Get involved