CCTV can be an effective form of assistive technology. However, there are ethical and legal issues that must be taken into account.
We are often asked by families worried about leaving a person with dementia alone if they can install CCTV cameras at home so that they can check on a relative when they are not there. Like so much in dementia, everyone is different and each case needs to be taken on its merits, but there are some clear legal and ethical issues to think about.
Assistive technology can be used as a way of enabling someone to remain independent and safer in their own home for longer. However, this in itself does not automatically justify use of CCTVs. It's worth asking a few questions in sequence.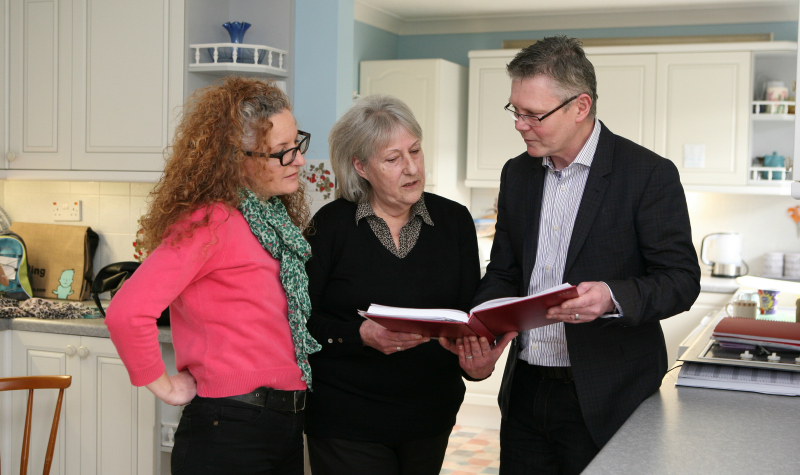 ​
Can the person with dementia consent to CCTV?
Being able to decide for themselves to have CCTV or not is an example of having 'mental capacity' to make a particular decision. The person needs to understand what is being proposed, the practicalities, weigh up the pros and cons, and communicate a decision. All this is covered in our Mental Capacity Act 2005 factsheet.
If the person can make this decision themselves then it is theirs to make and must be respected - even if the family disagree. If the person lacks capacity to make this decision for themselves then the decision can be made for them, either by an attorney or deputy, a professional such as a social worker and in some circumstances, family. But the decision made must still be in the person's 'best interests' and have regard to the 'least restrictive' option – these terms from the Act are explained below.
What if the person with dementia cannot consent to CCTV?
In making a best interests decision for someone who lacks capacity, the following should be considered:
Whether the person will be able to make the decision in the future. (If they have good and bad days, can the decision wait until a time they can make the decision themselves?).
The person's own views – it's important to note that, just because someone cannot make a decision, they may still have an opinion.
The person's past, present and future preferences.
All appropriate friends, family and professionals have been consulted.
All the relevant circumstances have been taken into account.
A decision also needs to have regard to the 'least restrictive' options. There needs to be discussion as to what other options are available and if these are more suitable. For example, other forms of assistive technology may be suitable, such as pressure pads, and these can also monitor when a person leaves or enters the home, and can be less restrictive than filming someone.
If it is decided that there isn't a less restrictive option, or it wouldn't work, then the least restrictive way of using the camera must be considered. For example, placing them only where they are needed needs to be. So cameras should not be placed where someone goes to the toilet, washes or dresses. If cameras are placed in these areas, social services could also become interested as this may raise safeguarding issues.
Does CCTV breach the person with dementia's human rights?
​
Finally, there are wider legal issues that must be acknowledged. The use of cameras in this way does go against someone's human rights. This is because we all have a right to privacy and dignity. Where absolutely needed, in someone's best interests, this right can be infringed upon but it needs to be carefully considered. Families who are unsure should consult with social services before using CCTV, and if they are being provided by a specialist company that provide these for care purposes then they should also help with these considerations.
If the cameras are recording and storing the information then it is important to realise how this data is stored and think through who will view it. Any recordings will be very personal to the person and so should not be widely shared. If the recordings do highlight abuse or neglect then this should be shared with social services.
Any decision made for someone needs to be in their best interests and have regard for the least restrictive options. Legally CCTV does infringe upon a person's right to privacy and dignity, and so if used careful consideration is needed, and perhaps consultation with a professional such as social services.
Like so much else in dementia, it needs to be an individual decision taking into account a range of factors.