12 year old A'yaan won first prize in his school's public speaking competition. He wrote this emotional piece about his grandmother, who has Alzheimer's disease. We have published A'yaan's piece here completely unedited.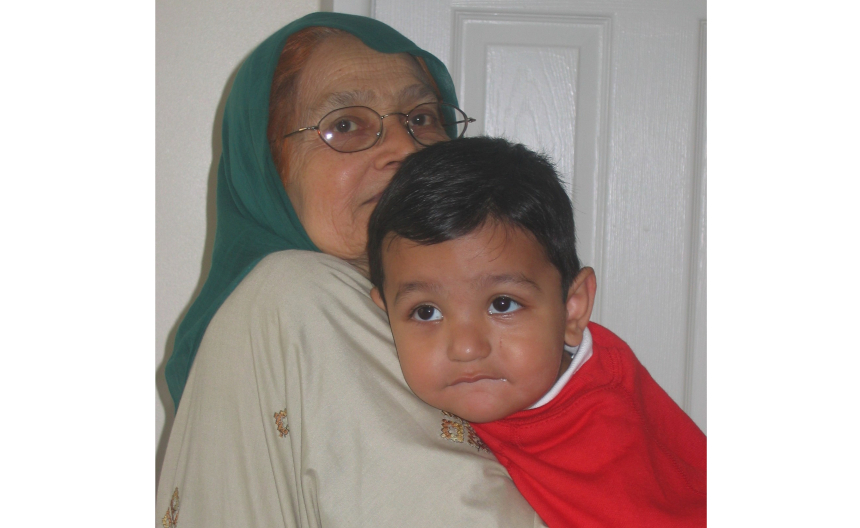 ​
A'yaan (aged two) with his grandmother.
Piece by Piece
By A'yaan Abdul-Mughis, aged twelve
She was a formidable woman was my grandma. A zoologist to the science world. A teacher to her students. An author to her readers. But for me, she was just plain old grandma.
MY grandma. Who was always busy rustling up something or other in the kitchen. I would lay the table and she would ladle piles of steaming hot food into dishes, which we would just about find room for on the massive mahogany table. Then we would all gather round to eat and listen to grandma's stories. And this is how it was for years. My high chair became a booster seat and the booster seat gave way to a smart carver chair at the head of the table. But the food and the stories never changed.
Thinking back, it must have been one of those days, when we were all sat together round the table. Loving. Laughing. Living. That an uninvited guest came in, unbeknownst to us, and stole a piece of my grandma. Just like that. She didn't notice, and neither did we but the memory thief had reached in and taken the first small piece.
"Where have I put my glasses?" said Grandma for the third time that evening.
"They're on your nose, grandma," I said for the third time that evening.
But still we didn't realise that she was losing her memory. Piece by insidious piece.
Months and years passed. The memory thief became a regular visitor, taking pieces of my grandma. Leaving holes. Holes that if they had been empty would have been kinder. But he left them filled with confusion, isolation, desperation. Piece by nostalgic piece.
Unravelling the rich magnificent tapestry which had taken eighty years to become a unique masterpiece. The memory thief kept pulling and pulling at the fringes and now my grandma is threadbare and worn out. Just a fragment of what she was. Piece by pathetic piece.
And now the memory thief must be sitting somewhere dangling his legs and rubbing his hands with glee.
"I've deleted her memory bank and stripped her of her self. Her family could do nothing to stop me and now, huh, I'll start on someone else." He's cruelly counting the pieces of my grandma. Piece by beautiful piece.
"What will you do with all those pieces?" I want to scream at him. "It was bad enough that you took my grandma away from me. But did you have to take her away from herself leaving a broken shell? Drained of memories, thoughts and words."
Piece by piece.
Piece by painful piece.