A practical guide to designing products and services for people affected by dementia
Our free guide, Dementia and co-creation, is for anyone designing innovative products and services to tackle the challenges that come with dementia.
The Dementia and co-creation guide aims to inspire and enable designers, researchers, engineers, and entrepreneurs to collaborate in a meaningful way with people affected by dementia. This will result in innovative products and services that improve quality of life and make the world better for everyone.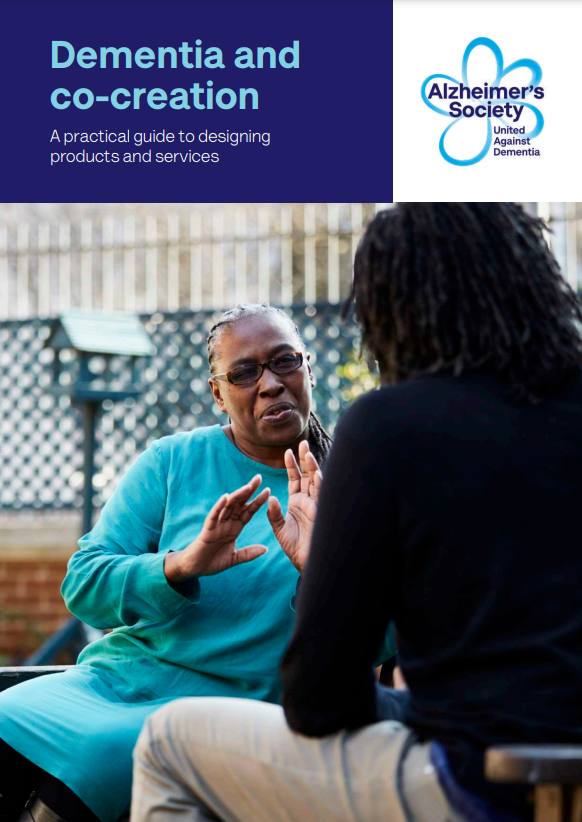 ​
The digital guide can be downloaded to use on your computer, tablet or phone. Hardcopies are available on request. If you have received the guide, please answer a few questions in our survey to help inform further developments.
What do we mean by 'co-creation'?
Co-creation is the process of working with others to develop a new product or service. It could be anything from shaping the scope of a project, to designing the end-product. 
Examples of co-creation include:
running workshops with people with personal experience of dementia and healthcare professionals to generate ideas for how to improve hospital discharge processes
working with someone with moderate dementia to develop a reminiscence product centred on their own life story
giving people affected by dementia a smartwatch to wear to understand how they use it.
What's in the co-creation guide?
The guide outlines the value of designing with people affected by dementia. From our guide, you will gain:
practical tools and methods for co-creating effectively
a handy checklist for planning co-creation activities
best practice guidelines for digital accessibility.
At the end of the guide, you will find a number of case studies to demonstrate how co-creation can work in the real world. 
Although the intention is to inform the development of digital solutions for dementia, much of the guidance can be applied to products and services of any format and any audience.
It is commonly said that by designing for dementia, you design for all.
Who is the guide for?
The guide will be useful to anyone designing an innovative product or service for dementia. For example, designers, researchers, engineers, and entrepreneurs.
People living with or caring for someone with dementia may find the guide of interest, but it is intended to be used primarily by those who are co-ordinating co-creation activity, rather than taking part in it.
How the guide aims to benefit innovators:
Enable you to explore the possibilities for innovating for dementia
Expand your knowledge of specialist co-creation tools and methods
Support you to create impactful products which make a difference to people's lives.
Alexander's story
In the guide, we hear from several people affected by dementia about what co-creation means to them.
Alexander's mother is blind and has Alzheimer's disease. Her experience highlights how involving people in the design of products can prevent fundamental issues from arising.
'I think the next generation of inventors do need to get out on the ground and in people's shoes to co-create solutions.
'I fear innovators are often stuck away in offices remote from reality.
'Without any visual stimuli to help my mother during the day and night, and with my exhausted father needing a rest, she heavily relies on Alexa to answer her many questions: what day, what year, what time is it?
My mother asked Alexa what her husband's name was and the reply was "She should know"! Not an answer for someone who is seeking motivation and help.
'The multiple speaking watches she has all have setting buttons that cannot be locked and as she fiddles with them all day long. The time, date and year are always wrong. So, each time I visit I need to help her reset it. The basic build quality is poor so all the buttons have fallen off.
'These are not just toys, but lifelines for people who feel lost and isolated.'
Who created the Dementia and co-creation guide?
The guide was developed by the Innovation team at Alzheimer's Society, with input from a panel of co-creation experts, including designers, involvement specialists, researchers, social entrepreneurs, and people affected by dementia.
Our award-winning Innovation team works together with people with lived experience of dementia to co-create bold solutions to everyday challenges.
We ask people what matters, we listen to their experiences, we support them to build their ideas and we involve them in testing them out.
With each unique project, we learn more about how to best facilitate co-creation and we're pleased to be able to share what we have found works well so far.
Get your copy of the co-creation guide
The digital guide can be downloaded to use on your computer, tablet or phone. Hardcopies are available on request.
Download the guide (PDF)
Tell us what you think
If you have downloaded the guide, or received a hard copy of it, we'd love to hear your thoughts. Please answer a few questions in our survey to help inform further developments of the guide.