Our Innovation sprints are a fast-paced approach for solving problems through designing, prototyping, and testing ideas ideas rapidly with people affected by dementia.
What is an innovation 'sprint'?
The main goal of a sprint is to shape, test, and adapt ideas until we have found sufficient evidence that they will work. This way of working represents a change from larger scale formal projects to a quick and inclusive approach to invigorate and empower people. We work together with people affected by dementia and other experts from in and out of Alzheimer's Society. 
Current sprints and how to get involved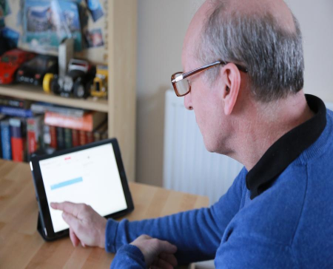 We have been exploring how people with dementia can experience a timely, accurate and supported diagnosis experience.
In this sprint, we've been gathering insight to understand the needs of GPs across the countries to improve the diagnosis experience and provide specific, effective support through consultation. We are working together to provide information to GPs directly to their desktop, enabling them to consistently share information about national support services.
We are also looking at a secondary sprint in the diagnosis challenge area. The focus here is supporting people in getting a diagnosis, by helping people with dementia and clinicians to have more valuable conversations through using health information in appointments.
We have been working with Luton and Dunstable Hospital and Phew! Software Solutions, to create and test a new Hospital Update Service to help improve hospital admissions for people with dementia and their loved ones.
The Hospital Update Service is a system which emails named patient representatives, to inform them of what is happening now and what is expected to happen next in a patient's care. The sprint has remained responsive to feedback from people affected by dementia, and now includes key information that supports the hospital stay.

Watch out for further updates on this sprint.
Want to find out more about our work? Contact our Innovation team and we'll match you with a project that suits your skills, knowledge and interests.
Email us