A woman with dementia and her husband benefit from a home support service
From the April/May 2016 issue of our magazine, a couple in Brighton benefit from a service providing dementia care and support at home. Heather Stephen hears about the impact it has on both of their lives.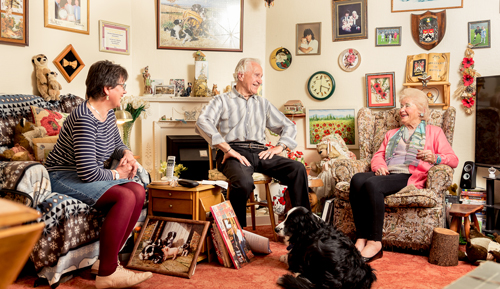 A glance around Edna Colbourne's cosy living room tells you how busy she likes to keep, from the stack of expertly drafted watercolours in one corner to the Scrabble board and piles of well-read books beside her chair.
The 85-year-old grandmother of two used to love visiting her local day care centre once a week.
She says,
'They had a room where you could make things. I did origami, baking and I made cards which I gave out for people's birthdays. I like doing artistic things.'
Since she had a fall and the centre closed a few months ago because of cutbacks, Edna has had to keep her hobbies indoors. This could have been an isolating time for her and her husband John, but for the support provided over the last six months by their local Alzheimer's Society.
Support at home
Sussex Dementia Care and Support Service workers have been dropping by the couple's bungalow in Brighton four or five times a week. Edna enjoys meaningful activities with them, and John gets a break to do chores and follow his own interests.
During each three-hour session Edna plays Scrabble, bakes biscuits or reminisces over a coffee while John, 86, is able to walk Robbie the dog, an adorable border-collie cross. He might also potter in the garden, pop to the shops or even have the chance to cheer on his beloved Brighton and Hove Albion football team every now and then.
A self-described people person, Edna thrives on the varied company.
John says,
'It's great for Ed, as she can't get out at the moment after having a bad fall last June. And she gets on really well with everyone that comes over.'
Edna, animated, adds,
'Oh yes, I enjoy talking, laughing and being sociable. I just like having people around for a chat, don't I Johnny?'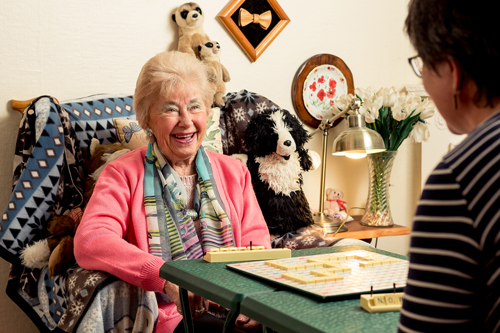 Sole carer
Edna was diagnosed with Alzheimer's disease two years ago. John, a retired train guard, contacted social services last year looking for replacement care as he was finding it increasingly difficult as her sole carer.
He was also a boxing referee into his 80s and a talented wood carver, and he found himself putting everything on hold to be there for his wife of 64 years.
He says,
'Ed needs someone with her all the time so I have had to give everything up. I was doing it all on my own and I couldn't do it any more.'
The Dementia Care and Support Service can offer help with personal care, or simply provide company while a carer does their own thing.
John didn't feel comfortable about someone else washing or dressing his wife but he certainly needed a break, so he signed up for respite, or replacement, care.
Although some people pay for the service John and Edna were able to secure funding from social services.
Of course, they could always do with more help but it is certainly a good start.
John says,
'That three hours goes quick, and though I still haven't had the time to really go back to my hobbies it does gives me the chance to get out of the house.'
A lifeline
Home support worker Judy Wigin is part of a seven-strong team who visit the Colbournes.
She says,
'The service in Brighton was started 20 years ago by a lady whose husband had dementia, and it has been a lifeline to John and Edna – especially after her fall last June.
'The couple didn't want personal care but the respite has given John a break. When people get that diagnosis they need lots of advice and support.
'That knock on the door can be just what they need to carry on doing what they are doing, and means that the person with dementia is able to stay at home a lot longer.'
Ben Coleman, who manages the service, says the Colbournes are fortunate as this is not available in every area of the country.
'Alzheimer's Society only runs seven of these services across England and Wales and funding varies greatly.
'In Brighton and Hove the local authority contributes to the cost, or pays in full, depending on your savings, but in West Sussex everyone is self-funding.
'Other Alzheimer's Society services offer similar pastoral support but we are also able to give personal care as we are registered with the Care Quality Commission.
'The service enables people caring for those with dementia to get out and do what they want to do, and for the person with dementia it offers some independence and one-to-one attention that so many people value.'
Find dementia services near you using our online directory, Dementia Connect.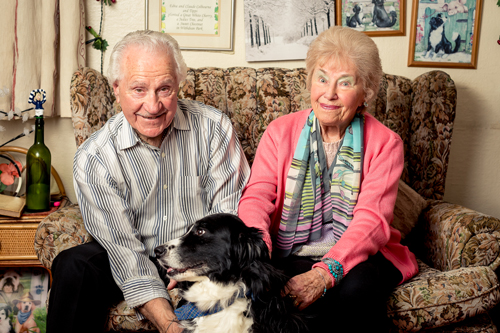 Head injury
The couple have had a lot to deal with over the years. Edna has diabetes and has to inject insulin twice a day. She has had a few really bad falls that involved head injury.
John says,
'The first time it happened was 20 years ago. We were on holiday and she tripped and fell backwards hitting her head on the kerb, and another time she was on the bus when it stopped suddenly and she ended up with brain damage.'
Edna began having dementia symptoms two years ago.
She says,
'I would go out and think, "I don't know where I am," or would wake up in the morning and think, "What am I supposed to be doing today?" I got very frightened.'
Although initially diagnosed with bipolar disorder because of her extreme mood swings, hospital tests revealed Alzheimer's.
She admits,
'Although I knew something wasn't right it still came as a shock.'
Edna is slim, elegantly dressed and beautifully made-up, and she speaks with eloquence and intelligence. It is clear that she does all she can to keep her mind active.
'I love to read but not novels. I like non-fiction because you learn things. I am very good at Scrabble and I'm always doing crosswords. I just like words.'
Close as ever
Dedicated to her family, Edna speaks with pride of the achievements of her son and two grandchildren. She is as close as ever to the man she married the day before her 21st birthday.
When talking about the difficult times in her life, including the accident last year that left her immobile, Edna becomes visibly upset and John is at her side in a flash cupping her face tenderly.
'It's OK Ed. We'll stop now, yes? That's enough now.'
He adds,
'You know we had a lot of good friends around here who would have helped us but they've all died. We sure could do with them now.'
The couple may be missing their friends in their later years, but they are not alone while they have the home support team watching out for them. The service is indispensable and John sums up its value simply.
'It gives you peace of mind. It means I can go out and not worry. I couldn't do without it now.'