Singing for the Brain can help people with dementia to connect with the wider community
From the October/November 2015 issue of our magazine, we hear how Singing for the Brain can provide valuable ways to connect with the wider community.
As each Singing for the Brain session begins on Portland, one member exclaims, 'This is the best part of my week!' His wife says he asks, 'Is it singing today?' every day.
A narrow stretch of Chesil Beach is all that connects Portland to the coast of rural Dorset, where people can struggle to access services, and the 'tied island' benefits hugely from its own Singing for the Brain group.
Anna Eveleigh, who facilitates the sessions for people with dementia and carers, says,
'The group is quite small, but what it lacks in size it makes up for with enthusiasm.'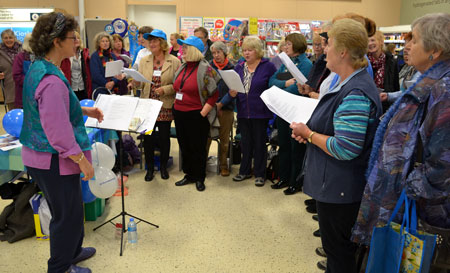 Power and joy
People attending Singing for the Brain anywhere will recognise the sessions' impact - the pleasure of singing with like-minded people, a gaze held throughout a song by someone who doesn't usually make eye contact, seldom heard lyrics recalled unexpectedly.
The Portland group is also keen to share the power and joy of music with neighbours and friends.
Melanie Gale at west Dorset Alzheimer's Society says,
'In a close-knit community it's even more important to change the stigma of dementia, and we do this by attending local events and sharing our love of music.'
This has included a three-hour singathon at the local Tesco and singing at VE Day celebrations, joined by another local group, the Crooners.
Fun and support
In the group's relaxed environment, no one cares how well you sing - it's all about coming together for fun and support, bolstered by the enthusiasm of volunteers Dawn, Judy, Lorna and Julie.
As one Portland singer says,
'If you have the service in your area, check it out. It may offer more than you imagined!'
Find out more about Singing for the Brain, and see our online directory Dementia Connect to find other dementia services near you.
Keep singing
£10 could pay for one person with dementia to attend Singing for the Brain, while a monthly donation of £24 for a year could fund a session for 30 people. See alzheimers.org.uk/donate or call 0330 333 0804.