Sharing feelings after a dementia diagnosis and being willing to ask for help
From the July 2015 issue of our magazine, people shouldn't feel that they have to face a dementia diagnosis alone. Luke Bishop talks to a woman who has decided to ask for help when she needs it.
It is not uncommon for people to feel low when they are first diagnosed with dementia. Anxiety about the future and the effects of memory loss or other symptoms can weigh heavily upon the mind.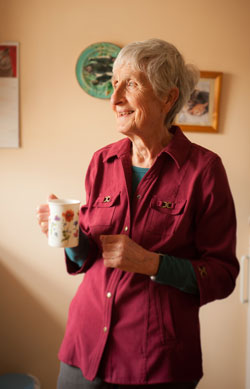 Some people may retreat inwards or even feel a sense of shame or stigma about their dementia. They may feel unable to talk to people about it, not sharing their thoughts and feelings about how their diagnosis is affecting them.
For Judith Rhodes in Gloucestershire, talking about her condition to close friends and family was vital in helping her cope with the initial shock of being diagnosed.
Judith, now 73, had told her GP that she was worried about her memory around the middle of last year. After a number of tests at the local memory clinic, she was diagnosed with vascular dementia towards the end of 2014.
Not just old age
Judith had suspected for some time that something was wrong with her memory, and that it was more than 'just old age'. Yet actually being diagnosed still had a big impact, particularly because she had seen how dementia had affected her mother and her aunt.
Judith says,
'I was very depressed having seen what happened to the rest of my family. I felt very sorry for myself and I really got very down. Now and again I do still feel that way, I feel bad but I also get an awful lot of help from my daughter and my close friends.

'I told my two close friends, who I go walking with, all about it. I said that I have been having tests and short-term memory problems and they were very understanding.

'I found that, after my diagnosis, it was very helpful to talk to people. It stopped me bottling everything up and going into a downwards spiral.'
Asking for help
Although Judith lives on her own and is very self-reliant, she has a strong support network and has made a conscious decision to ask for help when she needs it, whether from friends, family, professionals or while out and about.
As an example, she recalls a time when she had to go to her local hospital in Cheltenham for an appointment but got rather confused and couldn't remember where to go. Putting aside any embarrassment about asking for help, she decided to tell a member of staff about her predicament, explaining that she had memory problems, and as a result a hospital porter helped show her the way.
'I remember that when she had dementia my aunt always said that she didn't need help with this or that, but it was clear that really she wasn't coping. You do need to ask for help and you shouldn't be afraid of doing so.

'I have just found that, if you explain to people that you might be having some trouble because you have memory problems, then they are very willing to help you.'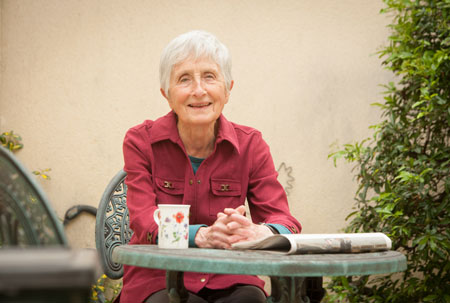 Talking to others
Despite some initial reluctance, she has also taken advantage of Alzheimer's Society services in Cheltenham and regularly attends the local memory café.
Talking to other people affected by dementia at the café has helped her overcome some of her initial fears and anxieties. It also provides another outlet for talking about her own dementia.
'I remember when I first went there I walked around Cheltenham Town Hall thinking "I don't want to go here, I don't think this is for me", but it turned out that it was the best thing for me.

'I go there and I swap stories with both carers and people with dementia about what it is like to live with dementia, and the people are so friendly and helpful.

'I remember talking to the wife of one of the people with dementia there and telling her about a time I got lost in Cheltenham looking for the library - I knew exactly where it was but I just couldn't remember how to get there - and she told me that her husband is always getting lost as well. That really helped me to realise that it wasn't just me going through that.'
People and pets
Although Judith keeps herself busy she still occasionally feels down. However an active social life seems to help, including walking with friends, spending time with family and looking after her beloved pets - cat Alfie and dog Toby.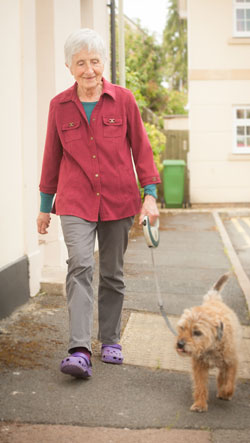 She says,
'Sometimes I wake up and I feel a bit low but I tell myself, "this is no good, you have got to go and feed the animals and take the dog out for a walk", and I think that is a good routine.

'On occasion I've put the cat food out for the dog and vice versa but they don't mind. It is great having them here, if I were completely on my own then I think I would be much worse than I am.'
Her main piece of advice on staying positive after a dementia diagnosis is that people should take care of and be kind to themselves.
'To anyone who has recently been diagnosed, my advice is to keep busy, cherish your friends and family, ask for help when you need it and be kind to yourself.

'Try to live in the moment, treat yourself and, most important, never ever say, "Oh, I'm so stupid!"'
Keeping the blues at bay
Judith talks about the importance of remaining active and in touch with family and friends. Taking this advice can be a key part of helping with feeling low by reducing isolation, being independent, interacting socially, communicating and expressing feelings.
Exercise, such as walking, benefits not only physical health but mental health as well, and engaging in conversation can have a positive impact on wellbeing.
Activities that keep you mentally and socially engaged are also helpful, including puzzles and games, painting, playing music, looking after animals and taking part in local groups, such as Alzheimer's Society local services.
There is no one-size-fits-all approach. It all depends on the interests, hobbies and preferences of the person with dementia.
If someone often feels down over a period of time then they might have depression - a mental illness that can be helped with treatments such as talking therapies and medication.
Depression is more common among people with dementia and many of its symptoms overlap with those of dementia, including disturbed sleep, agitation and restlessness, loss of energy, problems with concentrating and low self-esteem.
If a person with dementia may be depressed then the GP can help by establishing whether they have depression and offering appropriate treatments.
See our factsheets Staying involved and active and Depression and anxiety, or call 0300 303 5933 to order.
To find dementia services near you, visit our online directory Dementia Connect.