A scheme to support people whose relatives with dementia might go missing
From the June/July 2016 issue of our magazine, Heather Stephen learns about the Herbert Protocol, which is speeding up searches for vulnerable people, including those with dementia.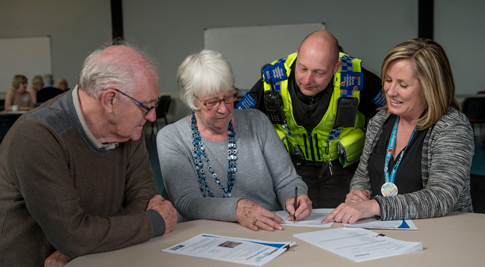 Margaret Pigott often popped out leaving her husband Trevor at home, until he slipped out of the house and sparked a full-scale police search.
Margaret, 63, says,
'Trevor has mixed dementia – Alzheimer's and vascular dementia – but he had never gone missing before, so I was naïve enough to think he would be fine.
'I only went out for an hour to see friends for coffee but when I got back the window cleaner said, "Where's Trevor?"
'I looked all over the house, then I got in the car and started driving, but after about quarter of an hour I thought, "This is crazy," and went to the nearest police station.'
Door to door
Rotherham police launched a manhunt involving a door-to-door search and a police helicopter. Trevor, then aged 69, was found four hours later in the grounds of a hospital that is a 15-minute walk from their home.
Margaret says,
'He told the police he was looking for me, and I think he went to the hospital because we had been there for appointments.
'While he was missing I felt numb and tried to stop myself fearing the worst, but when the police found him I burst into tears I was so relieved.'
Although the officer assigned to Margaret during the search had been kind, she found it challenging to provide lots of facts when she was so anxious.
So Margaret was very interested when she heard about a scheme to support people whose vulnerable relatives might go missing.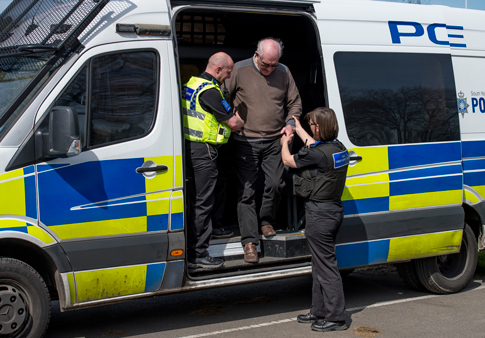 Herbert Protocol
The Herbert Protocol was established in South Yorkshire by Rotherham Dementia Action Alliance and the Society working with local police.
Using the protocol, people provide information about a person who may go missing to help in any search. This includes details about medication, interests, previous addresses and workplaces, as well as a recent photo.
Margaret says,
'It is hard to bring information to mind quickly when you are really worried.
'People might be daunted by the form but it is reassuring to know you have all the information when it's most needed.
Liz Hopkinson, Services Manager at the local Society, says the protocol was devised after police told her about difficulties gathering information from distressed relatives.
She says,
'The police said carers of missing people were so stressed they couldn't remember facts like old workplaces and addresses.'
Precious minutes
South Yorkshire's protocol is based on one developed in Norfolk, which was designed to help police find people who went missing from care homes. It included input from carers like Eric Turner, 69.
Eric's wife Carole has posterior cortical atrophy, a rarer form of dementia also known as Benson's syndrome.
He says,
'When someone goes missing you can't think straight but this way all the facts are laid out already, saving the police precious minutes.'
Although people are advised to carry the form with them, Eric suggests taking a photograph of it with your phone that you can email to the police.
He advises,
'Don't forget to update the protocol if there are any changes like hair colour or new glasses.'
Safety blanket
Rob Moore, Director of Home Instead Senior Care in Doncaster, says all his clients with dementia have completed a protocol.
He says,
'It provides reassurance to families and is a safety blanket that allows people to keep their independence longer.'
'It means that people with dementia can still go out for a walk or pop to the shops, and if they do go missing there is a plan so people can be found as quickly as possible.'
Superintendent Paul McCurry at South Yorkshire Police says the protocol – adapted for people living at home as well as in residential care – has helped them to find a number of people.
He says,
'When your loved one goes missing you may be feeling traumatised and unable to bring information to mind.
'And the last thing you want is to have police officers asking you lots of questions when you want them to be out looking for your relative.
'Hunting for someone can be like looking for a needle in a haystack, but if we have already identified locations this has got to pay dividends.'
Easy set-up
In the two years since it was launched, thousands of people with dementia in South Yorkshire have been encouraged to make use of the protocol.
It has been taken up in other areas, sometimes with their own version of the form.
Liz says,
'This is so easy to set up. There is no cost and it involves minimal input but has a massive impact.
'Carers are reassured they have all the information they need so the police are able to start searching within minutes. If someone goes missing in poor weather, this could save someone's life.'