How confusion or distress may be caused when the appearance of a pill changes without warning
From the May 2015 issue of our magazine, a different looking dementia medication can cause confusion even though it has the right active ingredient. Fiona Madden speaks to a carer whose husband insists on a specific brand.
When Ruth Worwood's husband was diagnosed with early onset Alzheimer's disease in 2009 he was prescribed galantamine, sold under its original brand name Reminyl.
Keith, now aged 69, values the effects of this medication immensely and even took part in a documentary about it being produced from daffodils in south Wales' Black Mountains, not far from where they live in Pontypool.
So when Keith came home from picking up his monthly medication last year with tablets that had a completely different name and with no explanation for the change, Ruth was understandably confused.
She says,
'He took them for a few days and it was absolutely dreadful. He was complaining "These are no good. They are not the same ones. What are you giving me these for?"'
As hard as Ruth tried to encourage Keith to take the tablets, he protested and focused on the fact that they were a different colour and did not have the days of the week printed on the packet, which Ruth says he relies on to know what day it is.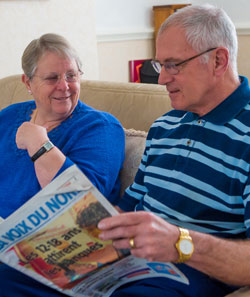 Active ingredient
Since the UK patent for Reminyl ran out in 2012, other companies can market drugs with the same active ingredient, galantamine, using a range of names. When this happens to a branded drug, other versions are often less expensive to the NHS.
For many people, switching brands has no effect because the active ingredient - the bit that makes the drug work - is the same. However a tablet that looks or is called something different could cause confusion and concern, especially if the change hasn't been explained. It might also be possible for someone to react differently to other ingredients in a medication, such as coatings or preservatives.
During Keith's six-monthly check-up at the memory clinic, Ruth asked the psychiatrist about the tablets and why there had been a change. When she was told that it was the same drug but cheaper, Ruth said she didn't want the cheapest but wanted the brand that her husband recognised instead.
She was not willing to rest on the matter as Keith was still struggling with taking them, and on the odd occasion that he did he was convinced they were different from his previous medication.
Ruth was also worried because if someone who is on their maximum dose of galantamine stops treatment for more than three days, they are supposed to start over and build up to that dose again.
'He had been trying the new ones for nearly a week. Either he wouldn't take them or he'd accuse me of giving him the wrong tablets.

'He was saying "You're taking my independence away from me. They're not the right tablets".'
Familiar brand
Ruth managed to get a consultation with her husband's GP over the phone, who acknowledged how well Keith had been doing with his original medication. He promised to put a note on Keith's prescription saying that he should only be given his familiar brand - if a prescription is for a particular brand then this is what the chemist is meant to supply.
Ruth was delighted with this result.
'I am not a complainer by any means. I really don't have the nerve to complain but in this case it was affecting my life with him not taking it.

'It was all because of a different tablet that he didn't recognise, and he'd been taking the other one for five years. It was the only thing that he knew and the only thing he thought was saving his life up until that point.'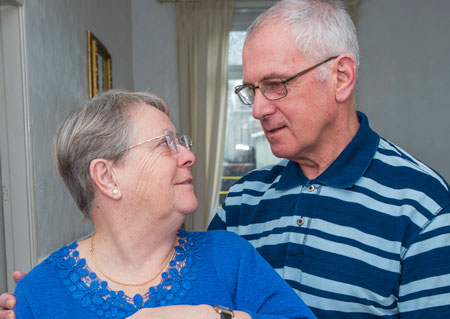 However Ruth was dismayed when Keith picked up his next batch of tablets and on arriving home she noticed they were yet another brand. Although these tablets had the days of the week printed on them, this was in Italian with a note in the box translating what each day was.
Ruth thought they might not change the tablets because Keith had accepted them and left the pharmacy.
However she says,
'I still took them back and told them they had given him the wrong ones yet again, and if they didn't change them I would take them straight back to my doctor because it says on their screens he should be given Reminyl only.'
Fortunately the pharmacy changed the tablets for her, but Ruth is worried about people with dementia in a similar situation. She says,
'There are four people with dementia who live on their own within the support group we attend. What if it happened to them?'
Comfort zone
Ruth says that although Keith is coping well with his dementia, it can be difficult when he is 'out of his comfort zone'.
'For me it is important to stick with what Keith knows. You've just got to notice the difference in the person with dementia and you realise the difference is because they have broken with familiarity.'
Ruth believes that the benefits Keith gets from his medication are worth the additional cost to the NHS in getting the specific brand he recognises.
'I will be on the ball next time. I never complain - I shocked myself because I'm always too nervous to - but in this situation I thought "No, I know the facts. I can do it". I'm amazed that I did do it and fought my own corner.'
See our factsheet Drug treatments for Alzheimer's disease or call 0300 303 5933 to order.