Dementia Friendly Welsh Assembly Campaign
We are campaigning to make the National Assembly for Wales dementia friendly.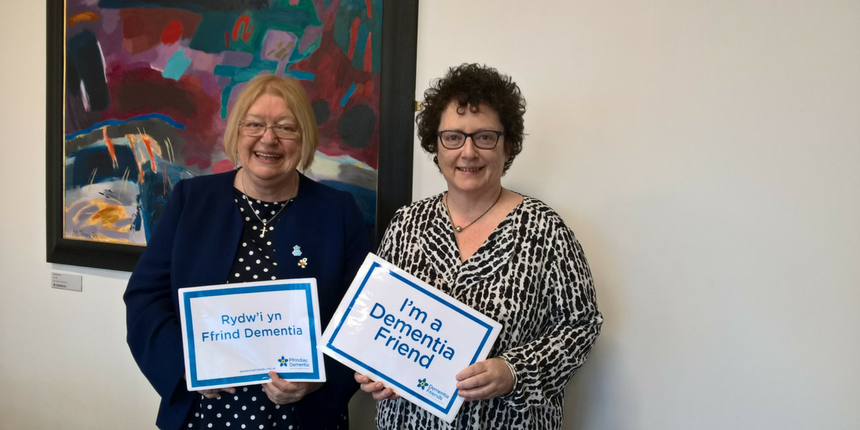 Alzheimer's Society Cymru is calling on the National Assembly for Wales to become dementia friendly. 
To be dementia friendly, we are challenging the National Assembly to do the following:
Make sure all AMs become Dementia Friends by taking part in an information session

Make adaptations to the Assembly Estate (the Senedd, the Pierhead building and Tŷ Hywel) to make it easier for people living with dementia to navigate

Make sure civil servants consider people living with dementia when drafting policies
Are your Assembly Members Dementia Friends?
Everyone in Wales has 5 Assembly Members representing them (1 constituency AM and 4 regional AMs).
You can find out who your AMs are on the National Assembly for Wales website.
Contact your Assembly Members
If your AMs aren't all on our list of Dementia Friends, you can email them to ask them to become one.
Email my AMs
The AMs in the table below are already Dementia Friends.
Region

Name

Constituency

North Wales

Mandy Jones

Regional

Mark Isherwood

Regional

Llyr Gruffydd

Regional

Janet Finch-Saunders

Aberconwy

Darren Millar

Clwyd West

Hannah Blythyn

Delyn

Ann Jones

Vale of Clwyd

Lesley Griffiths

Wrexham

Rhun ap Iorwerth

Ynys Mon

Mid & West Wales

Helen Mary Jones

Regional

Eluned Morgan

Regional

Joyce Watson

Regional

Kirsty Williams

Brecon & Radnorshire

Angela Burns

Carms West & South Pembs

Elin Jones

Ceredigion

Russell George

Montgomeryshire

South Wales East

Mohammad Asghar

Regional

Hefin David

Caerphilly

Alun Davies

Blaenau Gwent

Rhianon Passmore

Islwyn

Dawn Bowden

Merthyr

Nick Ramsay

Monmouth

John Griffiths

Newport East

Jayne Bryant

Newport West

Lynne Neagle

Torfaen

South Wales West

Suzy Davies

Regional

Dai Lloyd

Regional

Bethan Sayed

Regional

David Rees

Aberavon

Rebecca Evans

Bridgend

Huw Irranca-Davies

Ogmore

Mike Hedges

Swansea East

Julie James

Swansea West

South Wales Central

Andrew RT Davies

Regional

Gareth Bennett

Regional

Jenny Rathbone

Cardiff Central

Julie Morgan

Cardiff North

Vaughan Gething

Cardiff South & Penarth

Mark Drakeford

Cardiff West

Vikki Howells

Cynon Valley

Jane Hutt

Vale of Glamorgan

Assembly Estate
In February 2018, members of our Focus on Dementia Network did a 'mystery shop' of the Senedd. They reported back to us with some recommendations to make it easier to navigate.
We are now working with the Estates and Facilities team to make changes to signs around the building.