20,000 reasons to take action in Northern Ireland - Liz's dementia story
Liz Cunningham is 52 and lives in Belfast. She was diagnosed with early-onset Alzheimer's when she was 48-years-old. Find out why she's calling on the Government to take action on dementia in Northern Ireland.
Liz's story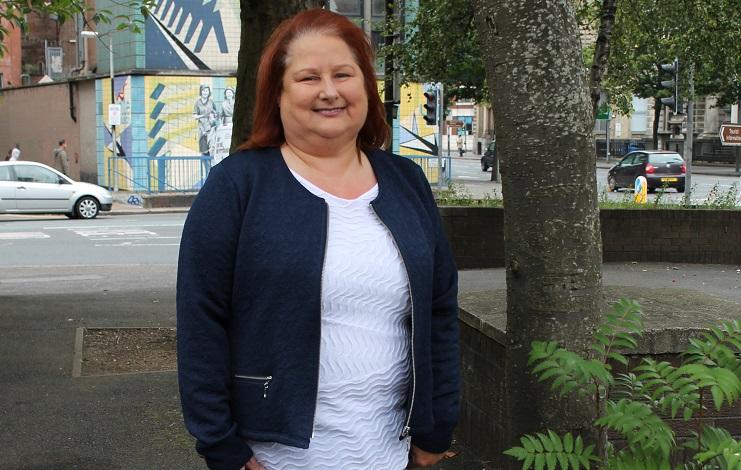 'Before my diagnosis, I became very emotional. I was totally distraught. I couldn't even form a sentence without crying – I thought I was going mad. So when the diagnosis came, I was initially relieved. But when the realisation set in, I was devastated.

Most of the early signs of dementia are invisible and that's what makes it particularly hard to diagnose. My doctor referred me to a specialist, who diagnosed me. I honestly don't know what I would have done without her. It was so important to have someone there to deal with my concerns straight away.

Four years on, I realise how lucky I am and I like to think I'm living proof that there is life after diagnosis. I have support from my husband, family, Hemsworth Court supported housing scheme staff and Alzheimer's Society, which has helped me through the tough times. I've managed to create a new, positive life that has made mine worth living.

But you can feel very isolated. There's no cure for dementia. Everyone knows someone with it, so it's important that people are educated about dementia and support the need for change. Planning for the future is important because more people are diagnosed each year and we have an ageing population.

I know that there will be no cure for me, but I think we need to fight for those who are yet to be diagnosed.'
20,000 reasons to take action on dementia in Northern Ireland
Liz Cunningham has been on the front line of our 20,000 reasons campaign from the word 'go'.
Her experience of being diagnosed with dementia at the age of 48 has inspired hundreds of supporters to join the campaign and to put their names on this letter to Minister for Health, Michelle O'Neill.
The campaign calls for our five priorities for action on dementia to be reflected in the Programme for Government (PfG).
Our five priorities for action include:
Increasing diagnosis rates to 75% across all Trusts.
Giving people access to a dementia support worker right from the point of diagnosis.
Compelling Health Trusts to commission quality care for people with dementia living at home.
Running a recurring public information campaign to raise awareness of dementia and encourage people who are worried about their memory to seek medical help early.
Finally, we're bent on promoting dementia friendly communities throughout Northern Ireland, starting with the NI Assembly in the first year of the new term.
After almost 1,500 supporters backed our open letter, the Minister has agreed to meet Alzheimer's Society to discuss our priorities for action on dementia and to take delivery of the letter. The delegation will include a person affected by dementia and we will be calling for the rights of everyone affected by the condition to be realised in provision of information and access to health and social care, increased public awareness and understanding of dementia and in promoting social inclusion.
Getting these rights reflected at the core of the PfG is the culmination of a year- long campaign which couldn't have happened without our many supporters.