Skydive Day - September (World Alzheimer's Month)

| | |
| --- | --- |
| Event Type | Skydive |
| Date | 24/09/2022 or 25/09/2022 |
| Location | Various airfields |
| Registration Fee | £35 |
| Fundraising Target | £430/per person |
Use code ALZSOCSKY50% for 50% off your registration fee
Take part in a skydive on Saturday 24 or Sunday 25 September 2022. Experience the thrill of jumping from 10,000 feet and free-falling at over 120mph in a sponsored tandem skydive for Alzheimer's Society.
Where?
One Giant Leap is organised through a company called Skyline and you can join us at one of 19 airfields across the UK. The participating airfields are Auchterarder, Brackley, Bridlington, Brigg, Coleraine, Cornwall, Durham, Errol, Grange-over-Sands, Haverfordwest, Honiton, Lancaster, Netheravon, Norwich, Nottingham, Peterborough, St. Andrews, Swansea and Whitchurch.
When?
Join us on 24 or 25 September 2022, and take One Giant Leap against dementia!
How much?
You will need to pay a £35 registration fee to our skydiving company, Skyline, to secure your place on the day. We will then send you out a welcome pack and monthly newsletters to give you plenty of fundraising ideas to help you hit the £430 minimum fundraising target.
When you fundraise for us, you'll receive:
a welcome pack with fundraising help and materials
a free Alzheimer's Society t-shirt (once you've raised £430) to wear on the day
support from our dedicated events team to help you smash your target
If you have received all the information you need, you can sign up now or telephone the organisers Skyline on 020 7424 5500, stating that you would like to take part in our skydive day.
Can't do these dates?
Not to worry, you can skydive for Alzheimer's Society at locations across the UK on a date that suits you - for more information and to sign up, visit our tandem skydiving webpage.
How do the costs work?
You sign up and pay a £35 registration fee to Skyline. We also pay £35 to Skyline to supplement your registration fee. You then raise £430 before the sponsorship deadline, so we can pay your jump costs (usually around £200, dependent on the airfield). This leaves us with just under £200 to continue being there for everyone affected by dementia.
When is the sponsorship deadline?
26 August 2022
We need your full £430 fundraising target, to be with us by this date to pay your jump costs (around £200).
We rely on you to hit your fundraising target by this date. However, there is an option to make up the difference on the day, if you don't hit the target.
What happens if I don't reach the minimum sponsorship target?
There is an option of making up the difference on the day of the jump if you don't hit the £430 sponsorship target before. Don't worry about this though - we will be on hand every step of the way with fundraising tips and advice to make sure you smash your target!
Are there any height/weight restrictions?
Yes, each airfield has its own height and weight limits in place for safety reasons. Please check the Skyline website, and make sure you are aware of these limits for your local airfield before signing up.
What happens if the weather isn't good?
The one aspect of your day that is out of our control is definitely the weather – if the forecast is looking bad in the days leading up to your jump, you may be contacted by the airfield to reschedule. However, if you have not heard anything to the contrary, you must still turn up to your jump.
Will Alzheimer's Society be there on the day?
Unfortunately, we can't be at all 19 airfields - as much as we would like to be! We will make every effort to attend as many locations as possible, but because of how spread across the country the airfields are, we may not be able to make it to your local area.
Kickstart your fundraising - spread the word
Once you have signed up, make sure to set up your JustGiving page.
Chat to all of our current skydivers on our Facebook page.
Tell your friends and family you're taking on this amazing challenge. Share it on social media to let everyone know you are taking One Giant Leap for Alzheimer's Society.
Download the images below - simply right-click to save (on a computer) or hold and save, or screenshot and crop (on a phone).
Social media badge - post to Facebook, Twitter, Instagram, LinkedIn...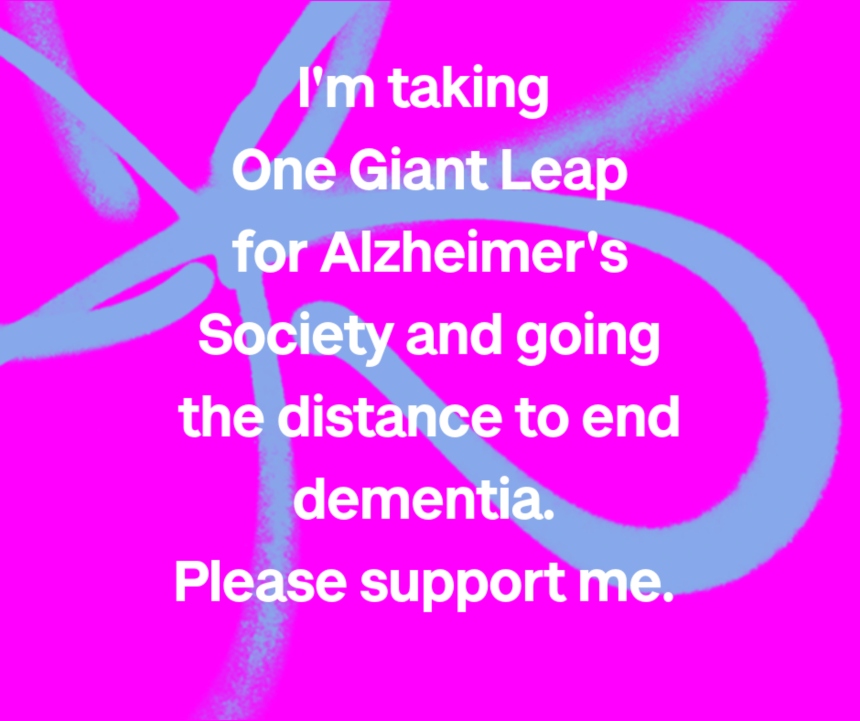 Facebook cover photo

Got a question?
Our friendly team will be more than happy to help!
Call us on 0330 333 0804 or email [email protected]