Dementia-friendly finance
Read the Alzheimer's Society guide and action plan for financial institutions and banks, to help them to become more dementia-friendly.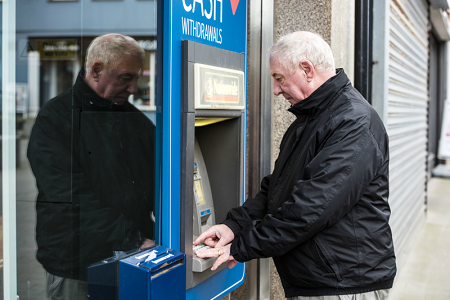 Our ability to access and manage our money contributes substantially to remaining independent. However, handling money, credit and contracts can be difficult for a person living with dementia.
As changes are constantly being made across the industry, we must ensure that people living with dementia and their carers' are being included.
'They immediately took steps to protect Dad's account and set up online banking for me…Some banks seem to have it sorted.'
Almost half of your customers and staff are likely to be affected directly or indirectly by dementia.
Not only is the cost of carers being unsupported in the workplace set to rise to 1.16 million by 2030 (Public Health England, 2014), but a negative customer experience can also affect customer loyalty and business growth.
It's vital we understand the barriers within the financial industry that are faced by people who have dementia and their carers, and take action to remove those barriers where it's possible and appropriate to do so.
How can your organisation become more dementia-friendly?
To make your financial organisation more dementia-friendly, complete our financial services action plan and download our financial charter.
Financial services action plan
Our six-point action plan outlines important steps you can take to support customers and staff that are likely to be affected by dementia, either directly or indirectly.
You have the option of selecting various actions which you believe you can achieve within the next 12 months. Our team can then provide information and support to enable your organisation to do this.
This action plan has been brought to you by Alzheimer's Society, HSBC and the BBA.
Financial services charter
Our dementia-friendly financial services charter is another helpful tool, designed to enable the sector to work towards becoming more accessible to those affected by dementia.
The charter provides guidance on recognising dementia and understanding how dementia can impact customers. It provides information about responding to customers in a way that treats them with respect, and helps them to retain their dignity and independence.
We advise that you download this charter for your reference in completing our new six-point action plan.