Dementia-friendly arts and culture
Read our dementia-friendly arts guidance to find out how cultural activities can be made welcoming for people with dementia.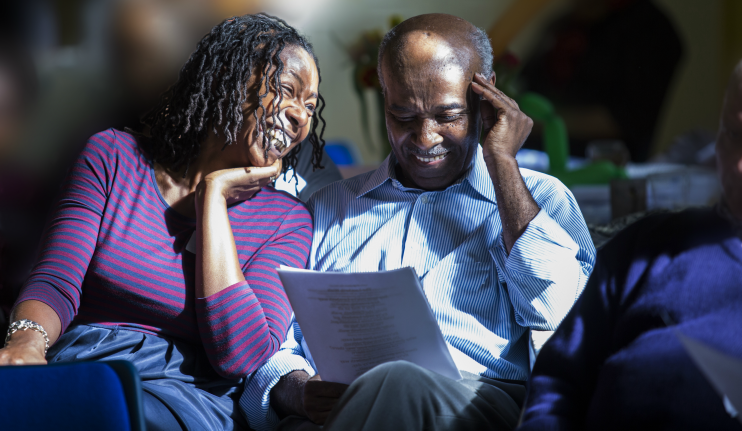 ​
Why it matters
Most of us enjoy the opportunity to appreciate the world beyond our day-to-day existence. This might be a trip to the theatre or visiting our local cinema. Or it could be attending a music concert or marvelling at works of art in a gallery.
It would be unfair if just because someone has a dementia diagnosis, these cultural activities suddenly become off-limits.
Our practical guide will help people in the arts sector ensure that's not the case.
Dementia-friendly arts guide
This free resource is full of tips and advice for any size of arts organisation
Download the guide
Our Dementia-friendly arts guide is based on best practice examples of the work going on across the country to support people affected by dementia using arts venues.
With guidance for arts venues of all sizes, our guide allows you to pick and choose from practical guidance and create a dementia-friendly approach tailored to your organisation.
Three key areas are covered - community engagement, accessibility and programming. You'll find signposts to key resources and publications, as well as a succinct evidence base your organisation can use to back your proposals to take on this work.
The guide is for art venues of all sizes.
We need organisations to take action and support people affected by dementia at this difficult time to keep them connected to their culture and their community in new and creative ways.
Here are some of the key actions you can do today to make a difference to people's lives:
Distribute printed reminiscence packs to allow people to enjoy activities at home.
Advertise any virtual tours of places, museums or lend out gift DVDs.
Host online screenings or showings.
Live stream or televise your planned activities so people can stay active and engaged at home.
Reach out to volunteer networks to help you reach people in your community.
Signpost people affected by dementia to our Dementia Connect support line 0333 150 3456 for advice and support.
Dementia-friendly arts guide
This free resource is full of tips and advice for any size of arts organisation
Download the guide