To help people with learning disabilities access their local services, our project aimed to raise dementia awareness and provide valuable support.
People with learning disabilities are at an increased risk of developing dementia at an earlier age.
Research has shown 1 in 3 people with Down's Syndrome aged over 50 will develop dementia. People with Down's Syndrome are also at a higher risk of dementia before the age of 50.
To help people with learning disabilities access local services, we launched a project with two main aims:
Aim 1: The project should raise awareness of dementia within the learning disability community.
Aim 2: Individuals should feel supported so they can plan for challenges that dementia may bring.
Learn about the project's findings from Tracey Exell, Hereford Group Coordinator, Alzheimer's Society. Tracey worked alongside Ginnie Jaques, Services Manager and project lead, and our Innovation team.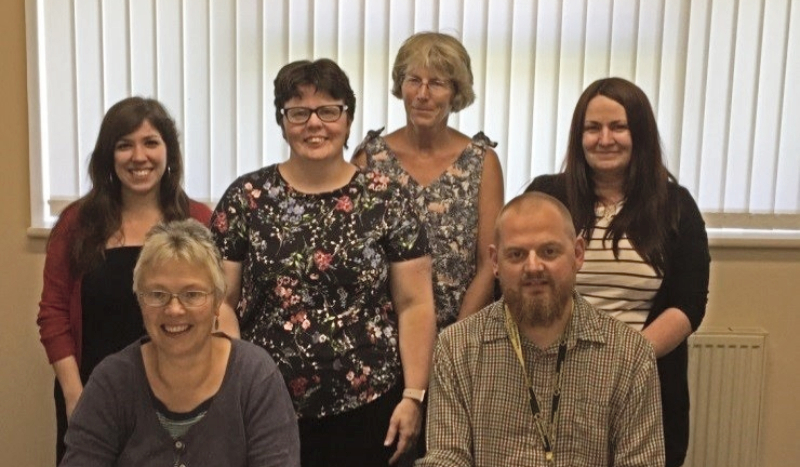 ​
The team behind the learning disability and dementia project.
Working alongside people with learning disabilities
During our project, we worked closely with people who have learning disabilities and their support networks in the area of Herefordshire. We also worked with many local and national community and social care organisations.
We held multiple 'awareness' sessions for over 200 people. These were run as a Dementia Friends Information Session, followed by a focus on how dementia affects a person with a learning disability.
How the project has helped
The feedback we received from our participants was very powerful. People with learning disabilities really understood it. It has been so rewarding to empower them with vital information to support them in the future.
Being welcomed into individuals' family lives has been an incredible part of the project. We've been able to support them, see changes brought about by our informed suggestions, and witness the impact this has had.
'The unconditional support, together with the time and commitment you have shown, has enabled me to be confident when providing support in what is no doubt a frightening time for us all. Your Dementia Friends training, factsheets and visits have changed my whole view on dementia. I would like to truly thank you. Armed with this information, I can continue to be supportive, whatever the future may hold. And one of the biggest things I personally have learnt is that having dementia does not have to be all-consuming once we are informed of a way to work alongside it.' - A Shared Lives carer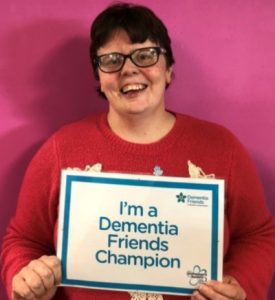 ​
We were delighted to work with Tracy (pictured), a wonderful lady with a learning disability.
We supported her to become a Dementia Friends Champion and Alzheimer's Society volunteer.
A Dementia Friends Champion is a volunteer who encourages others to make a positive difference to people living with dementia in their community. They do this by giving information about the impact of dementia, and what they can do to help.
Tracy has taken up the mantle and delivered Information Sessions to her peers and carers. She will continue to do so beyond the project, continuing to increase awareness.
Striving for change in the wider community
We're raising awareness at strategic levels and influencing plans and care pathways.
Dementia Action Week 2018 provided an opportunity to share our findings with stakeholders. This included people with learning disabilities.
The Clinical Dementia Lead at Herefordshire's Clinical Commissioning Group (CCG) is taking steps towards change. By using our report findings, they aim to shape the dementia pathway for people with a learning disability in the local community.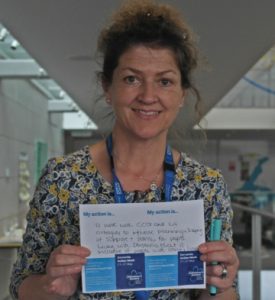 Jacinta from Herefordshire's CCG pledged an action for Dementia Action Week.
From strength to strength
The project has been very valuable within a local learning disability community. Now, we want to share our learning beyond Herefordshire.
Opportunities exist for people who have a learning disability. They can develop new skills and valued roles as Dementia Friends Champions and influence their communities.
We want changes made at a national level to help support people with a learning disability who are affected by dementia to live better.
Contact our team
Read the project findings and developments within the evaluation report.
Learn about becoming a Dementia Friend.
If you are working in the field of learning disability and dementia and this report has been useful, please get in touch with the Innovation team. We would like to know if and how you use these findings.