We've teamed with Girls' Brigade Northern Ireland (GBNI). This partnership aims to raise awareness of dementia to girls and young women in Northern Ireland.
One in three young people already know someone living with dementia. This could be a grandparent, family friend, neighbour or perhaps a parent.
Girls' Brigade Northern Ireland (GBNI) is one of the biggest youth organisations for girls and young women in Northern Ireland. They currently have around 21,000 members in total, with 18,000 girls and 3,000 leaders.
By becoming Dementia Friends, GBNI members will be able to confidently support the people living with dementia in their communities.
The benefits of activity packs and earning badges
Alzheimer's Society has provided content for three activity packs for different age groups. Each of the packs include activities inspired by a Dementia Friends Information Session, as well as different activities for the group.
The aim of the packs is to help young girls in Northern Ireland raise awareness of dementia. By working through this topic, GBNI members will learn about how dementia affects people and what they can do in their communities to help those who live with the illness.
The pack will help members work towards a badge. In order for GBNI members to earn their 'Service' badge, they dedicate three hours towards activities on dementia.
Explorers - Girls aged 3 - 7 years old will gain a basic understanding of what dementia is and how it can affect someone.
Juniors - Girls aged 8 - 11 years old will be encourage to raise awareness of dementia and challenges someone with dementia may face.
Seniors and Brigaders - Seniors are aged 11 - 13 years old, and Brigaders are aged 14 - 18 years old.
Activity example: completing a dementia-friendly survey
For the young women in the Seniors and Brigaders group, one activity from the pack includes taking part in a dementia-friendly survey.
GBNI members are asked to complete this survey on the venue they're in. This provokes thought about what they could do to improve the experience of someone living with dementia who wants to come to an event.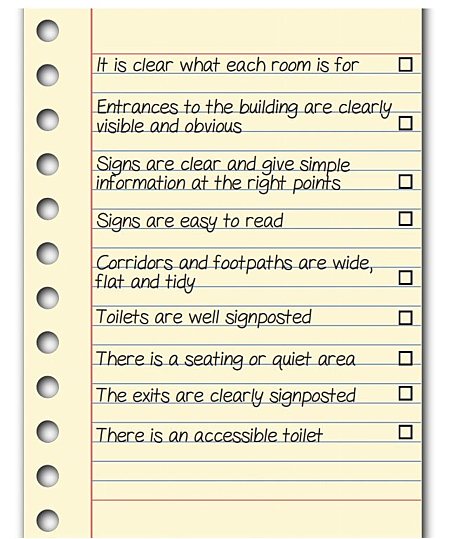 ​
A tick-list activity for Senior and Brigader members to fill out about their meeting space
Supporting group leaders
We are also encouraging GBNI Officers to become a Dementia Friends Champion.
Chloe, a GBNI Officer, said that her Dementia Friends Champion Induction was 'fun, informative and inspiring – a really worthwhile few hours!'
If you are a member of or know of any local Girls' Brigade groups, please do encourage them to use the new packs.
We're really looking forward to seeing even more girls and young women in Northern Ireland becoming Dementia Friends.
Get involved