Read our blog series Life with Ma, taken from Living with dementia magazine, where Dilly writes about her mother in law who has dementia.
Ma is the mother of Dilly's husband (Mr B), she was diagnosed with dementia in 2012. Ma agreed to let Dilly write about the family's new life and experiences in the Life with Ma series. Dilly's story continues...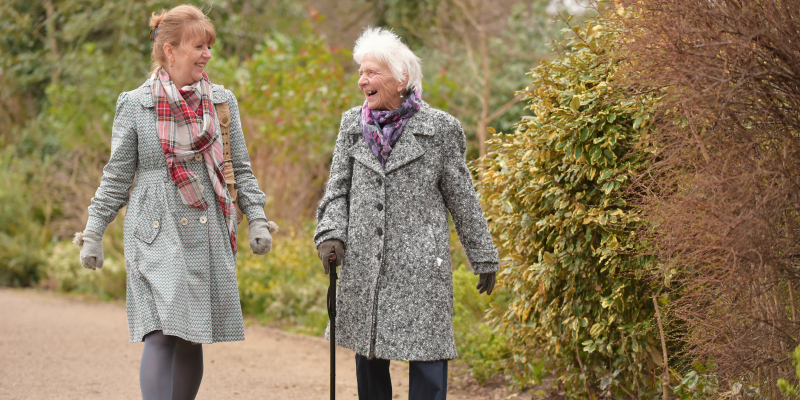 ​
It has been a while since we visited Ma but she remains happily settled with Mr B's brother, and her granddaughter is now living back home there too. Ma's routine is firmly established with family friend Sue.
She loves the walk to the local park, a coffee in the café and doing the crossword together. Always curious in the café, she says, 'I can't remember anything on the menu – what's a mocha? Have I had one before? Did I like it? Girls… what's quinoa?'
Ma has complained that she can't see so well, but the optician seems happy with her. She often forgets to wear her various glasses for reading and distance, and is uncertain which she should be using. I'm hoping that vision problems don't spoil her enjoyment of the park and the plants she recognises, even if their names have gone.
If nothing else, she repeats that she loves how green it is. For her, it's a quiet place with no noisy distractions. As ever, she maintains strong opinions and we love her odd statements, her command of language undiminished.
When Mr B appears in a suit she says, 'You look like you're going to the Riviera!' The afternoon is spent watching 'muddied oafs' playing football, and at one point she remarks, 'I'd never seen the surname "Pluck" before I moved here.'
Although she sees items on the TV and in newspapers about dementia, Ma doesn't seem to associate it with herself. She simply says, 'I don't remember…'
Dilly, a daughter-in-law
Life with Ma also features in Living with dementia magazine, which you can subscribe to.