Dementia can be difficult enough for any adult to comprehend, so how do you explain it to a child? This personalised book could help.
It has been described as the world's first and only personalised children's book about dementia. We speak to the creators of the Ally Bally Bee Project to find out more.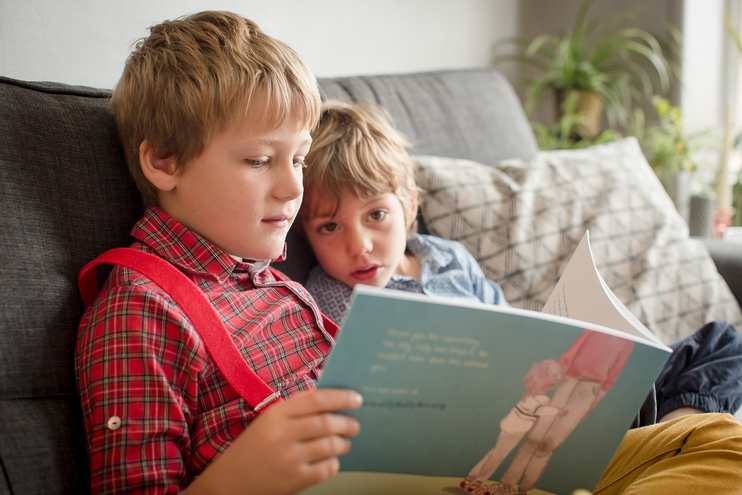 The children's books are personalised to include the real names and characteristics of those affected
So how do you explain dementia to a child? The Ally Bally Bee Project offers one solution.
The family-run project produces children's books about dementia in which your family and loved ones become the main characters, and no two books are the same. Developed alongside children's author Elvira Ashby and beautifully illustrated by Daisy Wilson, the books help children understand dementia through the power of storytelling.
A portion of all book sales go towards a dementia charity of your choice, including Alzheimer's Society among others.
We spoke to one of the project's creators, Matthew Adams, to find out what inspired the books and how they can help foster a dementia-friendly generation.
What gave you the idea for this project?
Matthew: The idea started while sitting around the family table one evening. My wife, whose grandmother had dementia at the time, was pregnant with our first child, and I became aware of the five adults present struggling to make sense of their grandmother's behaviour.
I thought if it was this tricky for us adults to comprehend then how, as a father, would I explain it to my child?
After six months of research, I realised that the children's books and resources that were available did not account for the fact dementia affects every family differently.
So that's where The Ally Bally Bee Project came to be. It's a personalised book that could be customised to tell your family's dementia story. From names to behavioural traits, I wanted to create a book that the child reading can really relate to.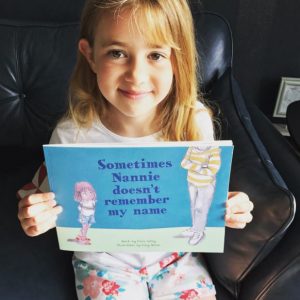 ​
One young reader showing off their personalised book
What are the some of the challenges of explaining dementia to young children?
I think the biggest challenge in explaining dementia to children is the invisible nature of it. With a physical illness you can show, see and recognise symptoms easier. But with dementia it's a little harder.
And the fact that it can have such a frightening impact on a loved one's behaviour and personality makes it really difficult to accept – not just for children.
Can you tell us a bit more about the story the books follow?
In your personalised book, the child travels on a dream-like journey through their loved one's brain. Accompanied by Super Doc along the way, the story teaches them about each lobe, what it does and how the dementia's impact in that lobe can be recognised in the real world.
For example, in the frontal lobe we see a big red stop button – something that everyone has in their brain. It stops us from doing or saying things that might be considered rude or naughty.
But in the book, the button is damaged and we learn that this is why, say, Nana sometimes says naughty words.
Why is storytelling a great way to teach children about dementia?
Children can really relate to stories – and it can make learning a new subject (or something that is not necessarily fun) a lot more enjoyable.
We chose to teach dementia through a personalised story so both child and the person with dementia (nana, uncle John or whoever it may be) feature as the main characters.
Seeing their name in the book and front cover is thrilling for the child and quite emotional for the adults involved. We want the children to say: "hey look – that's me and there's grandpa!"
How did you involve people living with dementia?
Throughout the development process we involved not only people living with dementia but also medical professionals, carers and parents too. Their input was invaluable to making the book what it was.
This was not a book about my experience of dementia – it's a book about your experience. So I tried to involve as many people as possible who had an experience in some way or another.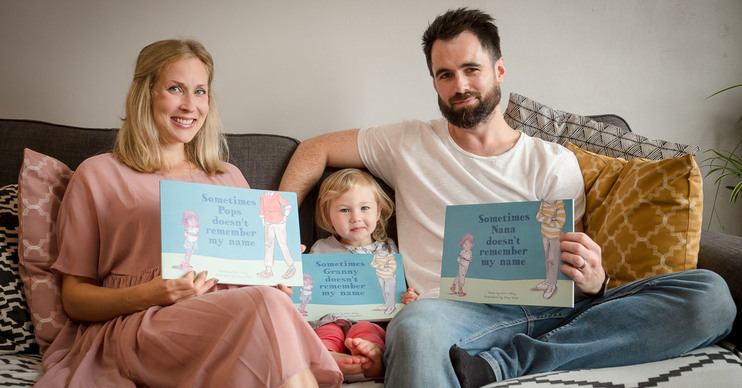 ​
The Äikäs-Adams family who founded the project (From left to right: Nina, Lana and Matthew)
Why is it important that children learn about dementia from an early age?
Firstly, it can be reassuring for a child to understand what the problem is and a relief to know that the person's behaviour is part of their dementia and is not directed at them. It could be more upsetting for the child to find out later than to cope with the reality of what is happening.
If a child is not told, they may find it difficult later to trust what someone close to them says.
How have your customers responded to their personalised books?
So far, feedback has been nothing but positive. We've had photos of children holding their personalised book with pride, and adults telling us how touching they found it.
There have been a few tears too – especially when they see their parent's name on the front cover.
Of all the feedback, the one comment that stood out was from a customer who said "Wee Jamie never spoke about his Pappa's illness..but that all changed after his book arrived."
And that's what we want to do: to help make those difficult conversations a little easier! --
Next steps
Find out more about The Ally Bally Bee Project on Kickstarter.
Read our guide for more tips on explaining dementia to young people