Could you be a Side by Side volunteer? Read about how volunteering has helped people living with dementia with these three case studies.
How do you like to spend your spare time? Perhaps you enjoy nothing more than a long beach walk, or maybe you prefer to have a good old natter over a cup of tea.
Whatever your interests and favourite activities, our Side by Side project is a fantastic way of sharing them with people living with dementia. Whether it's taking a trip to the garden centre or spending a morning at the shops, Side by Side volunteering is flexible and lots of fun for both involved.
Let's meet some people living with dementia and their volunteers and see what they've been getting up to.
Bob and Miranda
​
Bob and Miranda have been enjoying outings together since March 2016.
Despite their age difference, they share a passion for music and spend much of their time listening to performances by jazz bands and choirs at local venues - then gossiping over a pint in a pub or workingmen's club. Bob is a former engineer and Miranda is an assistant psychologist.
Bob, who played the accordion when younger and won trophies, lost his wife Catherine three years ago. Miranda plays clarinet and performs with musicians from Durham University in her spare time.
Janet and Katie
​
Janet Lloyd's mum, Gladys Botting, 94, has dementia and lives in Tulse Hill. Janet says that meeting Side by Side volunteer Katie, changed her mum's life for the better:
'Katie visited mum for a couple of years before she had to move away for work. It was brilliant, not just good for Mum but helpful for me too. mum is registered blind, so struggles to do things on her own.
Katie would come round once a week and they'd bake cakes together or go for a walk. Having Katie to spend time with made such a difference to mum, she thoroughly enjoyed their afternoons together.
When Katie left she gave mum a gift of a framed photograph of the two of them. She stills comes back to visit when she is down in London; we've made a true friend.
We are really looking forward to being linked up with a new Side by Side volunteer, so that mum can meet another new friend and get support to continue doing activities she enjoys.'
Geoff, Bernice and Susie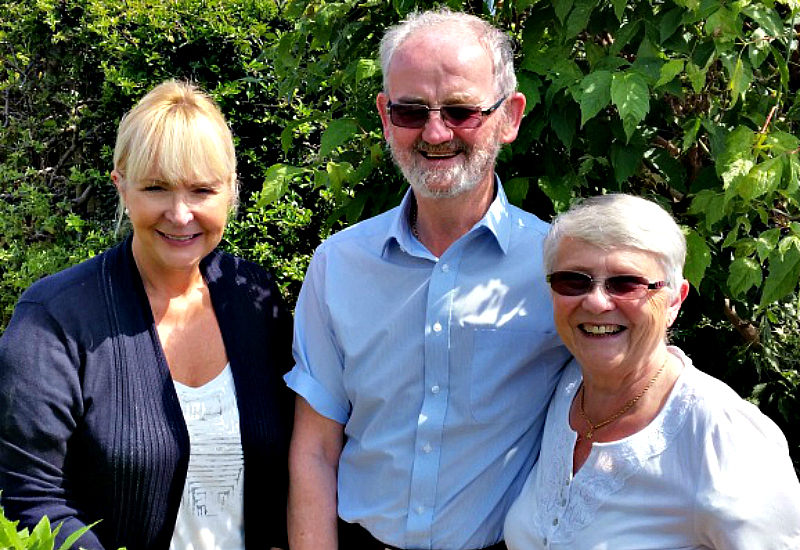 Geoff has had a difficult road through medical and social services in his attempts to get a diagnosis and receive any kind of support but Geoff and Bernice believe that things have been transformed for them when Side by Side became involved.
Geoff was becoming socially isolated after having to give up driving because of his dementia. He now has a Side by Side volunteer, Susie, and together they take dogs from the dog rescue centre for long walks and chats.
Geoff says: 'I really enjoy going out with Susie, she has a great sense of humour and we can talk for hours – we are both on the same wave-length'.
Geoff's wife, Bernice says: 'Geoff and Susie are really well matched. Geoff going out with her has made a huge difference to both of us as he really enjoys her company as she is so easy to talk to and I get some time to myself'.
Interested in becoming a Side by Side volunteer?
There are over 2,000 people living with dementia waiting to meet you. Find out more here