Dementia research roadmap for prevention, diagnosis, intervention and care by 2025
The research roadmap presents an action plan for growth in awareness and prioritisation of dementia as a global issue, providing opportunities to enhance the efficiency and effectiveness of research.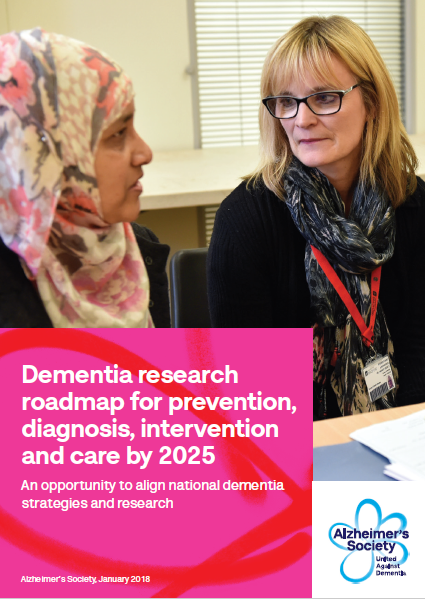 ​
What is the research roadmap?
During 2017 Alzheimer's Society convened an expert taskforce to develop five goals for dementia research that can sit alongside the existing global ambition to find a disease-modifying treatment or cure by 2025. The goals are supported by detailed recommendations and an implementation plan, which together aim to focus future research investment and proposals.  
The goals describe our ambitions for the wider field of dementia research going beyond research looking to develop new drug treatments. They highlight improvements in the dementia care pathway and in quality of life for people living with dementia that could be delivered with adequate research funding and coordination.
Who is this report for?
The research roadmap is intended for researchers to consider when developing new research proposals, and for research funders and policy makers who can influence future funding opportunities and development of the UK dementia research infrastructure.