World-leading dementia researchers win 2018 Brain Prize
Four world-leading dementia researchers have today (6 March) won a prestigious €1m prize for their contribution to neuroscience.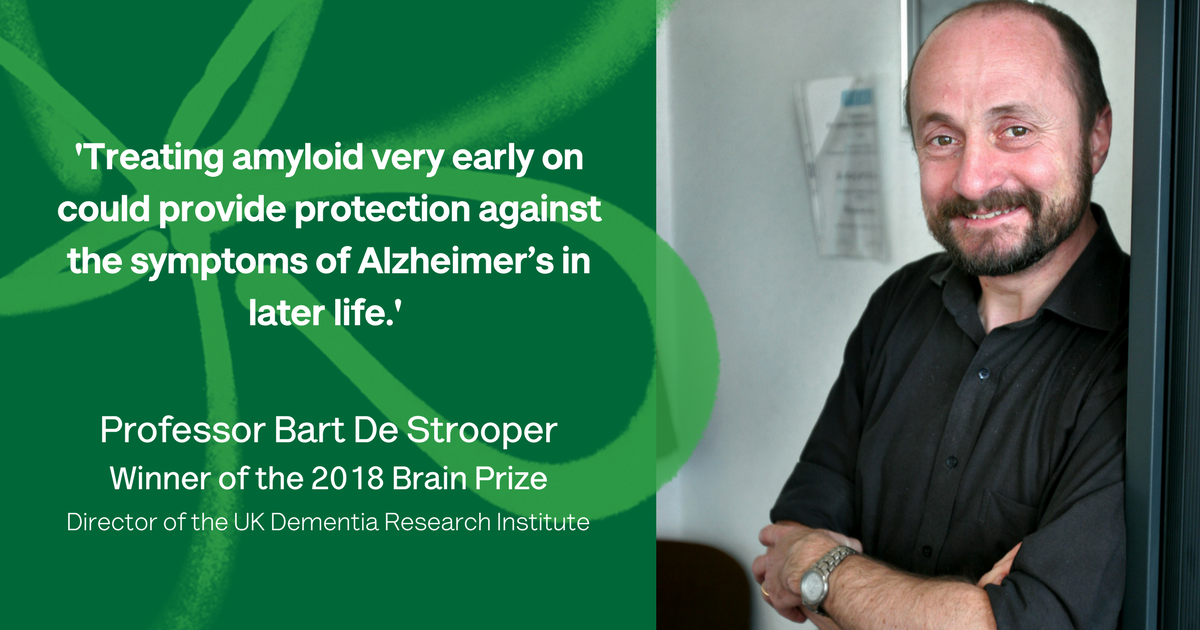 The 2018 Brain Prize was awarded to Professors John Hardy (London), Bart De Strooper (London and Leuven), Michel Goedert (Cambridge) and Christian Haass (Munich) for their ground-breaking research on the genetic and molecular basis of Alzheimer's disease.
This year's winners have, individually and together, revolutionised our understanding of the changes in the brain that lead to Alzheimer's disease and related types of dementias. Their contributions to research form the foundations for finding new ways to diagnose, treat and possibly even prevent Alzheimer's and other devastating diseases of the ageing brain.
Jeremy Hughes, Chief Executive at Alzheimer's Society, said:
'As a founder of the UK Dementia Research Institute headed up by Professor De Strooper, and having helped fund Professor Hardy's early gene discovery work, Alzheimer's Society is delighted that these researchers have been honoured with the prestigious Brain Prize.
'Since Professor Hardy's initial genetic discovery, together these researchers have mapped out the key biological pathways in Alzheimer's disease. Much of the ongoing drug discovery research builds on their pioneering work, looking for ways to stop the build-up of amyloid plaques and the spread of tau tangles, to one day stop Alzheimer's in its tracks.
'UK scientists being recognised as world leaders in dementia research is a proud achievement - and more importantly, brings us closer to new treatments and cures for the 850,000 people living with dementia.'