Alzheimer's Society hits staggering two million Dementia Friends milestone
One in every 30 people in England, Northern Ireland and Wales now involved in the biggest ever social action movement to change perceptions of dementia.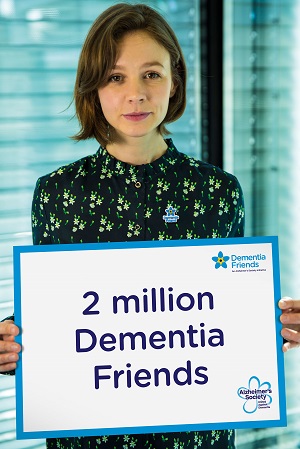 Oscar-nominated actress and UK Global Dementia Friends Ambassador Carey Mulligan and Alzheimer's Society announce today that a staggering two million people have united against dementia by becoming Dementia Friends.
Dementia is the biggest health and social care crisis facing society today. Someone develops the condition every three minutes and too many are facing it alone. The award-winning star has experienced first-hand the devastating impact of dementia, and is speaking candidly for the first time since her grandmother died with the condition earlier this year.
Alzheimer's Society's Dementia Friends initiative was launched in 2013 to tackle the stigma that often results in people with dementia losing friends and being socially isolated.  Since then it has been transforming the way people act, think and talk about the condition in England, Wales and Northern Ireland.
Speaking of the achievement, Carey Mulligan said:
'Dementia can devastate lives – I've seen first-hand through my grandmother exactly how hard it can be. I find the idea of people with dementia being excluded from society deeply distressing.
'Dementia Friends has made huge strides in tackling the social isolation many people with dementia experience - and the two million milestone is an incredible achievement. But we have a long way to go before society is fully accepting and need people everywhere to unite against the stigma associated with dementia.'
Carey became a Global Dementia Friends Ambassador for Alzheimer's Society in 2016, having been a long-term supporter of the charity. Her grandmother Margaret, known as Nans, was diagnosed with Alzheimer's in 2004 and sadly passed away with the condition earlier this year.
In her role, Carey has been committed to spreading greater awareness of the condition across the world and bringing continued attention to the urgent need for a dementia friendly society.
Because public understanding of dementia is so poor, people with dementia often feel – and are – misunderstood, marginalised and isolated and that means that they're less likely to be able to live independently in their own communities.
Carey said:
'We can all play a part to ensure that people affected by the condition live life well beyond a dementia diagnosis.

'Dementia Friends is about giving people an understanding of dementia and the small things they can do that can make a real and meaningful difference to people living with dementia.'
An estimated 166,666 hours (equivalent to 19 years) of time has been spent by Dementia Friends, taking on actions to help people with dementia. From contributing to the growing number of Dementia Friendly communities, which now stands at 260, to spending more time with a neighbour with dementia, every action counts.
Since starting her role, Carey herself has undertaken many actions included delivering a Dementia Friends session to a Youth Group in Los Angeles to promote understanding about dementia. She is now urging all of society to follow suit, become a Dementia Friend and commit to an action that helps someone with dementia in their community. 
Carey added:
'I've been asked many times what being a Dementia Friend means to me.  It means living in a society where we are all united against dementia– whether that's understanding  the best ways to support a loved one with dementia symptoms or helping an elderly lady showing signs of confusion at a train station ticket barrier.'
Other celebrities backing the campaign include actor Hugh Dennis, sports presenter Rhiannon Jones, musician and former Kaiser Chiefs drummer Nick Hodgson and film producer Jamie Anderson, son of Thunderbirds creator Gerry Anderson, who died of dementia. The high profile supporters feature in a video created by Alzheimer's Society talking about their dementia-friendly actions, alongside members of the public.
Katie Harrison, 45 Mayfield, East Sussex, whose mother lives with Alzheimer's disease said:
'Becoming a Dementia Friend has been a really positive step for my husband, children and I. We have all witnessed the decline in my Mum since she was diagnosed with Alzheimer's in 2013, and seen first-hand the distress it has caused her.
'As a family, through becoming Dementia Friends, we have all learned about the importance of patience, understanding and support needed to communicate properly with people living with dementia. Instead of getting frustrated with someone taking a long time at the checkout in the supermarket, we try and hold back and give them space to gently work through what they need to do.
'What I've learned from becoming a Dementia Friend has been invaluable. It's helped me understand the day-to-day realities of dementia and how I can adapt my mum's environment to accommodate her needs. Now even my children, who are only 12 and 10, would know if someone with dementia is struggling and they aren't afraid to help, which has made a huge difference to my mum's wellbeing.'
As part of a long-term commitment to help more individuals, communities and businesses become dementia- friendly, Alzheimer's Society has set an ambitious target of creating four million Dementia Friends by 2020.
Jeremy Hughes, Chief Executive at Alzheimer's Society said: 
'Carey has been a huge support to Alzheimer's Society and we are so grateful to her and the two million others who are Dementia Friends.
'The odds are that in every school, train carriage and supermarket in this country, at least one person will be a Dementia Friend and this is making a real difference - over two thirds of Dementia Friends tell us they feel more confident interacting with people with dementia now.
'The public response so far has been phenomenal, but we must not lose momentum as dementia continues to be the biggest health and social care crisis of our time. We need all of society to unite with us against dementia and join the movement by becoming a Dementia Friend.'
Health secretary, Jeremy Hunt said:
'I am delighted that two million people have come together to lend their support to people with dementia, in our ongoing mission to break down stigma and improve understanding within our society on the condition's devastating impact.
'This Government helped establish Dementia Friends in 2013 and I firmly believe we're well on our way to transforming attitudes as we strive to become a dementia-friendly country.'
Anyone can unite with Alzheimer's Society to become a Dementia Friend. In England and Wales visit www.dementiafriends.org.uk to watch a short online video or arrange to attend an information session. In Northern Ireland, please email [email protected]