| | |
| --- | --- |
| Event Type | Marathon |
| Date | 20 October 2019 |
| Location | York |
| Registration Fee | £25 |
| Fundraising Target | £400 |
| Level | Tough |
Join our fundraising team by taking on this popular marathon through picturesque York. You'll run through scenic country lanes and past historic sites as you take on this incredible 26.2 mile challenge.
By joining Team Alzheimer's Society, you'll be part of the movement to help end dementia. Until the day we find a cure, we will create a society where those affected by dementia are supported and accepted in their community. For instance, £100 could fund one of our National Dementia Helpline advisors to provide 7 hours of emotional support, personal advice and vital information to people affected by dementia.
When you run for us, you'll receive:
- a support pack with fundraising help and materials
- a free running top to wear on race day
- detailed training guides for different abilities and personalised support from our experts
- access to a Facebook group where you can chat to other runners
- support from our dedicated events team to help you smash your fundraising target
We know that fundraising can be just as challenging as the event, but we'll be here to support you every step of the way. When you sign up to run for us, you will receive a support pack with tips and advice to help you with your fundraising, allowing you to make a difference to people living with dementia.
To kick-start your fundraising in the meantime, why not set up a JustGiving page?
You can also print off a sponsorship form to share with friends and family.
If you have cheques that you need to send in to us, please use our paying in form and post to: Customer Care, Alzheimer's Society, Scott Lodge, Scott Road, Plymouth, Devon, PL2 3DU.
I already have a place in this race, can I still run for you?
Absolutely! Both those with charity places, and their own places are welcome on to our team. We'd love to help you prepare for this race, and send you a fundraising pack, training plan, running top and other helpful information for the big day! Please fill out our online form to get started.
When will I receive my running top?
We are thrilled to send each of our runners a running top for race day to say thank you for running for us, and to help share the word about your fundraising! If you have let us know your size we will send your top to you in the post approximately 4-6 weeks before your race.
How do I order my running top?
To order your running top simply email [email protected] and let us know whether you would like a running T-shirt or Vest, in sizes XS-XXL.
Can I fundraise with friends or family for my race?
If you would like to fundraise in a team, simply let us know by emailing [email protected] and providing the names of your team members.
How do I pay in my fundraising?
There are lots of different ways to pay in your fundraising for a race, including via online fundraising pages, by phone and by cheque. To find out how download our 'paying in form'.
I've lost my support pack, how do I order a replacement?
We send these packs to you via email. If you have lost this, simply email [email protected]
I've signed up for a race and want to do some fundraising, how do I order materials?
If you are planning a fundraising event for your race you can order materials such as balloons, banners and bunting! Download our materials order form.
Can I order cheering materials for friends and family who will support me on the course?
If you would like to order a cheer pack for your supporters please email [email protected].
If you have any other questions, please do get in touch with us - 0330 333 0804 or [email protected]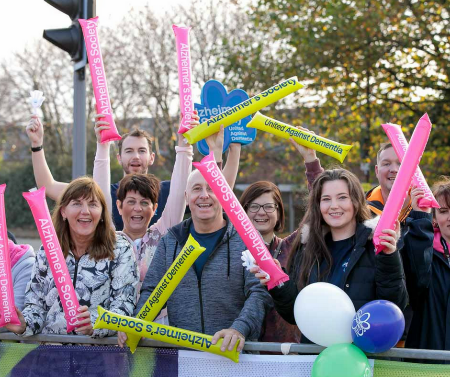 Not a runner? You can still do something incredible and make a difference to people affected by dementia.
Join our cheer team at the Yorkshire Marathon. We are looking for enthusiastic volunteers to support our runners on the course. We'll kit you out with an Alzheimer's Society t-shirt and provide lots of cheer equipment so you can really make some noise!
There is also the option to assist the organisers and marshal a section of this race, giving you a great experience of working on events of this sort. If you have any questions about this do get in touch by email to [email protected]
With your help we aim to give our runners an amazing event day experience, boost them over the finish line, and set them on their way to raising even more money to change the lives of people affected by dementia. And we can guarantee you'll have a great time!