After Tina's mother Dilys was diagnosed with Alzheimer's disease, she made it her mission to raise money for Alzheimer's Society.
Since then, Tina's taken on a succession of brilliant challenges, including firewalks, midnight mountain-climbing, coast-to-coast treks, and even her very own Memory Walk, organised with colleagues from the residential care home where she works.
This is her story.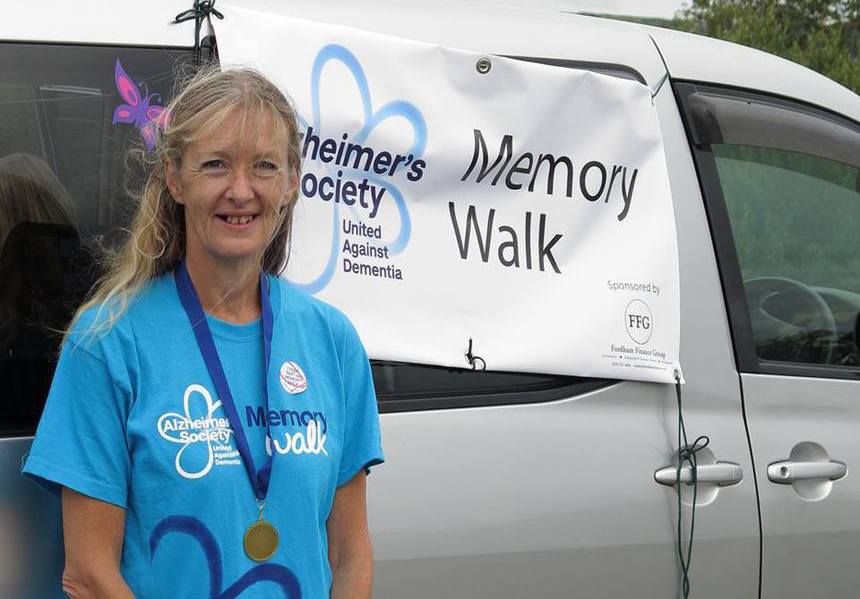 My mother, Dilys Todd, was diagnosed with Alzheimer's disease in 2001. She was a wonderful, calm, quiet lady.
My mother's experiences of dementia
As her illness progressed I moved in to her house to help her. We had some great times – searching for fairies at the bottom of the garden, walking the dog, going to the beach collecting shells and driftwood that she would make into works of art.
My partner's young children would come at weekends and spent many happy hours with her. My nieces and nephews were also very regular visitors. My mother loved nothing better than being surrounded by children.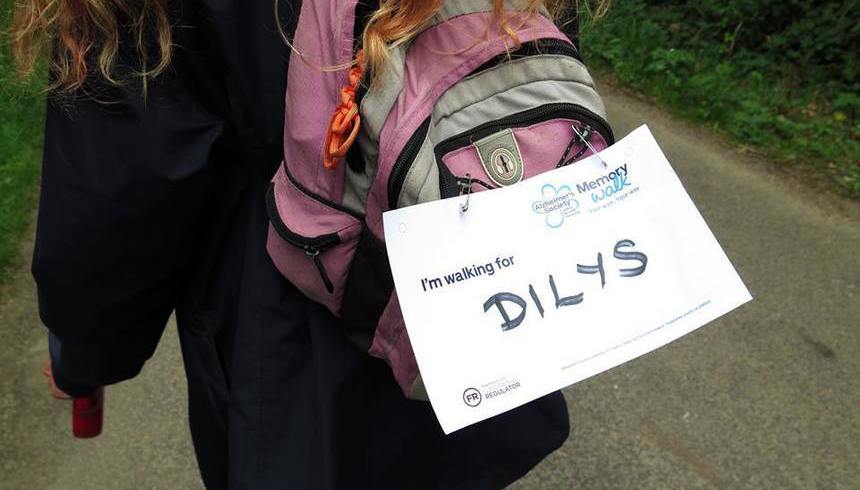 When the time came for her to move into residential care, the family worried that she wouldn't like it. We made her room look as much like her own bedroom as possible, and on the first day we walked in and she offered us a biscuit and showed us the view from the window. She was immediately settled, although she had never been there before!
My fundraising challenges
I then started to raise money for Alzheimer's Society. In 2013, I completed my first challenge – a 'walking marathon' from Stonehenge to Avebury. It wasn't easy as a first challenge but I absolutely loved doing it.
The feeling afterwards was of emotion and pride, and I did it again the next year! In November 2014, I was very suddenly diagnosed with endometrial cancer and needed major surgery – but afterwards, I was determined to start fundraising again.
I decided to do two challenges in 2015. The money I raised online would go to Alzheimer's Society, and the money I raised offline would go to Cancer Research UK. In February 2015, just before my mother's birthday, I did my shortest walk with my sister Mandie – a firewalk!
My niece filmed it and at the end, I just have the biggest grin on my face; I was nervously waiting for my turn, then terrified as they raked hot coals back over the path just before I walked. In June that year, I walked the length of Hadrian's Wall, coast to coast, on my own. What a fantastic few days! At times, it was very wet and windy and a lot of the time I didn't see a soul for miles, but it was a wonderful adventure. Between all of those challenges, I raised over £2,200 for Alzheimer's Society.
My Mount Snowdon challenge
In May 2018, I climbed Mount Snowdon at midnight. I was not sure what to expect, as I had never even been there in daylight! After the initial fast walk up to the path, led by super-fit adventure leaders, I soon settled into my own steady plod that I knew I could keep up for miles.
I reached the summit around 2am and the sky was just beginning to change to dramatic colours. I decided to wait for dawn. It was very cold and windy at the top…but why climb up a mountain to go back down in the dark? The dawn was stunning and the realisation that I had climbed the highest mountain in England and Wales in the dark also dawned on me. It was beautiful.
I walked back down through stunning countryside with a massive sense of achievement. That walk raised £510.
Organising my own Memory Walk
I decided to involve my colleagues in my next challenge as I work in residential care for adults with learning disabilities. This includes dementia, which often comes early for people with learning disabilities. I decided on a Memory Walk.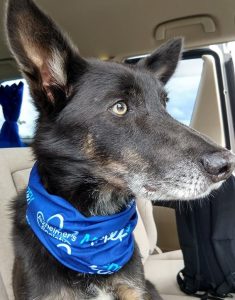 It was a truly great day; staff, residents, families and friends took part. Walkers of all abilities. For some it was an amazing achievement, and so far we have raised £930! To anyone thinking of doing a challenge – I say, go for it!
Next steps