We take a look back at the professionals who won our first Research Fellowship awards and what they have continued to do in the dementia research field.
Recently, a 23-year old article came to light that gave us a chance to reflect on how far our research programme has come. The article was from the front page of a 1993 edition of Alzheimer's Society's newsletter.
It announced the awarding of our very first Research Fellowships. As the article says, these fellowships were given 'to scientists whose work believe will lead ultimately to significant progress in the battle against dementia'.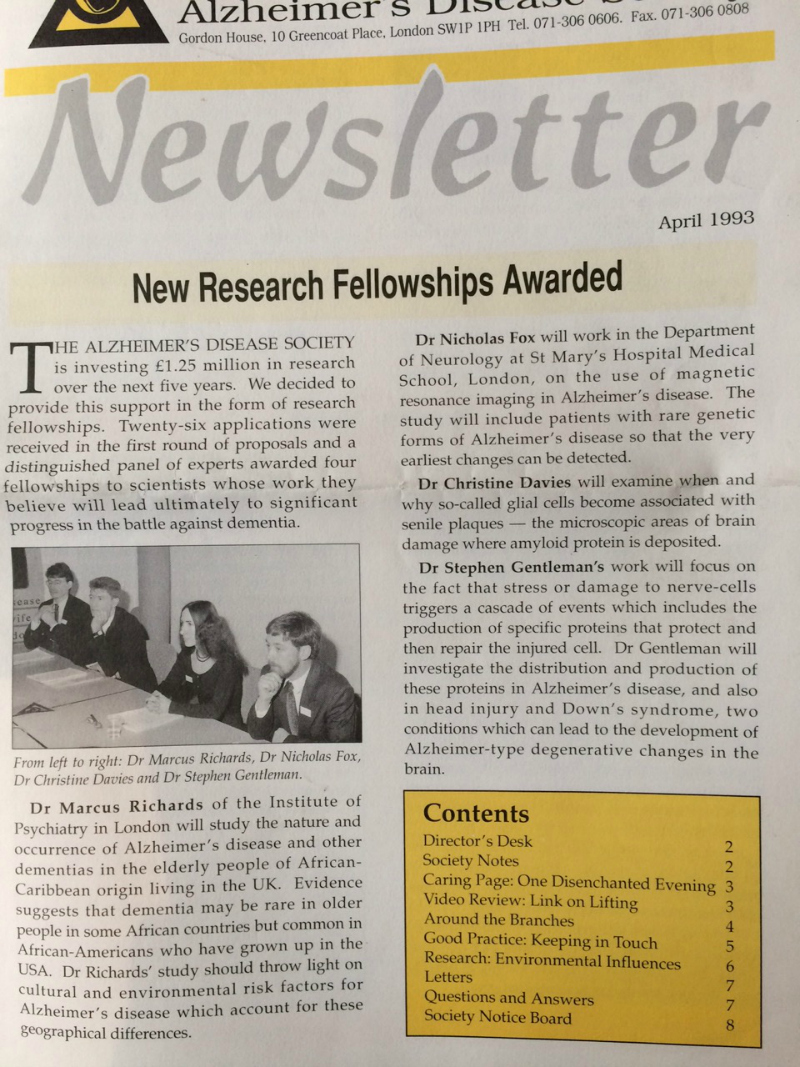 ​
A black and white photograph of four earnest and fresh-faced young scientists was hard to resist, and we started to do our own research.
So this #ThrowbackThursday we look at what happened to our very first funded fellows. Here is what we found, from left to right:
Professor Marcus Richards
On the left of the photo we see Dr – now Professor – Marcus Richards. With a background in psychology and the physiology of human learning, he moved to Columbia University in New York, where he developed an interest in how dementia affects certain populations.
He returned to what was then the Institute of Psychiatry in London (now part of Kings College London), and was awarded this Alzheimer's Society fellowship to investigate how Alzheimer's disease affects people of African and Caribbean origin living in the UK.
Moving on from this, in 1996 he joined the MRC National Survey of Health and Development team based at University College London (UCL), where he still works. He is now Professor of Psychology in Epidemiology, and Programme Leader for the MRC Unit of Lifelong Health and Ageing.
He helps run the long-term 'Class of 46' study, which has tracked the health of a large population of people since their birth in 1946, and is the longest-running study of its kind in the world.
Professor Nick Fox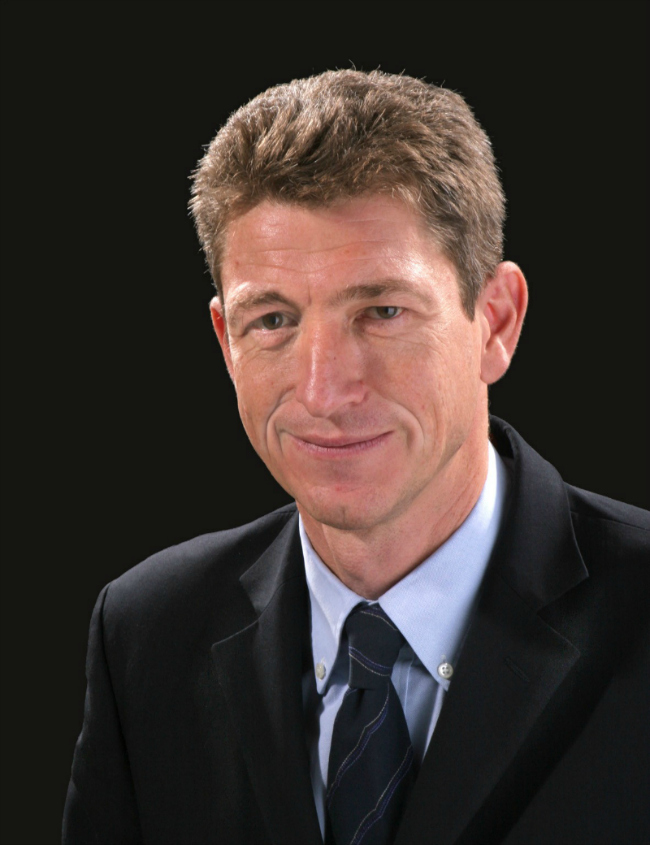 ​
The next character on the podium is Dr – now Professor – Nick Fox. He studied Physics and Physiology in Cambridge, followed by Medicine at the University of London.
It was whilst he was at St Mary's Hospital Medical School in London that he was awarded his Alzheimer's Society fellowship to understand more about how magnetic resonance imaging (MRI) brain scanning could help the diagnosis of Alzheimer's disease.
He moved to National Hospital for Neurology and Neurosurgery in Queen's Square, London (now part of UCL), where he remained, and is now Professor of Neurology and Director of the Dementia Research Centre.
He is one of the UK's leading experts in this technology in relation to dementia. He is a Fellow of the Academy of Medical Sciences, and now co-chairs our Research Advisory Committee.
Dr Christine Davies
Sitting next to Nick is Dr Christine Davies. Christine was given her fellowship award to investigate the role of a type of brain cell called glial cells in Alzheimer's disease.
Based at the University of Manchester, she then worked with leading physiology researcher Professor Dame Nancy Rothwell. Dr Davis continued to work as a researcher in the field of dementia until her retirement a decade ago.
Professor Stephen Gentleman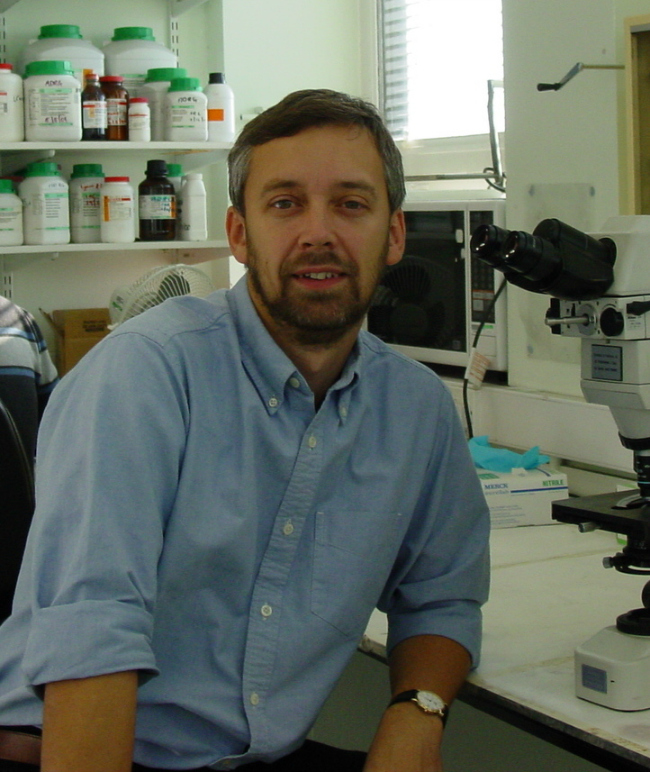 ​
Finally, on the right of our photograph (with a little of the look of a young Russell Crowe…) is Dr – now Professor – Stephen Gentleman.
Having studied pharmacology in Aberdeen he did a PhD on the underlying causes of Alzheimer's disease at the Royal Postgraduate Medical School at the Hammersmith Hospital in London (now part of Imperial College).
We meet him in this photograph post-PhD, with his Alzheimer's Society fellowship based firstly at St Mary's Hospital Medical School, and then at the Charing Cross and Westminster Medical School. We funded him to investigate the link between Alzheimer's disease and the way our bodies respond to stress.
Stephen is now based at Imperial College London as Professor of Neuropathology. He has spent more than 20 years investigating the underlying causes of Alzheimer's disease and the effect that traumatic brain injury has on thinking and memory.
Professor Gentleman is still actively involved with Alzheimer's Society, including being on the panel to choose the recipients of our awards for early career researchers – the Dementia Research Leaders awards.
Starting people on their career pathways
As well as highlighting the interesting personal journeys of each of these researchers, it is great to see that all of our first fellows continued their careers in dementia research. Indeed a rough calculation suggests that they have over 900 research publications between them!
This shows how supporting promising scientists in their early career stages can not only help their own development, but also encourage them to continue work in areas of research of relevance to dementia.
This forms the cornerstone of our Dementia Research Leaders programme, which aims to attract and retain researchers in the field of dementia. We have now funded 75 research fellows and in the future will fund many more, several of whom we hope will go on to be leading dementia researchers like our first four fellows!
If you have other historical photos, documents or anecdotes, let us know in the comments box below!