15 year old Mia Dale based her GCSE creative writing piece on her grandfather, Derek Curley. He passed away from Alzheimer's disease recently, aged 88, having lived with dementia for five years. We are pleased to share Mia's piece here unedited.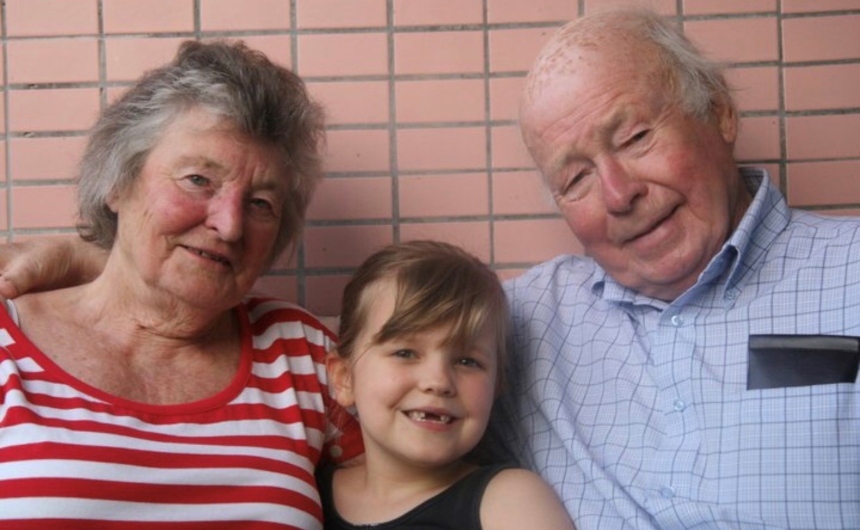 Forget Me Not
By Mia, aged fifteen
The family had noticed his memory was not the same as it used to be. At first, it was little things which were brushed off as normal. But slowly his character shifted. Soon, it became a struggle for his wife to go out of the house with him, however, he did not like her going out by herself, as a gentleman he always wanted to take care of her.
He called his youngest grandchild his "best pal" and was always delighted upon her arrival. His and his wife's love story has always been his favourite to tell his grandchildren. Although his Alzheimers and Dementia were eating away at his memory, he would always be able to recite this story in intricate detail without missing a single aspect. He must have told his youngest grandchild this story over one hundred times.
Every time he told her. she would listen and take in every detail trying to imagine her grandparent's pasts. I am that girl, and I have never known two people to be so in love and perfect for each other. Even in 2017 they still slow danced to every song they shared, feeling as though they were still the young naval officer and nurse they were 65 years prior.
On December 20th 2017, my grandfather was admitted into the care home he would spend his last two years in. I never visited him there, not because I didn't want to, but because I wanted my last memory with him to be when I saw him for the last time On the 16th of December 2017 where we sang Christmas songs together.
I said goodbye to my grandad as I usually would, assuming I would see him in a couple of days. Little did I know that was the last time I would lay my eyes on him.
My proper goodbye was said on the 24th of June 2019 - His funeral.
Memories are what make up a person. If you stripped someone of their memories, then what are they but a shell of a person? Empty inside but with the same exterior. This is what dementia does to people. The cruel monster empty's the inside of people and leave their exterior to slowly fade into oblivion leaving the people around them heartbroken and slowly forgotten. The monster waits in the shadows of the people and slowly creeps into their lives until finally it possesses your body and there is no going back.
At first it's forgetting a few things, then it's intense OCD, then it's severe confusion and forgetting important details that have been explained multiple times until finally, you can't even remember your own soulmate or your own flesh and blood in the shape of your beautiful children and their offspring whom you once loved so dearly and now look at them as if you are seeing them for the first time, like passing a stranger on the street and smiling, a smile nonetheless but an empty one - just to be kind.
That empty cold look when someone you once loved doesn't recognise you will embed in your mind for the rest of your life. It will leave scars that will never fade and it will haunt you until your time comes to an end.
I never saw him again for the very fear of that cold and empty look.