Our dedicated Research Network volunteer Barbara has been made an MBE for her services to patient and public involvement. Find out more.
Our tirelessly committed Research Network volunteer Barbara Woodward-Carlton has today been made an MBE for her services to patient and public involvement in furthering dementia research.
In this blog, we hear about what inspired Barbara to get involved in the Alzheimer's Society Research Network and why she feels it's important to support research.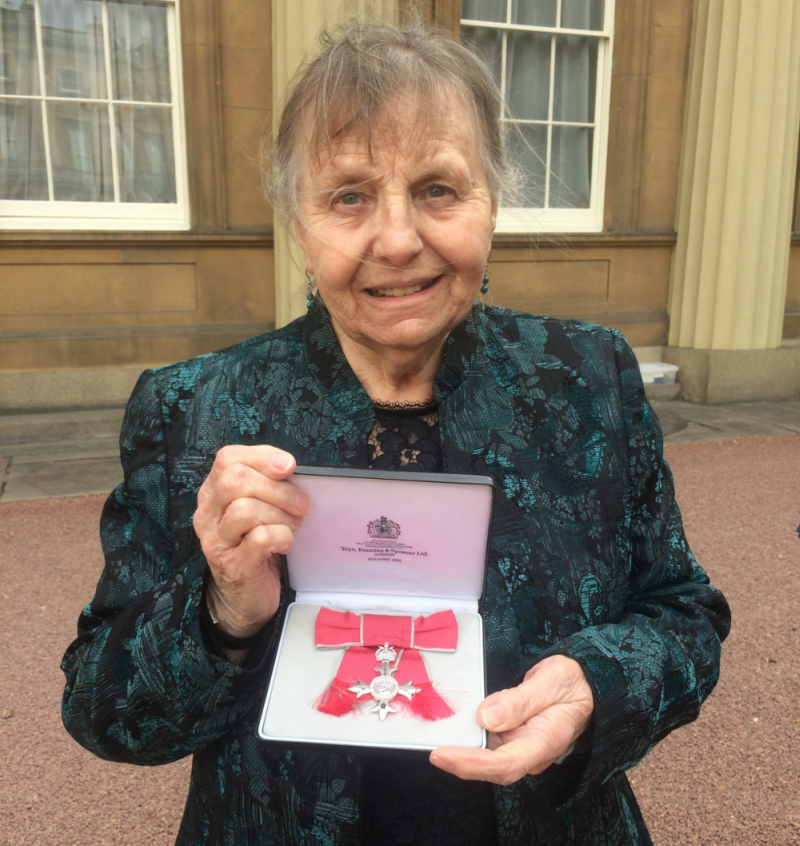 Big smiles! Barbara with her MBE, awarded at a ceremony on 23 March.
Barbara's story
What inspired you to get involved with the Alzheimer's Society?
Following the death of my father who had lived for many years with Parkinson's, my mother came to live with us. We put her confusion and forgetfulness down to grief and exhaustion. When she was diagnosed with Alzheimer's, what sense it made. It explained so much! We knew that my mother's behaviour had an explanation.
During the years that my mother lived with us, I learned so much about the condition as well as the support available in the health, social care and voluntary sectors. Once I counted how many people we were involved with – 37! My mother remarked after yet another visit 'What a lot of good friends we have.
I was inspired to share my knowledge and experience and valued the consultations, discussions and being part of a team.
How does it feel to be made an MBE?
Forty-three minutes after midnight, 1 January 2018 I received the first of many e-mails, letters, cards, phone calls and even flowers. That was when I really did begin to believe I had received the award of MBE.
The Research Network has been a significant part of my life since 1999. I love the variety of ways we as volunteers (nearly 300 of us) can be involved.
There is something very special about being a Research Network volunteer. We work with wonderful staff in the Alzheimer's Society, with researchers, and other volunteers.
I feel so privileged to have this award which recognises the work of volunteers in furthering and promoting good quality research into dementia so that the quality of life for those affected by dementia is improved.
When did you join the Alzheimer's Research Network
The Alzheimer's Society Research Network was launched in 1999 and from that time I have been an avid volunteer. This has involved reading and commenting on funding applications from researchers, monitoring research and working alongside researchers.
My first introduction to monitoring was the Focussed Intervention Training and Support (FITS) project. What an eye-opener. To work with first class researchers who really were on the side of those with dementia was such a privilege.
The project proved that patient centred care is possible and can bring real benefits to care home residents and staff. It has since been presented in parliament and made headline news.
What have been your highlights so far?
I've been involved in so many interesting projects since the start of the Research Network. To name a few; myself and the Yorkshire & Humber Research Network have been lucky enough to work with Professor Murna Downs at the University of Bradford. Amongst others, we have supported their 'Better Health in Residents in Care Homes' project.
The Yorkshire and Humber Research Network went on to win a People Award in 2013 for this work and I was proud to receive an honorary doctorate from the University of Bradford!
Our work with the government is another highlight. I spoke at the first UK Dementia Research Summit which eventually led to the Ministerial Advisory Group on Dementia Research. This group has been vital in accelerating funding for research.
Real progress has been made, not least when David Cameron pledged significant amounts of money for dementia research funding.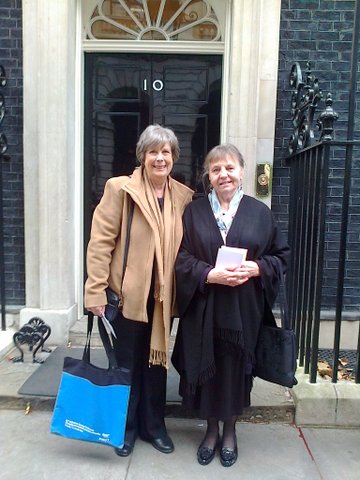 Barbara at 10 Downing Street with fellow volunteer Angela Clayton-Turner.
It would be remiss not to mention Join Dementia Research (JDR) an online register that was originally an initiative from the Research Network. It allows all those who want to be involved in research both with and without dementia to take part in research studies.
JDR is now successfully up and running with over 30,000 members.
What are your hopes for the future of dementia research?
'A world without dementia' but until then sufficient funding into cause, cure, care and prevention.
I would like to see a commitment from the government to increase funding for the implementation of good quality, evidence-based dementia research.
I also believe it is important to ensure training is made mandatory by the government for all those working with people with dementia.
Why is it important people affected by dementia are involved in research?
Earlier diagnosis of dementia has meant that people in the earlier stages of the condition, often in their 40s and 50s, have become a potent, articulate voice. From these ambassadors, we have learned and are still learning so much.
Similarly, researchers and everyone involved in research learn much from those who care for people with dementia and this is the real value of the Research Network. It ensures that research is informed by the real life experiences of those affected by dementia.
Would you like to get involved in research? Find out how and sign up to Join Dementia Research.
Sign up now