Alzheimer's Society ambassador Hilary Doxford explains how revising our Dementia Statements was positive, but actions are even more powerful.
Alzheimer's Society ambassador Hilary Doxford, who lives with dementia My name is Hilary Doxford, one of 850,000 people in the UK with a diagnosis of dementia. I am an ambassador for Alzheimer's Society and a member of the recently created 'Three Nations Dementia Working Group.'
One of this year's landmark achievements has been the publication of our refreshed Dementia Statements. The Statements were first launched in 2010 and summarise the aspirations of people affected by dementia. Grounded in human rights law, they're the basis of a rallying call to improve the lives of people with dementia and to recognise that they shouldn't be treated differently because of their diagnosis.
The importance of 'We'
A key change to the revised Statements was moving from 'I' to 'we', which represents our collective voice. It also makes it clear how we (people with dementia) were consulted, how we collaborated and that we want to see change for the better for us all. The revision is positive.
So we have the revised Statements but what next?
Words as always are useful, but words do not have the impact of actions. Personally, I see the statements as a framework that all people working in the dementia arena can use to ensure they meet the need of those they try to help. The Statements are usable by everyone today. No excuses; you don't need to wait for explanation or instruction. You can take them and apply them within your role.
Making a real difference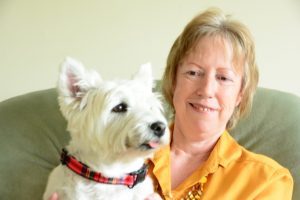 Hilary wants to see the revised Dementia Statements embedded in policy I have also been working with Alzheimer's Society to bring the new statements to government. This resulted in a meeting with Jeremy Hunt alongside Alzheimer's Society CEO Jeremy Hughes. Very few get direct access to the Secretary of State for Health, so when it happens, you believe there is sincerity in wanting to make a real difference.
Mr Hunt acknowledged the importance of the Statements and the need to embed them in government policy. He also spoke of the potential for them to underpin a mechanism to collect feedback from people about their experiences of health and social care services.
Finally, Mr Hunt emphasised the value of peer support for people with dementia. He suggested launching a 'ten friends' initiative encouraging people with dementia to approach others with the condition to offer support.
Turning statements into policy
As Mr Hunt listened to our hopes and concerns he made suggestions that we could review, with an invitation to return to report progress. So my hope is that government will now lead by example, embedding the statements within policy. We need to take appropriate action now and install the changes we need to improve lives.
Whilst I watch and wait for the evidence, I'll continue to try and do my bit and thank those of you who do yours.
Next steps