Andy is struggling to cope with his dad's memory loss. On a particularly bad day, he felt compelled to write theses thoughts down. Read his dementia story.
My name is Andy Simpson. I am trying to cope with my father's loss of memory. He hardly recognises me now.
I take him out from his care home in Cheshire most lunchtimes for a bite to eat and a pint. That golden time is special for him and me since we do love each other and I see him as my best friend as well as my father.
At Easter, I was on the way home from Dad's care home in my car after a day when Dad's memories were particularly bad. I stopped my car at a lay-by and wound the window down. I picked up my mobile and wrote this in the space of 15 minutes.
Now I read it several times a day and it is very nice.
Writing my thoughts down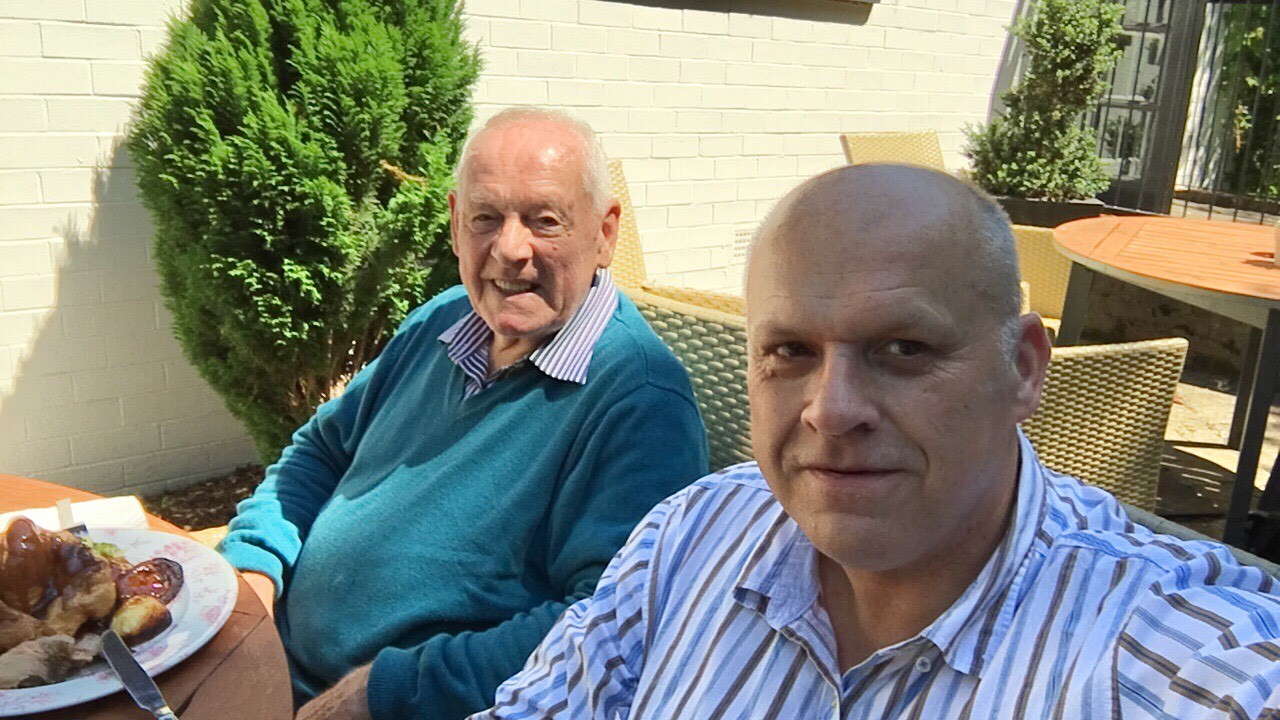 ​
Dad and I enjoying some lunch in the sun.
My father George is doing fine at 86 years old and is still fit enough to walk about. The only failing is his memory. He has lost the ability sometimes to know me and that is sad.
Sadness is within everyone but what helps me through that sadness is when my father tells me stories and events that don't rub away. He recalls only the happy golden times of his life and there were many, the sad events are eradicated which seems a way of nature.
So I try to imagine myself in his mental capacity at a future time when possibly I will myself suffer from memory loss and fail to recall how my lifetime events happened. When or if I ever do reach that time where I do not hold the mental capacity to read or to recall people in family photos, and strangers that ask you what you did in life. It is scary and daunting.
It doesn't matter what you did in life, but it is very important you were happy within yourself. Like painting on a canvas, paint it bright with lots of bright happy warm memories and when the paint drips, good times shine out. If all the paint is a brilliant white then that would mean you are lucky and have had a spectacular life. But not everyone has. Most of us have dark times which are best forgotten.
'Do not dwell on the dark past'
The answer I believe is make every moment as happy as you can, do not dwell on the dark past no matter how dark that place may seem. I was in a dark sad place but no matter how dark and scary it gets it never goes pitch black.
I appreciate the flowers and the shoots coming out, all add to the good times. Appreciate those moments they are golden and wonderful.
Spring time is wonderful and another year will be gone in a flash, cherish the small things that make it brighter and more warming to you.
You smile at life no matter how hard it seems sometime. And your time will smile back at you. We are so lucky even though we do not know why we are here. I believe everything and everyone is created for a reason. A purpose maybe not only in life.
We may never know how the painting will look when the paint has been allowed to dry. But whatever or whoever keeps painting us on a beautiful amazing canvas is truly something spectacular.
Time is the only thing we have really.
Just time.
Do have a wonderful Easter mum missing your smiles xxx
Are you caring for someone with dementia?
Caring for a person with dementia can be rewarding, but it is also very challenging. It's important to look after yourself. Read our information and advice for carers.
Our National Dementia Helpline team are available on 0300 222 1122 to answer any questions you may have about dementia.