Two members from our Research Network explain their role in helping us to decide which research projects to fund.
In part two of our series about how we fund research, our Research Network members explain their role in helping us to decide which research projects to fund.
Find out more about how we fund research in part one.
The role of the Research Network
At Alzheimer's Society, we believe that people with dementia and carers can make a unique and valuable contribution in every stage of research. They help us to make sure we fund the highest quality, most relevant research on dementia.
This is why we created the Research Network in 1999. It is a group of volunteers with personal experience of dementia who help with various aspects of our research programme.
One of the roles of the Research Network is to help us decide which research to fund. When researchers apply to us for funding, they have to write a section of their application for a non-scientific audience.
The Research Network review these applications and score them based on how relevant the work is to their experience and whether they think the research is worthwhile.
Once all the scores are in, some members of the Network meet to discuss the higher-ranked applications in more detail as part of a panel.
Our panels represent the categories of our research programme: Biomedical research and Care, Services and Public Health (CSPH) research.
Here, we hear from two members of the Research Network to learn about their experience.
Gillian Harrison – Biomedical panel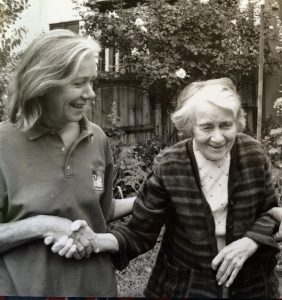 Gillian with her mother
Having cared for my mother at home for eight years when she had Alzheimer's, I became a research volunteer.
Later, when I volunteered to join a research funding panel, I opted for the biomedical one, thinking this would be interesting. It was also more daunting, as I do not have any kind of scientific background. Ultimately, it has proved to be both.
We devote a whole day to the detailed consideration of up to 20 complicated research applications and our decision could affect the course of a person's career. It is both a challenge and a responsibility but it is rewarding too.
Each panel member is allocated as the 'lead' speaker on two or three applications. This involves giving a brief summary and reporting on any comments received from Research Network volunteers and expert researchers at the review stage.
After each short presentation the application is discussed. Naturally, some panel members will have more to say than others! But basically what you have to remember is that our role is to assess projects based on our experience as carers and people with dementia, not as researchers.
We then vote anonymously using an entertaining electronic-button system. Our scores reflect how the panel feels about the application and gives the Grant Advisory Board useful points to consider.
The Grant Advisory Board, which is made up of leading researchers, then have their turn at scrutinising the applications. Four members of the Research Network panel also sit on this board to clarify or explain our views and vote on the priority of the research.
It is only after the Grant Advisory Board has met that final funding decisions are made and researchers find out whether they have been awarded the hard-won funds from Alzheimer's Society.
Sandra Duggan – Care, Services and Public Health panel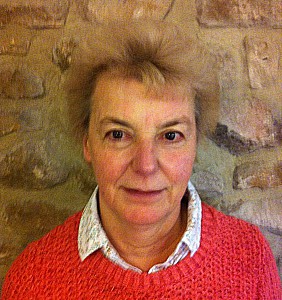 Sandra Duggan
I originally applied for the Care, Services and Public Health panel because I felt that I could make good use of my personal experience.
As my mother's Alzheimer's disease took more and more hold, what mattered to her, and to me and my family, was the quality of the care that was available to her at home. Also, after she died, I worked for eight years with the Care Quality Commission as an Expert by Experience. I talked to residents in care homes, witnessing the variety of care offered to people with dementia in residential care.
I was acutely aware that there was very little research evidence about the care of people with dementia. Therefore, I welcomed the opportunity to become involved as a member of the Care, Services and Public Health panel.
This experience has allowed me to see how the scores and comments from the review process are taken forward. It is always interesting to read what other people thought of the same proposal.
At the meeting itself, there is often lively discussion as Research Network members put forward their views. These are drawn from all the comments and scores, as well as from their personal experience.
As carers and people with dementia, our work helps to shape the type of research that Alzheimer's Society funds.
We have a vital role in keeping this type of research grounded in reality. For example, we might be able to comment whether a research project that requires people with dementia to take part is designed appropriately.
Alternatively, we might comment on whether the project is likely to have an impact on current healthcare methods and practices.
Our first-hand experience of people with dementia and knowledge of the condition certainly helps to ensure applications are feasible! It's also good to see applications where the researchers are thinking in the right way. Applications where they're considering the feelings and experiences of people affected by dementia.
Next steps